Are You Lonesome Tonight?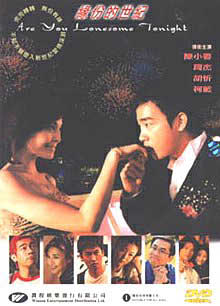 ---
Reviewed by YTSL
Bollywood productions are those that come to mind when people think of movies that have musical components without really being bonafide musicals. However, as many Hong Kong film fans know, there are more than a few Jade Cinema works which just would not be the same -- and worse off -- without their containing certain evocative songs, tunes and scores, lively dance numbers and/or their share of Cantopop and Mandopop stars. Also, there is a small subset of movies from that part of the world whose titles are derived from pop hits (E.g., "Always On My Mind" and "How Deep is Your Love"; also, "Comrades, Almost a Love Story" shares the same Chinese title as a famous Teresa Teng song).
The tune that Elvis Presley made famous -- and whose title served as the title for a circa 1980s London musical whose focus was The King of Rock & Roll -- is heard twice in ARE YOU LONESOME TONIGHT?, a romantic film that has Jordan Chan as its star. The theme song from Tsui Hark's "Shanghai Blues" is another enchanting piece of music that gets put to use in this year 2000 movie which starts off in Singapore but largely takes place in China's largest city (and contains some very nice location shots of a urban landscape that contains its share of impressive new skyscrapers along with grand old Western-style structures and other, more mundane buildings).
I find it telling that those are the best portions of ARE YOU LONESOME TONIGHT?, and that the great bulk of their magic comes from associations one has with works that pre-date this one and locales which other Hong Kong moviemakers have previously utilized. Frankly, this is one rather unoriginal offering. Neither is it all that imaginative. Consequently, much of the movie -- whose primary tale concerns a poor little rich girl temporarily escaping from her gilded cage and meeting a nice poor boy, who proceeds to enthrall her by showing her the world of "ordinary people" who include him and his friends -- is really not very inspired or even interesting.
Fortunately, the actress who plays the Singaporean woman who decides to go off to Shanghai to see where her beloved grandfather lived, worked and played is actually not too annoying. Also, like pretty much any other of his female co-stars, Cindy Hu Xin has good chemistry with Jordan Chan (whose Chen Bao Bei -- N.B. "Bao Bei" can be taken as Baby in Cantonese -- is an amiable slacker who is a native of Hong Kong but is very familiar with Shanghai and thus can easily guide Hu's Chan Hui Hui character around the city). The rest of the cast -- who include Zhou Jie, Ke Lam, Jason Chu, Michelle Or, Auguste Kwan and Jack Neo -- are competent enough too (though it probably would have been better if their characters were more colorful as well as better drawn than they were. As it stands, they clearly are just around to provide added love conflict, competition and subplots).
I have to say that I was in a generally tolerant mood when viewing a film that I really didn't have too high expectations about but thought might be worth checking out because it stars Jordan Chan (probably my favorite Hong Kong actor of his generation). Consequently, while I wouldn't particularly recommend it to most others, I didn't hate it. Nevertheless, there are three things that did niggle about this modest -- despite the jetsetting ways of a few of the individuals in it -- production.
One is that ARE YOU LONESOME TONIGHT? betrays its parochialism by having all of its characters speak Cantonese despite their being far away from Hong Kong (or the province of China from where native Cantonese speakers and their ancestors hail). The second is its being one of those surely not very realistic presentations in which people seem to have all the time in the world for romantic pursuits (and crises). Still, what was probably most detrimental to my appreciation of the work is my never understanding what made any of the movie's main men and women really tick and make the kind of decisions they do. Hence their inability to elicit any sympathy from me, never mind capture even the smallest portion of my heart.
My rating for the film: 5.5.

---