Evil Instinct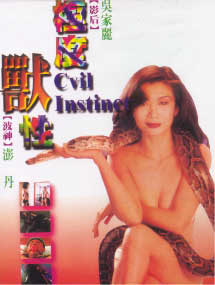 ---
This film gets off to a great start with a few sexy and yet amusingly tongue in cheek scenes that had my hopes high for what might follow. To some degree the follow through fell short, but the sexy ludicrously over the top performances from the two female stars made the film a bit of a hoot. The director is clearly attempting to put a stylish imprint on the film that mixes elements of Naked Killer, a smidgen of Chungking Express and the Hollywood film Basic Instinct – and in a low budget way he is not entirely unsuccessful. For a trashy little film - this hits some good spots – and it holds a few jolts to the very end.

During the opening credits – Diana Pang Dan does a little dance in stiletto heels and a boa constrictor – and at one point she turns and smiles at the camera as if to say lets have some fun with this silly nonsense. In the next scene Diana and her co-worker Carrie Ng are sitting in a pick-up bar giving off enough come-on high voltage smiles to light the place up. If you had a weak heart or weak knees you would not want to get too close to these women – they just smell of sex and danger.

This doesn't stop homicide detective Bowie Lam – who wanders over for a bit of a chit chat and soon the girls are flirting with him – both above and below the table. Before he has a chance to say "your place or mine" Carrie Ng has him in the backroom of the bar, but in the middle of proceedings he gets a phone call telling him a murder has been discovered. Don't you hate people who always have to answer the phone; their house could be on fire and they would still pick up the phone – "it might be important". As it turns out the body has been dead for three days – so it easily could have waited another fifteen minutes!

Bowie Lam is able to link the killing to a few other murders and all the murders are linked to an insurance company. Not too surprisingly, it turns out that Carrie and Pang Dan both work there - not that I have met any insurance salespeople that look like they do – or dress like they do – or are willing to do just about anything to close a sale - but if I did I would sure have a lot more fire insurance than I do now.

But who among the three female insurance agents could be doing these murders. Pang Dan who is attempting to steal Ng's clients by any means possible – even performing a little S&M horsy ride - or Ng who has snake fantasies and keeps plunging a needle into her ear or another woman who ties up her clients and ministers to them. Damn, I should have gone into the insurance business!

As I mentioned before this is all very trashy – lots of sexual situations – but so trashy that it has a certain weird charm – and the ending scenes will get under your skin – snake or not.

My rating for this film: 6.0

---
DVD Information:
Distributed by Ritek
The transfer is better than I had expected - a little dark at times - some wear - but generally clean and very watchable.
Letterboxed
The main drawback of the DVD is that it only has a Mandarin language track - and listening to these actors in Mandarin just doesn't feel right.
9 Chapters
The subtitles are burnt on Chinese and English - and are a little smaller than I would prefer.
There is not a trailer for this film or any extras.

---