Hu-Du-Men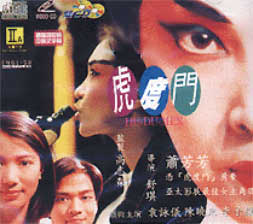 ---
Reviewed by YTSL
Compared to Hollywood productions, Hong Kong movies are (in)famously low budget affairs (It has been said about the Michelle Yeoh vehicle, "Magnificent Warriors", that its budget could probably only cover the cost of catering for any of the Steven Spielberg works that also feature a leather-jacketed, whip-wielding protagonist!). IMHO, the best Hong Kong films are those that are fully aware of their limits and work within their means, not least by focusing on their strengths (which include their cultivation and consequent possession of lots of energy, heart, soul, and great actors). These valuable elements are found in amazing abundance in this actor-powered showcase for Josephine Siao Fong Fong in particular, and "the Hollywood of the East" in general.
HU-DU-MEN -- which is a term from Cantonese Opera which refers to an imaginary line between the stage and the backstage areas that actors morph into characters and vice versa upon stepping over -- is a fairly restrained and subtle yet (melo)dramatic offering which either director Shu Kei or writer Raymond To (it's not made too clear) has dedicated to his mother. For some reason or other, there is a semi-documentary feel to this personal-feeling screen-adaptation of a play by To which Shu had been enthralled by.
Perhaps it comes from the favorite sayings of the main character (veteran actress Josephine Siao gives a bravura performance as veteran actress Lang Kim-Sum) as well as the explanations of such as the meaning of the word HU-DU-MEN appearing on screen in the form of play-cards at certain times during the film. Maybe it's because one really gets a (historical and contextualizing) sense when watching the Cantonese Opera performed in this movie -- whose story centers around the off-, back- and on-stage life of a famous Cantonese Opera star -- that this particular artistic form is precisely where so many stylistic devices and conceits that are found in Hong Kong movies come from.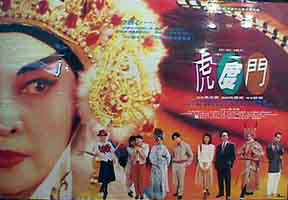 Among other things, I think here of: The cross-dressing women who are generally accepted as men without too much ado (characters famously essayed by Brigitte Lin Ching-Hsia and Anita Yuen -- who features in this movie as Yuk-sheung, a young woman come from Singapore to apprentice under the about-to-retire Lang Kim-Sum -- easily come to mind); and how in one work, a certain actress will appear as the mother of another actress, then in another production they are slated to be sisters-in-law (I think of Petrina Fung Bo Bo and Anita Yuen in the 1993 "C'est la Vie, Mon Cheri" and 1994 "It's a Wonderful Life"...N.B. Despite their titles making them seem otherwise, both these productions ARE Hong Kong movies!). Lest it seems like I'm talking rot here, it should be noted that: As the movie's protagonist tells a bemused Englishman, "I play men. I play many, many men!"; and, in HU-DU-MEN, Lang effectively plays Yuk-Sheung's son in one opera performance and her boyfriend in another.
Off- as well as back-stage, Lang acts as the mentor and protector of the generation younger and much less assertive Yuk-sheung (Anita Yuen is surprisingly good in what must be an uncharacteristic role for her). A strong suit of this film is its showing the strong personal ties that the members of a Cantonese Opera troupe can have, possibly to the detriment of their relations with those who are their actual kin. The balancing acts -- between masculine and feminine elements, tradition and change, family obligations and personal priorities, a humorous outlook on life and a seriousness when dealing with real world matters, as well as family and friends/colleagues -- that are required of individuals (Lang Kim-Sun in particular) are key themes that are explored in this thoughtful and uplifting production.
IMHO, the success of this earnest (yet definitely not entirely humorless) actor-centric film -- whose dialogue contains the assertion that "stars carry 70% of the show" -- is assured by its lead actress being Josephine Siao. This wonder woman (who one would not know from her performance is more than half deaf) fully deserves the respect that she has from other members of the Hong Kong movie industry (Director Shu Kei -- who is also a professional film critic -- described her in 1996 as "probably the most accomplished actress working in the Hong Kong cinema today"). It is very much to HU-DU-MEN's credit though that it also features sensitive portrayals from the rest of its strong cast (Among them: Anita Yuen is a two-time Hong Kong best actress award winner; Daniel Chan garnered a best newcomer nomination for his work in this movie; and Waise Lee is a more-than-reliable actor who was in such seminal productions as John Woo's "A Better Tomorrow" and "Bullet in the Head", Stanley Kwan's "Actress" plus Tsui Hark's "Swordsman II").
My rating for the film: 9.5.

---