The Legend of Speed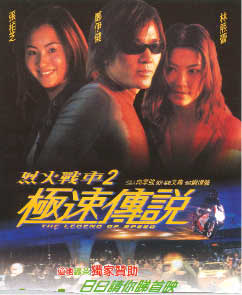 ---
Sometimes a film comes along that is so calculated and yet so devoid of intelligent thought that a part of you almost has to admire the filmmakers. This is not as easy an accomplishment as you might think – but Andrew Lau takes elements of the Young and Dangerous and A Man Called Hero – mixes them up and offers a film so absurd and hokey that it had me guffawing throughout this film. Not that I was meant to be laughing mind you – but I couldn't help myself. In time this film could become a classic – a film to put into the VCR when you have company over – and then sit back and laugh at the many cheesy moments.
Some of these might be Ekin Cheng making his first pomp and circumstances appearance in an unbuttoned leather jacket showing off his manly chest or possibly Kelly Lam walking through a car tunnel in her tight leather shorts and halter top or maybe Ekin driving off the pier on his motorcycle or the model car falling off the table signifying that someone has crashed and died. My favorite though may be a guy who tries to inject Ekin with an AIDS infected needle and gets stuck himself. Within a day he has blotches on his face and then in every following shot he has managed to add a few more sores. What was this Day of the Dead? Ah, there are just so many bad scenes to choose from.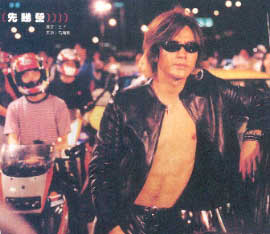 Ekin plays a poor little rich boy whose mama doesn't pay enough attention to him – so he becomes an "underground racer". This means he takes on challengers and races them illegally on the streets of HK. His first challenge is from Moses Chan – and when Ekin appears with a cavalcade of worshippers in his adorable leather vest, the laughing begins. Ekin begins the film doing his best Tom Cruise imitation (for Ekin this would actually be an improvement!) – flashing the phony dazzling smile – but his acting soon lapses back into his A Man Called Hero style in which he does his best to look stonelike and heroic – but actually looks like he needs someone to burp him.
Ekin makes a bet with Moses that if he loses he will pay Moses HK$ 300,000 but if he wins he gets to break Moses's leg. Well, Ekin wins and follows through on the bet – but this act soon has ramifications. The racing itself isn't badly done – the sense of speed is certainly there and Lau uses some of his CGI tricks here to make it feel like a Manga at times. After the finish it becomes clear that Ekin doesn't only like having people watching him race – as he and Kelly go at it in the front seat with all of his followers ogling the twosome. For those who might be interested – I would say that Ekin's lovemaking style is similar to his racing – pedal to the metal – and quick to the finish line!

Moses's boss – Simon Yam – gets out of jail – and looks as only Simon can – cool as champagne on ice – and challenges Ekin to a race. Everyone in fact looks very stylish in this film – if only people in HK really dress as Lau portrays them in his films – but in my trips there I can't say I noticed anyone looking particularly fashionable. At any rate, Yam beats the little twerp and circumstances drive Ekin out of HK to Thailand where he searches for his long missing father (Blackie Ko) and what's missing inside himself (that would be acting ability Ekin – and I am afraid to report he didn't find it!). Eventually of course he must return to HK to face Simon down and regain his honor and his hair stylist.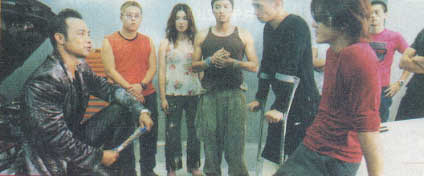 The only decent thing about this film besides Kelly's shorts (I wish I had a picture for you!) was the acting from Cecilia Cheung and Patrick Tam. Tam is Ekin's mechanic and Cecilia is his little sister. Ekin is her idol and she worships him from afar. There are a few moments in which she comes off well – though I am not sure being a tough street kid is really her type of role. I just recently watched Tam in Century of the Dragon in which he plays this slick Machiavellian killer – but here he looks very different and plays someone with a stammer and other physical problems – and does it quite well. This guy can act.

So how do you rate a film that is so bad it is almost good? For now I'll play it straight – if it ever becomes a guilty pleasure I'll revisit this rating. But for now:
My rating for this film: 5.0

---