Crouching Tiger, Hidden Dragon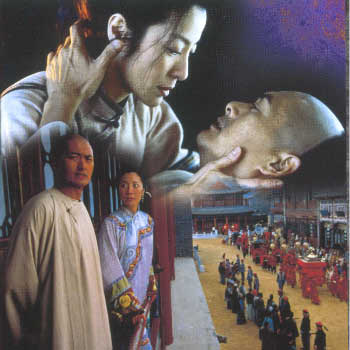 ---
Reviewed by YTSL
Give it a chance. At first glance, that may seem like a strange thing for me to urge of (potential) viewers of a stellar work that - in the words of a TIME magazine writer - "by common consent, scored the one unmistakable triumph at Cannes" this past May. However, never have I ever seen a Chinese language film have to deal with and straddle such incredible hype on the one hand and surely unfair negative criticism on the other. Stranger still is the fact of what may be the most expensive East Asian production ever made - one of a handful funded by a Hollywood studio (Columbia) owned by a Japanese company (Sony) - having majorly excited professional Western film critics who saw it the couple of times it was publicly screened outside of Asia but having left some members of the general audience in Singaporean and other East Asian territories containing substantial Overseas Chinese populations distinctly unimpressed, even angrily disappointed.

For his maiden venture into what may be seen by some as the province of Hong Kong motion picture makers, Ang Lee wisely called on the services of esteemed Hong Kong movie veterans like Michelle Yeoh, Chow Yun-Fat, Cheng Pei Pei, Peter Pau and Yuen Woo-Ping. Into the potent mix of what Lee has described as ""Sense and Sensibility" with martial arts" also went contributions by such as: Zhang Ziyi (whose first three films have been directed by Zhang Yimou, Ang Lee and Tsui Hark. Wow!); James Schamus (a Columbia University professor who has been the Taiwanese director's frequent collaborator); Chang Chen (the Taiwanese traveler in Wong Kar Wai's "Happy Together"); Lung Sihung (best known as the father in Lee's first three films); Tim Squyres (editor of all of Lee's efforts bar for his debut-making "Pushing Hands"); Yo-Yo Ma; and Coco Lee. Looking at the assembled talent, it is evident that a production which the director has talked of being a Chinese boy's dream come true was (also) tailored to have at least middle brow international marketability as well as appeal to long-term and new(er) Hong Kong film fans.
To a larger extent than many other movies with which any of its cast and crew has been involved, the two hour long CROUCHING TIGER, HIDDEN DRAGON can be said to have something for everyone. Action, drama, comic relief, pathos. Breathtaking scenery (as befits a film that was shot in far-ranging parts of China by a master cinematographer), the kind of traditional interiors and period costumes that look impressive yet "real", and atmospheric music. Two young - and impetuous - lovers (N.B. The main character played by Zhang Ziyi is referred to as Jen in the English subtitles but is actually named Yu Jiao Lung, a name that translates - thanks, Jane! -- as "tender/sweet/charming dragon"; and Chang Chen's lesser character, referred in the English subtitles by his surname (Lo), has a personal name which means "little tiger" in Chinese). A couple of aging heroic figures (Michelle Yeoh is the very capable Yu Shu Lien, Chow Yun-Fat is the legendary Li Mu Bai) who still have much to learn -- not just teach - and may well also be accurately described as (fellow) crouching tigers: Poised to act (but...). A still older generation - of parents and masters but also servants -- whose continuing impact on the lives and decisions of others is undeniable.

From personal experience, how (much) CROUCHING TIGER, HIDDEN DRAGON will impact you will depend on what expectations - and trepidations -- you have going in to view it. Though it may be unfair to directly compare and contrast it with the work of favorite others, I have to say that this historical fantasy drama is NOT as: Deeply thought provoking and emotionally moving as "Ashes of Time"; intense as "The Blade"; exhilarating as "Swordsman II"; and magical as "A Chinese Ghost Story". Succinctly put: It is not THE mindblowingly path- breaking singular cinematic achievement that some individuals have just as unfairly touted - especially with regards to past wuxia works -- it to be. However, it is still very far from being a bad effort, brainless fare and unenjoyable viewing.
What came as a big surprise though was that I would like best the action sequences - particularly the fights that pitted Michelle Yeoh against Zhang Ziyi (and her team of doubles) and the peerless one which takes place in the kind of inn one has seen laid waste to in more than one martial movie (all of which make me want to own a home video copy of the CROUCHING TIGER, HIDDEN DRAGON so that I can watch them again and again and again) - of an offering that I had expected to be more strongly dramatic in tone and epic in quality. While purists - and fans of Brigitte Lin's effortless gliding style -- might not like the first chase and physical confrontation, I thought it very nicely established and outlined this film's particular fight (and flight) conventions. Additionally, even the staunchest wire-fu fans should be pleased to learn that bar for the bamboo forest face-off, Yuen Woo-Ping did not go overboard with the wire-work here (in the way that he did in portions of "Tai Chi Master" and "Iron Monkey").

Contrary to (initial) expectations too is its being so that CROUCHING TIGER, HIDDEN DRAGON's main focus and show stealer is Zhang Ziyi. Chang Chen charms, Chow Yun-Fat is a presence not easily brushed aside, Michelle Yeoh should gain further respect for her acting and action abilities. But just as surely as the audience is shown that human lives - and loves - ought to be valued more than earthly fame and spiritual ascendancy as well as a jade comb or even a sword named Green Destiny is its being so that the young Mainland Chinese actress is this star-studded work's most glittering treasure. Although the contributions of others should not be discounted, she surely has played a big part in making this martial artistic offering the enjoyable - and all the more so with each additional viewing! - and "must see on a big screen" one it is.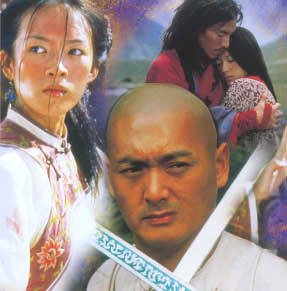 My rating for the film: 9.5
---