It's Now or Never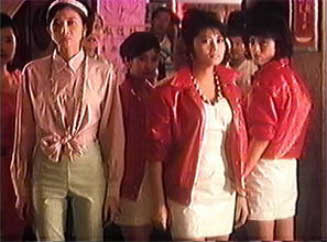 ---
Ooh, watch out. The Teddy Girls are out on the streets tonight - dressed in blood red jackets and boots that match the slash of lipstick across their snarling mouths. Looking like sleek polished sports cars primed to go, it is only a matter of time before trouble calls out their names and it does in the sexy shape of Chewing-gum. Down at the local dance hall the band is ripping out the latest jangly surf tune and the boys are twisting as close as they can to any girl that will let them. It's HK in the early 60's and cokes are selling for 30 cents. Chewing-gum (Pauline Chan) is whispering sweet intimate come-ons into the ear of Little Bun's (Cynthia Khan) boyfriend but this little tete-a-tete is noticed by two of the teddy girls and they speed away to tell Little Bun the bad news. Within a few minutes, the gang headed by Cheung Man comes strutting through the doors – pull out their clubs and all hell breaks loose – all wonderfully punctuated by the guitar driven music. It's ten minutes of divine rock and roll cinema.
I love these retro films – and there is something about a tough Teddy girl gang film taking place in the HK of the 60's that just struck me as very cool. As soon as the camera first slowly pans up past Cheung Man's red vinyl boots, past her bare legs and short white skirt, pauses to take in her stylish jacket and then to her insolently blowing out cigarette smoke I was hooked. This woman is as hard as rock candy, but much easier on the eye. Cheung Man just takes over this film with her scorching looks and her "screw you" attitude.

The cops come in and break up the fight and they all end up down at the police station where Cheung Man's younger sister, Rain Lau, is also being booked for some petty crime. Rain is only a schoolgirl but she is doing her best to not let it bother her or slow down her criminal activities like selling pills. Soon dad – Ng Man-Tat – shows up – but it isn't a sympathy call – he too is being booked for cheating some woman. This is their family – not a model family exactly – but a family nevertheless – and the film revolves for the most part around their fighting and loving one another.

It turns out that he is a third rate Lothario with a specialty of courting incredibly unattractive women and then bilking them out of as much money as possible. Pickings are slim these days though especially with his sex drive going in reverse and his chest full of aphrodisiacs not helping any more. Some of his ex-paramours are after him and so are some local triad collectors. Ng Man-Tat has some hilarious scenes in this film – and one in which he tries to seduce the mother of Cheung's wealthy boyfriend with a cherry in his mouth is a classic.

Also being surprisingly funny in this film is Cynthia Khan. She plays very much against type here as one of the gang and Cheung's best friend. She is all bluster and threats – and displays some lovely kung-fu stances – but when the fighting begins she continually gets clobbered. I was dying for one true Cynthia moment and we finally get it when she beats the hell out of her boyfriend (remember him?) who has forced her into prostitution.

The first forty-five minutes of the film are like speeding down the highway – the top down – and the wind blowing through your hair – just a complete blast. The film is splendid tongue in cheek fun – and sizzlingly stylish – but then it slows down – loses its Teddy girl focus to become more of a bizarre family drama – and then in the final fifteen minutes it gets somewhat brutal and starts taking itself seriously. It is a shame that it goes off track like that because it was feeling extremely unique for a while – but then settles into becoming a much more typical HK film towards the end.

The 60's sets and feel are great, the soundtrack is pure surf music and Cheung Man is absolutely delicious in this film. One scene of her whipping off her wig and shaking out her hair in slo-mo is one of those magical moments in cinema – just poetry. She gets excellent support from the other actors. Rain Lau is funny and touching as her loud mouthed little sister. Ng Man-Tat loves his daughters but is not much of a role model and finally brings down disaster upon them. I wish Cynthia Khan had been in more comedic roles such as this. She constantly cracked me up with her threatened "Eagle Claws" stance. And Lawrence Cheng is sympathetic as the geeky straight arrow cop who takes one look at Cheung Man and falls in love.

My rating for this film: 8.0

---