Innocent Interloper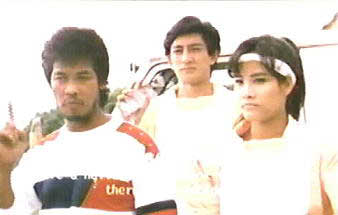 ---
In just about every way this is your basic forgettable low budget action film. Except for two things – Hwang Jang Lee and Elaine Lui tear up the screen with some terrific action whenever they are given the opportunity. They have some excellent action sequences with Hwang displaying some of his patented blazing kicks and Lui showing some terrific fighting and acrobatic moves two years before she starred in the ground breaking girls with guns film "Angels".
Of course, these two can't be fighting all the time and in fact the focus of the film is not on them for much of the first half and this is a shame because when they are not around the film gets boring very quickly. It begins with a bang though as Hwang steals some counterfeit plates from his boss and the chase is on – down bamboo scaffolding, up a crane, jumping across buildings – fighting all the way against the gang – led by second in command – Wicked Brain (Shing Fui-On). Hwang gets cornered in a library, but is able to hide the plates in a book before being captured and tortured.

Nerdy Lawrence Ng takes the book out and soon the gang finds out and is after him. Fortunately for him his father's (Shum Wai) pool hustling bordello bodyguard friend (Elaine Lui) takes a liking to Ng and continues to keep him alive against hordes of thugs. There is a complete role reversal here as Ng plays the helpless one in distress, while the tough as a brick Lui keeps saving him.

The second half of the film is near non-stop fighting and much of it is very enjoyable. The film also has a number of cameos for no particular reason – Bill Tung as a cabbie, Danny Lee as a . . what else . . a cop, Tai Po as a bartender, Michael Chan as a cat burglar and Wong Jing and Charlie Cho as students.

My rating for this film: 6.0

---