Zu: Time Warrior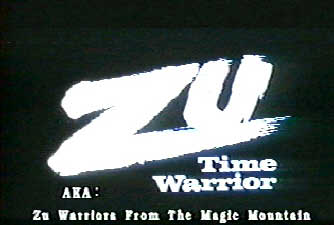 ---
Reviewed by Jay Grinder
The international print of Tsui Harkís influential fantasy story plays more like an eastern rendition of the Wizard of Oz meets Somewhere In Time, with the immense distinction of having much more fighting and less flying monkeys (but the actors fly enough to make up for the lack of monkeys and unlike his most famous character, Christopher Reeve didnít fly at all in Somewhere In Time). For those who have only seen the HK version (Zu: Warriors From the Magic Mountain), you might be surprised to find out that the international edition is an almost entirely different film, and I wouldnít be surprised if a few of you even found it to be better.
The central theme of the film is best summed in a quote from one of itís characters: ďYour past life cannot be separated from your present. You have to go back into the past and forget about the present. She is central to your life, find her.Ē
Rarely seen in HK and rarely seen outside of Europe, this alternate version of Zu opens in modern day Canada. Yuen Biao is Ti, a college student who after visiting an exhibition of 10th century Chinese art at a local museum becomes enthralled with a painting depicting gods and goddesses and one goddess in particular that really fascinates him. The museum curator explains that the goddess was called Morning Flower and that once she was human until her lover went off to war. Everyday she would climb the Magic Mountain to pray for her loverís safe return. The goddesses felt pity for her and they made her one of their own. When Ti asks what happened to Morning Flower and her lover, Ti and the audience are given a bit of foreshadowing. The curatorís reply is something to the effect that perhaps the story isnít finished yet.

Events become stranger when Ti falls for a young woman played by Moon Lee, who is an absolute dead ringer for Morning Flower, and when upon closer examination of the painting he notices that Morning Flowerís lover bares a rather striking resemblance to himself.
Ti visits a psychic who delivers to him the quote from above. Deciding that he must find Moon Lee, Ti speeds through town in a desperate attempt to locate the girl. While speeding down a curvy dark street, he catches a glimpse of her in his headlights and swerves to miss her. Smashing through the guardrail, Tiís car flies off the cliff and crashes.

Ti awakens in a dream-like state, where he finds himself back in time, caught in a vicious battle between 10th century warring factions. Ti retreats in the hopes of escaping the war and finding his lover Morning Flower, but is informed by the old man of the mountain that she has gone to be with the gods. The old man warns Ti that a war is about to begin between the gods and a terrible evil force known only as the Blood Monster.

Ti scales the mountain to begin his quest for Morning Flower, but itís not long before Ti finds himself caught in the middle of yet another war, but this time itís the ultimate battle between good and evil. Can Ti and the gods defeat the Blood Monster? Will Ti regain his lover Morning Flower?

Perhaps one of Tsui Harkís most realized works, Zu is also one hell of a fun movie. This is the kind of film that got many of us interested in Hong Kong cinema to begin with and itís also the movie that really helped modernize the Hong Kong swordsman picture (without the influence of this picture itís doubtful that even Crouching Tiger, Hidden Dragon would ever have seen the light of day). The special effects although perhaps not up to modern Hollywood standards, were definitely light years ahead of previous Hong Kong product. The high-flying wirework (a sight that may seem a bit too common now to die-hard Hong Kong cinema aficionados) is flawless and a bit more believable when you remember these characters are supposed to be gods.

Yuen Biao is thoroughly enjoyable in the lead and Moon Lee is as lovely as sheís ever been. The top-notch cast is further distinguished by exceptional work from the likes of Sammo Hung, the commanding presence of Adam Cheng, and a scene-stealing Brigitte Lin (but, then again, when isnít she doing that?).
---