The Magic Blade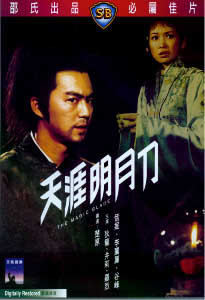 ---
Reviewed by YTSL
Up until Celestial Pictures began re-releasing the films from the Shaw Brothers library that they had acquired, my principal knowledge of the individual who has been hailed as "the real discovery among the directorial talent represented by the new Shaw Bros. DVDs" (by Brian Camp on Mobius's Asian Cinema Discussion Board) was by way of his on screen appearances in post 1980 Hong Kong movies. Perhaps most notably, Chor Yuen (AKA Chu Yuan; real name Zhang Baojian) had the role of the main villain in Jackie Chan's "Police Story" and Carina Lau's character's father in "He Ain't Heavy, He's My Father" (plus lent his name to Tony Leung Chiu Wai's character in that U.F.O. production). Additionally, he can be spotted making cameo appearances in movies like the nostalgia tinged as well as parody oriented "Those Were the Days" (1997) that had a contemporary director modeled after Wong Kar Wai being made to go back in time to the days when his local cinema was dominated by a Shaw Brothers-like film company.

Somewhere down the line, I also learnt that the critically plus commercially successful "92 Legendary La Rose Noir" plus its sequels were based on, or at least inspired by, the Chor Yuen directed "The Black Rose" that had been a hit with Hong Kong audiences back in 1965. Still more recently, this (re)viewer realized that one of her favorite Chow Yun-Fat comedies -- "Diary of a Big Man"; a star-infused work whose cast includes Sally Yeh, Joey Wong, Waise Lee and Carrie Ng -- also was helmed by this enduring entertainment industry personality. And while I'd not go so far as the likes of "The Illuminated Lantern"'s Peter Nepstad in declaring, in a Mobius post, that "Chu Yuan is a God"(!) whose adaptations of Gu Long's historical swordplay novels are "filled with more inventiveness than 10 ordinary films"(!!), here's pointing out my willingness to at least state that: Chor Yuen's light hearted "The House of 72 Tenants" and darker THE MAGIC BLADE are -- along with the legendary King Hu's "Come Drink With Me" -- the digitally restored Shaw Brothers classics that I do rate most highly of the eight, and counting, which I've viewed thus far.

As Bey Logan informs listeners on this wuxia work's DVD's commentary track, THE MAGIC BLADE is one of several Chinese cinematic adaptations of the writings of the late Gu Long (AKA Ku Long), a Hong Kong born "pulp fiction" novelist who spent much of his adult life in Taiwan. At the same time, this 1976 offering's director -- and his team (e.g., co-scriptwriters I Kuang and Szu-Tu An) -- managed to inventively incorporate "spaghetti western", Japanese chambara film and Hammer horror movie elements into that which still could function as a "purveyor of traditional Chinese values" as well as piece of mass entertainment. And so successful were their efforts that viewers like myself didn't think to question much such as the historic viability of its "wandering swordsman" protagonist's poncho-style costume plus consider the insertion of Ha Ping's cackling "Devil Grandma" character in the picture to be one that ruined the mood of an action production that benefits quite a bit from having its fair share of stylized as well as stylish sections.

Another major plus point possessed by THE MAGIC BLADE comes by way of its leading man being the immensely charismatic plus handsome -- maybe especially when in slightly disheveled guise, like he is in this film -- Ti Lung. Supposedly, the Tong Gaai and Wong Pau Gei action directed movie's title really refers to the sought after -- including by the fairly linear, even if also multi-character plus -stranded, story's chief villain, an elderly but powerful man known as Master Yu (who is portrayed by Tang Ching) -- explosive projectile weapon that gets named in the English subtitles as "the Peacock Dart". However, Ti Lung's Fu Hung-Hsieh character's handling of his unconventional individual weapon of choice -- a rectangular blade whose handle resembles that of a policeman's nightstick -- was what looked particularly magical to me.
Lest there be any doubt, here's stating that THE MAGIC BLADE's imaginatively choreographed fight scenes -- all of which involve Fu Hung-Hsieh, and pit him against killers who work for Master Yu (including those played by Ku Feng, Lily Li, Fan Mei Sheng, Norman Tsui, Lui Hui Ling, Hsu Shao Chiang and Koo Koon Chung) -- are very watchable. This fact notwithstanding, its principal star's appeal also can be appreciated in those quieter portions of the offering -- like that which had him interacting for a few precious minutes with a supporting actress who Bey Logan didn't identify (and, instead, only talked about as an example of the efforts made by the Shaw Brothers to invest their productions with the presence of females who are attractive to the women as well as men among the audience). Still, this is not at all to say that the heroic Mr. Fu majorly comes across as a ladies' man. Indeed, despite this film's containing shots of female nudity and a suggestion that its protagonist did go to bed with at least one of the women who figure in the frame, Ti Lung's character did strike me as placing as little value on sex as he did power, fortune, fame and/or being Leader of the Martial World (AKA Jiang Hu).

In this and other ways (including visual ones that often had this dark clothed individual's opponents dressed in white -- the color of death for many Chinese; rather than that which invariably signifies purity, like when it is worn by Ching Li's "pure-hearted", predominantly white robed Chiu Yu-Cheng character), Fu Hung-Hsieh is made to stand out from, plus stand in contrast to, THE MAGIC BLADE's plethora of other personalities. All in all, it retrospectively appears far from co-incidental that this enthralling work that's set in a mythical as well as historical feeling "Wild East"'s opening scenes are ones that show Lo Lieh's sword-wielding Yen Nan-Fei character -- who, incidentally, is introduced to the movie's audience before the much more austere Fu -- in his hedonistic glory. On a related note: Tanny Tien Ni's Ming Yueh-Hsin character can seem to be ultimately more disapproved of due to her being a "woman who plays fast and loose" than because she also is "heartless".

My rating for this film: 8.
---