Shamo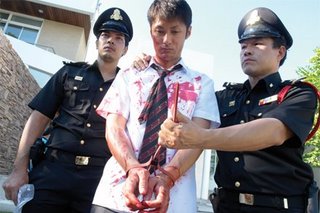 ---
After An Empress and the Warriors from the night before I needed a tonic to get my system moving again. So I decided to check out Shamo which is nearing the end of it's rather sordid theatrical run here in Hong Kong. The film has been kicking around for a while now looking for a release date like an alcoholic looking for one last drink on a lost weekend. This is never a good sign and sure enough upon entering theaters with it's head meekly bowed down it received a bruising critical beating much like the one the main character receives in the ring - or to prolong this comparison -the film was gang raped as was the character upon entering prison. Sounds appetizing so far, huh? One friend even told me that Shamo had almost turned her off Hong Kong films for good. So enter at your peril. As for me - to prove once and for all that my taste is questionable - I quite liked it.
The film leaks out of the same dark inner place that director Soi Cheang Pou-soi reached for in his previous film, the nihilistic Dog Bite Dog. Here he creates a savage manga inspired world where everyone is out for their pound of flesh and you can only get it by exploiting or being exploited - or to be more Zen like - either you are the punching bag or punching it. In some ways it reminds one of a leaner, smarter Story of Ricky - brutal but painstakingly stylish with eye-popping sets, lurid deep colors, Vogue moments of stillness, beautiful scornful women and lush cinematography. Pain and violence have rarely looked so chic. Based on a manga from Izo Hashimoto, it gnaws joyfully on its material.
Ryo (a taut Shawn Yue) is sent to juvenile prison for the little crime of knifing his parents to death while they ate breakfast and a picture of him in his school uniform covered in blood makes him infamous. He is welcomed to his new home with a beating, a group rape and an attempted suicide. His younger sister, Natsumi (Pei Pei) visits him in a pink fluffy Liberace outfit to tell him that he has ruined her life and she is leaving to become a prostitute. Even in prison he is considered a freak for his crime, but an older prisoner Kurokawa (Francis Ng being as great as ever) takes him under his wing and teaches him karate - life teaches him to become vicious - and he is soon crumbling his tormentors.
When he is released from prison he takes up a living as a gigolo and searches through every seamy red light district in Japan for his sister. He doesn't find her but he comes into contact with another prostitute, Megumi (a red hot Annie Liu) who wants a man who will look for three years for his sister - as she laments "no one ever looked for me". Getting nastier and more feral with each frame, Ryo decides that to have fame and money he needs to beat the champion of a type of Lethal Fighting and begins to train and work his way into the fight game. But don't expect your typical feel good underdog Rocky story - this is a slap happy monster who just wants more - but one senses that almost lost beneath his layers of anger, pain and psychosis is a speck of humanity and a will of iron that still makes you perversely root for him. And that perhaps somewhere down the road is some redemption for him and that's what makes the film more than just an exercise in pure glam-cool-violence style.
My rating for this film: 7.5
---