The Return of the Deadly Blade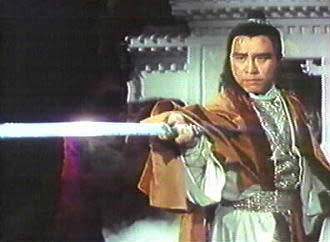 ---
This wuxia film from 1981 has acquired a strong if somewhat obscure reputation over the years based on its action choreography and the stellar cast. It is also one more developmental step in the career of Ching Sui-tung that was soon to take off. Ching was the action choreographer for both this film and for The Sword that had been made in the previous year. Though done on a much smaller scale, both films show elements of the kinetic and flashy style that Ching was to bring in a sumptuous mind-bending flurry in his groundbreaking film Duel to the Death in 1983.

Unfortunately, the copy of this film that I was able to view was only subtitled for the first ten minutes, pan and scan and had some awkward edits that made me wonder if I was watching a badly cut version. Taking all this into account, it was still an enjoyable film to watch but it was difficult to follow the plot and understand the relationships of the characters. I also rarely felt that I was seeing something exciting and innovative taking place (even taking a historical perspective). Many of the action scenes feel overly edited at times – and the film lacks the sense of aesthetic and exciting style that Ching brought to The Sword. This could of course be more the fault of the director of this film, Cho Chin-man, than of Ching.

As best as I could understand, the film revolves around two swordsmen – David Chiang who leaves his sweetheart behind to search for the person responsible for killing his father - and Yasuaki Kurata who seems to have a bounty on his head and has countless killers chasing after him. Much of the film follows the two of them on separate journeys through the Chinese countryside until they finally meet up.

Yasuaki is a kind-hearted fellow and does his best not to hurt the various hunters who are trying to trap him and defeats them in comical ways. He also meets up with Sharon Yeung Pan Pan and has a few low-key duels with her that are closer to flirtation than fighting. Chiang on the other hand is singly focused on gaining revenge – and slowly works his way towards the unknown killer – though along the way he does save Flora Cheung from being raped. She attaches herself to him – but there is clearly more to her than meets the eye. Keeping tabs on all of this from a distance is a crippled Norman Chu (who also starred in both The Sword and Duel to the Death).

There is a lot of action in the film – some done humorously – some of it quite deadly – and Ching employs one of his favorite visual devices – the elusive Ninjas for a terrific attack on a boat in the middle of a lake. He was of course to use the Ninja even more imaginatively in Duel to the Death. I have no doubt I would have appreciated this film much more with a better transfer and with subtitles – but as it stands:
My rating for this film: 6.0

---