First Option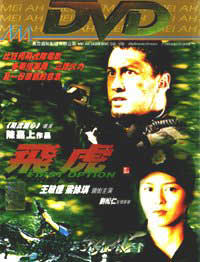 ---
Reviewed by YTSL
People who think that Michael Fitzgerald Wong is the worst actor in Hong Kong films need to check out this heavy-on-the-testosterone action offering. This is not to say that I believe that he deserved the HKFA Best Actor nomination he garnered for his star turn as a muscular Special Duty Unit (SDU) commander named Don Wong. Rather, what I am seeking to point out here is that there actually are far worse acting performances on display -- and individuals with way less screen presence -- in that which is a loose sequel to another SDU focused movie starring Michael Wong entitled "Final Option".

Little evidence exists either in FIRST OPTION that the 1996 offering's scriptwriters (Chan Hing-Kai and director Gordon Chan) produced work that's of the highest caliber. This is particularly so when one beholds the English language dialogue they "crafted" for more than just its Asian-American lead -- who really ought to be more fluent in Cantonese after having lived and worked in Hong Kong for as many years as he has -- to utter. Perhaps no where in the film is it more apparent than when a couple of Yoda's lines are borrowed from "The Empire Strikes Back" for the movie's main man to apparently seriously quote. The lack of depth of many of this effort's characters gives further testimony of the script's weakness. Ditto re what plot there is -- which centers on the collaborative effort(s) by different special police sections and a group of Customs Department agents to carry out a major drug bust and prevent a huge U.S.A. bound shipment of Golden Triangle narcotics from leaving Hong Kong -- containing quite a few glaring holes.

Despite all this, the truth of the matter is that I found FIRST OPTION to constitute quite enthralling as well as entertaining viewing; so much so that I was quite happy for the most part to overlook quite a few of the film's weaknesses. Actually, the fact of the bulk of the enjoyable movie's characters being no more than ciphers contributed enormously to making the lengthy climactic battle and other skirmishes in which many of them were involved suspenseful and thrilling since the combatants' chances of survival were less predictable than they would have been if their personalities had been more clearly -- and conventionally -- fashioned. Alternatively put: The tension was considerably heightened by there being a very strong possibility that quite a few of the assembled team of law enforcers -- as opposed to just the criminals -- in this effort were really only around to ensure that there would be an impressively high body count accrued in each of the often bombastic work's well-staged military-type action operations (Although Don Wong states at one point about his squad that "We are part of the police force. We are not soldiers", their style and tactics seem closer to those of US Navy SEALs and comparable elite troops than any other group of constabulary depicted in most other Hong Kong productions).

Another aspect of FIRST OPTION appreciated by this female (re)viewer was the unHollywood-like treatment of -- as well as part played by -- Gigi Leung's Inspector Minnie Kwan character. Although the gangly actress and the very raw looking Customs Department official she essayed initially looked terribly out of place in that which a HKMDB reviewer has suggested may be "the ultimate guy movie", the manner in which they manage to come up tops in the end was very satisfying to me. With regards to two other parts played by women in this generally gung ho effort, I (also) was gratified: That the gender of Lee Fung's senior police officer Katie Ngan was apparently considered as unremarkable as that of the high(er) ranking colleague of hers played by Damian Lau; and to see the lass disparagingly referred to as a "China doll" by the film's chief villain have a role in tracking him down and consequently ensuring his appropriate fate.

For those Hong Kong movie fans who could care less about such matters, FIRST OPTION probably will alternately appeal by way of the amount and type of firepower on display in a film that pits some dedicated lawmen and -women against a group of expertly-trained -- and heavily-armed -- American military personnel turned drug traffickers. Suffice to say re this element of the well shot -- pun not particularly intended... -- offering that action director Bruce Law sure used the generous amount of large explosives, squibs, ammunition and other tools of his trade at his disposal to put up a good and exciting show.
My rating for this film: 7.

---
DVD Information:
Distributed by Mei Ah
The transfer is fairly mediocre - dull and listless like I have been feeling lately. I noticed that Media Asia/Mega Star has put out a version, which apparently is much better than this one.
Letterboxed
Cantonese and Mandarin language tracks
There is no menu - thus no chapters and no extras
The subtitles are burnt on Chinese and English.

---