Sharp Guns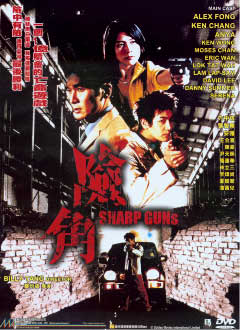 ---
Reviewed by YTSL
In more than one way, this 2001 offering is a movie that confounds expectations. For one thing, it's a Golden Harvest production that has a distinctly low budget, B movie feel to it (due in some part to it having been shot MOS (i.e., without sound)). For another, it's a slick feeling action work that does not have quite the "edge" and copious amount of splatter that might be expected of something that's helmed by "Bloody" Billy Tang (whose best known efforts probably are the notoriously ultra-violent "Red to Kill" and sensationally tasteless "Run and Kill"). Then there's the fact of a film that I thought would have some appeal to a significant number of women and men -- on account of its main man being the hunky Alex Fong and lead female coming in the provocatively attired as well as generally physically attractive form of Wu Anya -- having just earned a paltry HK$106,691 at the HKSAR box office (and played for a mere six days in probably only a limited number of cinemas).

After my viewing this unassuming offering, rather than take SHARP GUNS' inability to make a killing at the local box office to be a sign that the film is one that doesn't have much to offer audiences, I'm inclined to look upon this as (further) evidence of the sometimes quite great disparity in tastes that exists between domestic and overseas Hong Kong movie fans. More specifically, while many foreign fans continue to hanker to take in identifiably HK-style shoot-em-ups, these seem to be precisely the kind of efforts that -- even when they are well written and executed (as opposed to shoddily made) -- HKSAR residents are no longer all that interested in checking out and giving a chance to. In general, this could be said to be a great pity since it would seem to discourage the making of (more) works like this Felix Chong and Cary Cheng scripted offering: One which may have been modestly conceived -- and may not be highly memorable -- yet is more polished plus has more thrills to offer than its no frills title has let on.

SHARP GUNS opens intriguingly with a glimpse of a tough looking man gazing through some prison-type bars at a young woman being restrained by a couple of his minions. Upon becoming aware of his presence, she cries out to him that her father is a powerful individual, he laughs mockingly and appears to issue an order for drugs to be further administered into her bloodstream. A few scenes later, a top hitman cum smooth operator known as Tricky On (who is coolly portrayed by a generally nattily-attired Alex Fong) is informed by a Macau crime lord friend of his (The surprisingly soft-spoken Ban is played by Lam Lap Sum) that his daughter has been kidnapped by a rival referred to as Sergeant (who comes in the form of veteran rocker, Danny Summer). Rather than pay a 50 million -- that's presumably actually Macanese Patacas, but gets translated into the subtitles as (generic) dollars -- ransom, Ban has opted to make On a 3 million (Patacas) offer to rescue the kidnapped lass.

After accepting that not insubstantial payment and mission, On successfully assembles a crack team to spring the captive from the hands of Coke (The often under-rated Ken Wong plays the policeman who looks to be in cahoots with Sergeant) that includes: A sharp-shooter named Wood (He -- who sometimes seems to function as SHARP GUNS' primary comic relief -- is essayed by Ken Chang); and an almost laughably sadistic "SM killer" named Rain (At 550,000 Patacas, Wu Anya's highly dangerous character's recruitment fee is 50,000 higher than Wood's). Before too long, this deadly trio get joined by: An expert (get-away) car driver known as Kangaroo (because Cantonese- as well as English-speaking he -- who is played by one of three David Lees who have entries in the HKMDB -- hails from Australia); and a veterinarian who's no slouch at treating human patients (Moses Chan makes a welcome appearance as the nervous-looking George).

Since I don't want to make it so that there will be no surprises left in store for potential viewers of a film whose makers looked to have worked pretty hard to keep the audience almost continuously guessing re what (other) surprises would be around the corner for SHARP GUNS' good guys (and gal), I'll merely let on here that what may have initially looked to be a generally simple and straightforward story does get vastly complicated by there being confirmation of one character's assertion that "In the underworld(,) betrayal is common". Some other twists in the movie's at times unfortunately ultimately too clever tale involve -- but are by no means confined to -- the amount needed to buy back a daughter getting doubled to a not-to-be-sneezed-at 100 million (Patacas). If only this offering's more notable characters had not been made out to be so very adept at the art of deception...As it stands, although this did help keep matters interesting for longer than they otherwise might have been, IMHO, it also actually ended up robbing this nonetheless still watchable effort of much needed tension at key moments (since there came to appear to be a certain inevitability to On and co. being able to pull off a(nother) trick to get out of one more sticky situation in which they had looked to have found themselves).

My rating for the film: 6.

---