Romance of a Teenage Girl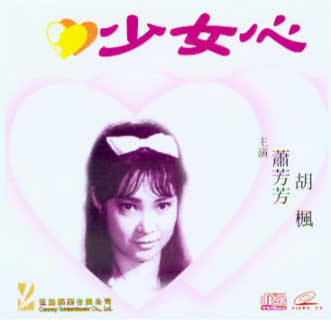 ---
This early Josephine Siao film is now available on vcd from Century Entertainment in HK. Unfortunately, there are no subs - but I still enjoyed watching it even if I had no real idea on what was going on. According to Christopher Fu on Mobius "This film exemplified another transition in the versatile Josephine's acting career (child actress from 1954-1960, wuxia actress from 1960-1966). Through ROATG, she became one of first adult HK leading actress to successfully transcend typecasting – from wuxia roles to teen idol films.
ROATG is often hailed as a representative work from the 'golden age' of Cantonese film (1950s to late 1960s)."
If you are a Josephine Siao fan, this is a very worthwhile pickup - she is amazing - she has a few heart rendering scenes, does comedy, has two different roles and performs 5 or more musical numbers. All very cool - but I sure wish I knew what the heck was going on. As best as I could tell, she plays twins - one very proper while the other is a bit of a hell raiser. Both can dance though and she does two Chinese Opera numbers, a lavish dream sequence, a candleholding number, a poolside frug, sort of a modern jazz number and a finale in which she takes on four roles! There are some bad guys in there who are up to no good, but I never quite understood what they were after. If anyone has seen this and understands it better than I do - I'd appreciate a quick summary.
Also appearing is Woo Fung as the romantic leading man and long before she became the matriarch of Hong Kong horror films is a much younger Helena Law Lan as Josephine's friend.

---
Ranberator has been kind enough to send me this complete summary of the film. Thanks very much!
Yuk Han (Josephine Siao) is a newspaper reporter assigned to investigate an incident involving a poor university student named Cheung Kar Fai (Woo Fung). Kar Fai lives with his widowed mother, kid brother and sister in a squatter's hut. He also works part time at the Happy Valley racetrack. One day he mistakenly pays out $1,000 to Boss Pang, who forges a winning ticket. The racetrack holds Kar Fai responsible and requires him to pay back $1,000 out of his own pocket within a few days. Yuk Han tries to interview Kar Fai at the night school in which he is also a volunteer teacher. But the idealistic Kar Fai angrily refuses, claiming that she is a hypocrite who is only interested in his story for career advancement purposes. Through a misunderstanding, Yuk Han writes a damning article claiming that Kar Fai is wrong for raising money from the night school students to reimburse the racetrack. Because of the article, the university threatens to expel Kar Fai. Kar Fai's equally idealistic and poor night school teacher Cheung Lap Yun, who has liver cancer, shows up at the newspaper to explain that Kar Fai is in fact raising money for his operation, since there is a long waiting list at the free hospitals.
Yuk Han sends a coworker to apologize to Kar Fai for the misunderstanding and promises to write a retraction. Kar Fai in turn apologizes for his rudeness. Yuk Han and Kar Fai decide to put the incident behind them by spending the rest of the evening looking for thrills. They try their hands at shoplifting at a department store as their first thrill. Yuk Han of course has the foresight to tell her photojournalist coworker, nicknamed "doll bag" (Cheng Kwan Min), to pay for the loot so they won't be arrested. "Doll Bag" obliges by using the newspaper's camera as collateral. The two then go to a nightclub, where Yuk Lan is asked by her friend Law Lan to do a guest performance. Also at the nightclub is Boss Pang (middle aged man wearing sunglasses), who recognizes Kar Fai but Kar Fai does not seem to recognize him. After Yuk Han's performance, Kar Fai asks her why she becomes a reporter instead of an artist. She replies that art has no value in a materialistic society. Kar Fai then jokingly (?) declares that he will surrender to the almighty dollar from now on.
Concerned that Kar Fai's "surrender" is no joke; Yuk Han devises a plan to save Kar Fai from decadence. Knowing that he will not take her money, she disguises herself as a spoiled rich girl so she can hire him as a personal tutor for $1,500 a month. In order to pay for tuition, she will perform as the famous Vietnamese "Heavenly Devil Woman" at her friend Law Lan's nightclub. Her plan nevertheless fails when Kar Fai's mother becomes ill. The paramedics, knowing that the call comes from a squatter's hut, decide to finish their card game before picking up the patient. The hospital receptionist is rude and she ignores Kar Fai's urgent pleas for medical attention but her attitude makes a 180-degree change when a reporter shows up (potential bad publicity). The doctor finally arrives, but he scolds the family for not bringing the patient in until she has died! Kar Fai, angry and heartbroken, decides that he has had enough of poverty. He will sell his soul to anyone who has money. Since Yuk Han does not have the money, he will sell his soul to the devil by signing a contract with Boss Pang to do whatever Boss Pang desires! When Kar Fai finds out Boss Pang wants him to smuggle drugs back from SE Asia as an airline passenger, Kar Fai has a change of heart and refuses. Boss Pang then kidnaps Kar Fai's kid sister and kid brother to blackmail him into submission. Boss Pang's scheme fails when the police show up in the nick of time, just before Boss Pang makes good on his threat to gouge out Yuk Han's eyeballs.
How does Yuk Han disguise herself as 3 different persons at the same time? She shows Kar Fai in the finale. She has no twin, but she does have two old classmates from a dancing school who wear Josephine Siao masks whenever they have to be at the same place at the same time.

---

---

---

---

---

---

---

---

---

---