Lunch with Charles
---
Reviewed by YTSL
There may well be some people particularly excited by the inclusion of Bif Naked (a notable punk rock presence on the Vancouver club scene) and Nicholas Lea (a semi-regular on "The X Files" voted as "the next great action star" in a USA Today readers' poll) in the cast of this Canadian offering from the husband-wife pair who had served as line producers for such as "Rumble in the Bronx" (the Jackie Chan vehicle which infamously had Vancouver doubling for New York City); and the duo certainly add charisma and charm to director-scriptwriter Michael Parker and producer Shan Tam's Y2K(1?) work. I'll readily admit though that this low-key little movie would not have registered at all on my radar without its also starring Lau Ching-Wan (billed in the film's English language credits as Sean Lau), an actor whose considerable abilities I appreciate all the more with each new and different role that I see him undertake.

Apart from acting in English as well as Cantonese in LUNCH WITH CHARLES, Lau Ching-Wan also can be heard singing solo a couple of times and -- as the movie's end credits roll -- in a duet of sorts with Bif Naked. This is in keeping with his character -- a Hong Konger named Tong -- being someone who would much rather sing for his supper than be the realtor he reluctantly became in order to provide for himself, his wife and others. At the time that this frequently too slow moving plus at times too gentle drama's viewers first encounter him, Tong actually had been living apart from his increasingly frustrated spouse for three years. More specifically, April (who Alberta-born Theresa Lee plays) has established Canadian residency and is working in Vancouver while waiting for her husband -- who would much prefer her to make the trip across the Pacific Ocean -- to "land" there.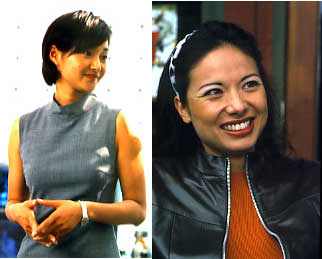 In a last bid effort to get her husband over to Canada before his "landing" pass expires, April sends Tong what she described to her administrative assistant (The thoroughly Westernized Cora is portrayed by British Columbia's Francoise Yip) as "a letter bomb" in the form of her wedding ring. When Tong phones April to query her decision, he is told a half-truth -- that his wife is having "lunch with Charles" -- by a Cora seeking to aid her senior colleague and friend that gets him jumping to the conclusion that she has become interested in another man. This thought galvanizes him into action and on a plane to Vancouver. At the same time, April herself gets sent out of town on a business trip. While Cora and the ethnic Chinese company's first gweilo client (whom Tom Schulte plays as an initially intolerant character who later mellows out to be not too bad a fellow after all) head directly to the small town of Banff to promote the alcoholic product at its music festival, April detours to even smaller Princeton to check up on the Irish band slated to be involved in the promotion effort and the festival.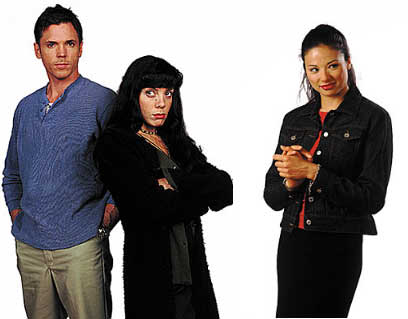 Suffice to say at this point that both April and Tong predictably encounter a number of obstacles and diversions along their separate journeys to Banff (and including in Princeton). Two of them are encountered -- in an extremely casually-run bed and breakfast place that the estranged couple coincidentally, separately and completely unknowingly end up lodging for a night at -- in the persons of a free spirit called Natasha and a dreamer named Matthew (essayed respectively by Bif Naked and Nicholas Lea). A series of events lead to April heading out the next day with someone who is the laid-back yang to her intense yin in tow while Tong hitches a ride with an individual he finds that he actually has quite a bit in common with. The nearer they all get to Banff though, the more their original reasons for going there seem to be ones which aren't going to get them to where they want to be in their lives...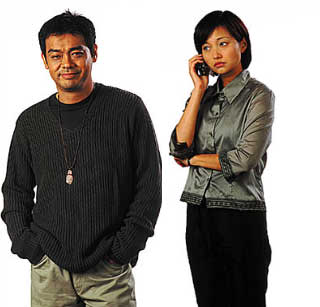 I consider it to be a positive thing that the choices (and presumably life arrangements) that the four main characters -- and also Cora and Tom -- in LUNCH WITH CHARLES end up opting for are not those that one might expect them to make at the outset of -- or even three-quarter ways into -- the film. Instead, the 110 minute length movie's main problems lie in its far too meandering treatment of the paths that lead to many of those decisions being made along with an anti-climactic style of filming the long overdue meeting between April and Tong. With better editing, more exciting proceedings and/or more insightful dialogue, this could have been a thoroughly absorbing cross-cultural romantic offering. As it stands, it's a work that starts off promisingly and ends in an acceptably bittersweet manner but sagged too much in the middle (and consequently had too many rather boring moments). Hence my surmising that it can't be much more than a curiosity piece for fans of the disparate group of actors and actresses whose performances actually complimented one another more than one might have expected.
My rating for the film: 5.5

---