We're Going to Eat You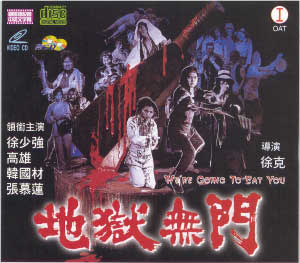 ---
Reviewed by YTSL
One week ago today, I had the privilege -- courtesy of Subway Cinema's "Once Upon a Time in Hong Kong" film fest -- to view on a big screen, with an immensely receptive audience, that which has been described as the "most neglected picture" of "Hong Kong's leading director" (by Lee Yi-Chong on pages 77 and 79 of her "Artist Provocateur -- On Tsui Hark's Artistic Character" chapter that is part of the 1999 "Hong Kong New Wave: Twenty Years After" HKIFF volume). Like his debut cinematic work, "The Butterfly Murders", Tsui Hark's second celluloid offering was a box office flop when it was released back in 1980. Although there are elements of it that do seem dated in 2001, an argument could also be made -- based in part on the reactions it got in New York, whose inhabitants often pride themselves on being the cutting edge of that which is "hip" and "cool" -- that there are aspects of this multi-genre movie that made it way ahead of its time.

At the very least, the sensationally titled WE'RE GOING TO EAT YOU looks to be the film in which certain attributes which are now associated with Tsui Hark's body of work made their first appearance. Chief among these are: A fast pace that scarcely allows one to breathe -- because one is too busy holding one's breath -- or blink -- for fear of something significant flashing before one's eyes in that split second of their being closed -- that is augmented as well as complemented by the expert editing and splicing together of shots and scenes; the mixing and matching of such diverse genres as (admittedly dark) humor, horror, kungfu action, drama and political commentary; along with the throwing out of certain daring as well as imaginative "oh my good god!" and "what the...?!" moments -- the last of which leads me to suspect that the Canton-born, Vietnam-raised auteur and partially Texas-educated auteur is depraved as well as a genius.
The fact of the bulk of events in WE'RE GOING TO EAT YOU taking place in a village of cannibals should already convince some re the validity of my previous statement. Those who require more proof should find it in: The animal-type traps set for human prey; the casual manner in which victims are taken to an abattoir to be cut up into parts that are communally divided up and eaten by pretty much everyone -- old and young, female and male, Taoist priest, scholar, butchers and/or security patrol -- alike; as well as the thoroughly petty ways in which individuals seek to get more than their allotted share of human meat (and particularly desired organs, like the heart).

But what really ought to be the clincher is WE'RE GOING TO EAT YOU's action-packed finale. Put this way: I think it suffices to point out here that this outrageous offering's climactic scenes take place in a debased place of worship and feature such eye-popping sights as: Men on roller-skates wielding fire-crackers; ancestral tablets being thrown at people; comic references to Abraham Lincoln (at which point in the film the "Yankee Doodle" theme blares out!) as well as Master Kwan Wan Cheung (the god Anthony Wong essayed in "Jiang Hu: The Triad Zone"); along with a well-executed kungfu battle between the village's security Chief (who gets menacingly portrayed by Eddie Ko) and police Agent 999, who got sent to a place that turned out to be filled with far more danger and crime than he -- or anyone outside of it -- ever anticipated (Norman Tsui gives a standout performance as the individual whose original mission was to track down and arrest a man called Rolex (played by Melvin Wong))!

What may be most amazing about this Ng See Yuen production though is that it has been adjudged by people in the know -- by virtue of their knowledge of Cantonese and the temporal, political and socio-cultural contexts in which this work was conceived and produced -- to contain many serious messages. E.g., Lee Yi-Chong was moved to bombastically assert that "As a deep-thinking artist, Tsui has elevated his feelings into philosophical realms. WE'RE GOING TO EAT YOU is a film filled with the tension of the thought process and it fills me awe!"; on account of its apparently causing the likes of this Mainland Chinese film scholar "to be aware that where a society is closed, without rule of law and democracy, and authority is exerted instead by a patriarchy, its value system exploits the worst excesses of human behavior (such as fear, greed, selfishness, etc) to engender fanaticism and mob rule" (1999:77).

Additionally, in his review of this work, Sebastian Tse suggested that it "is in fact Tsui Hark's creative HK-Chinese remake of "The Texas Chainsaw Massacre" & "Dawn of the Dead" or his intellectual response to these 2 films". Not being a native Hong Konger and/or film academic, this (re)viewer doesn't have any substantive comments to offer like those that have been cited above. However, I can vouch that WE'RE GOING TO EAT YOU sure is one entertaining movie -- even for someone who is not usually partial to horror like myself -- and that viewing it can be thoroughly mind-blowing, even without being thought-provoking!
My rating for the film: 7.5

---
Like YTSL, I had the opportunity to finally see this film at the Tsui Hark retrospective and I have to admit that I nearly skipped it because the concept of a film using cannibalistic metaphors to symbolize political and sociological themes left me less than enthusiastic. It struck me as heavy-handed but gladly I decided to at least check out the first few minutes and was soon engulfed in an insanely riotous film that felt amazingly fresh and innovative. The film has its gruesome moments and some of the more horrific looking extras ever cast in a film, but it is done with such visual wit and contains some extremely humorous routines along with some solid kung fu action scenes. It is highly entertaining from beginning to the very last moment.
Norman Tsui as Agent 999 has never been better. His kung fu gets him out of a number of scrapes and near death experiences, but he is certainly not a particularly bright agent. When he first arrives on the island looking for Rolex, he is told that he should go to the local slaughterhouse to find out about his whereabouts. He is surprised and pleased that the entire village has come out to greet him and to escort him to his destination. Before entering the slaughterhouse he gives them an enthusiastic wave, they happily wave back – and patiently wait for their next meal! Still a guy who rolls a cigarette while in the middle of fighting off a number of killers is very cool in my book.
The bad news is that it is extremely difficult to find a good copy of this film in any format. It is not out on DVD and the VCD (where these stills come from) is an awful transfer. Blanched out or murky, full screen so that much detail is lost and subs that are very difficult to read make this VCD a real disaster. As much as I recommend this film, I don't think seeing it on VCD is the way to go. It would be better to wait till it hopefully gets a DVD release some day or comes to a film festival near you.
Remember – eat them before they eat you.
My rating for this film: 7.5

---