The Queen of Gamble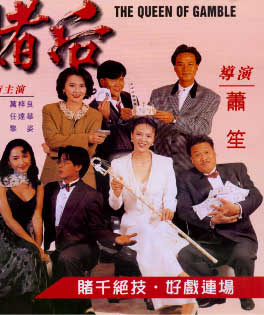 ---
Watching this film certainly makes me a bit nostalgic for the movies of the early 90's. Not that this was much more than a so-so offering, but that's the point. There were so many good actors around that even for a trifling film like this they could fill their roster with some very respectable talent in every role. Though Do Do Cheng is the main character – the Queen of Gamble – she is surrounded by the likes of Simon Yam, Aaron Kwok, Sibelle Hu, Ng Man-tat, Gigi Lai and Alex Man. All of these actors get a fair share of face time and perform the type of roles one might generally expect from them (taking into account that Aaron was not yet a star at this point). Of course, trying to divide a 95-minute movie between seven actors has its own set of problems – and this film certainly suffers from a lack of focus because of it.

Like a lot of films in this period, this one tries to hitchhike on the movie gambling fad created by God of Gamblers though with the twist that the main character is a female. Not that Do Do is in the league of Ko Chun – her area of expertise is three card monty – she would do well here in New York City! Instead though, she is initially living in the Mainland plying her trade illegally on the sidewalks and trying to avoid arrest from the cops. She buys her way to Hong Kong and looks up her cousin, Aaron Kwok, a bespectacled slightly goofy movie stuntman who continues to have men make passes at him through the movie. Alex Man is the landlord – an obsessed gambler – though not a very good one – who goes to the length of munching race horse's dung to see if it contains vitamins (shown in more detail than I would have liked!).

While doing her three card monty thing one day, she is spotted by the ever so suave Simon Yam and persuaded to come work in his casino. One evening a glamorous Sibelle Hu strides into the casino and within a few minutes has effortlessly stopped an armed robbery from taking place with a few well-placed kicks. Needless to say, Simon finds himself completely drawn to this type of woman – and pursues her like a sleek wind. In the end though it turns out she is a con woman and takes Simon for everything he has – especially his pride. Behind her though is the oily Ng Man-tat whose only good trait is his daughter Gigi Lai.

So as one would expect, the good guys all band together to get Simon his money back and this entails Aaron getting down to a pair of bikini brief swimming trunks and wiggling his bottom to seduce a Japanese gambler and the requisite gambling showdown between Ng and . . . The Queen of Gamble! This all proceeds in a fairly innocuous way with lots of side diversions – and just enough charm to make this mix of comedy, gambling and action an easy going experience.

My rating for this film: 6.0

---