Master Q 2000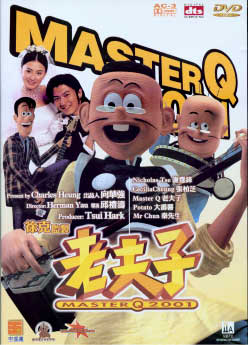 ---
Reviewed by YTSL
First came "Toy Story". Now there's also "Final Fantasy: The Spirits Within". In between, a Hong Kong movie which relies pretty heavily – but not 100%, like with the two Hollywood works I cited earlier in the paragraph – on computer graphics and special effects came to be made and released as well; and although it stars two of the Jade Theatre's hottest young stars in Nicholas Tse and Cecilia Cheung, my feeling is that two of this Tsui Hark production's four cyber characters – namely, the film's title character and his friend, Potato -- easily, definitely and comprehensively stole the show from them and others who feature in this comic combo live action cum computer animated piece.

For those who aren't familiar with them, the tall and skinny Lao Fu Tze – or Master Q, as he is (English) named in MASTER Q 2001 – and his buddies, the uncommonly short and squat Potato and regular human looking -- or at least as much so as a cartoon figure can be -- Mr. Nobody, are illustrated creations of Alphonso Wong (who makes a guest appearance as himself in this work). Although their adventures have largely been chronicled in black and white comic books, this (re)viewer has childhood memories of viewing at least one colorful theatrical offering featuring these distinctive personalities. In that decades older effort, these cartoon characters were portrayed by human actors however. This feature length Y2K1 movie which took two months to shoot, involved nine months of computer special effects work and necessitated six weeks of post-production sound work truly might well be – like it has been touted on director Herman Yau's website – the first Hong Kong film ever to wholesale blend together computer-generated figures, living actors and real life set(ting)s a la "Who Framed Roger Rabbit?"
MASTER Q 2001 finds the trio of comic characters on hard times and the brink of retrenchment or at least being severely under-employed by their long time employer – fishing enthusiast cum cartoonist, Alphonso Wong, who rather suddenly decided to take some time off from work to go on a fishing holiday to the Wudan mountains (which even he admitted is more well known for having a martial artistic association than being a fisherman's paradise, but therein, then, would lie a real sporting challenge!). While hunting birds – with makeshift catapults – for their next meal, Master Q (whose voice I suspect was provided by Tsui Hark) and Potato accidentally end up incurring the wrath of Triad boss, Don – as in the Mafia title rather than the diminutive of Donald – Kam (Michael Chan in a rare parody role), who sends his men – led by his lieutenant, Willy (who is played by Wayne Lai) – to chase after and attack the hapless looking duo. However, as Master Q shows in a fight that takes place in a playground (and utilizes playground equipment in a way that's somewhat reminiscent of one that took place in Jackie Chan's "Police Story II"), he actually possesses some kungfu fighting capabilities as well as more agility than one might expect from such a non-heroic cartoon character as well as ungainly drawn individual. Consequently, he and Potato are able to successfully elude their pursuers for a bit.

As (bad) luck would have it though, somewhere along the way, Master Q and the far less nimble Potato cause an accident that bring about (temporary) cases of memory loss for a pair of lovebirds, who proceed to be taken advantage of while in an amnesiac state by the villains of this piece. The male half of this romantic equation, a young policeman named Fred (who is portrayed by a Nicholas Tse), is successfully convinced by Don Kam and co. that he's actually named Howard and is the Triad tai lo's beloved godson. Meanwhile, his girlfriend (who comes in the form of Cecilia Cheung), an equally youthful teacher called Miss Cheung by her class and Mandy by others, gets conned into signing a marriage contract – that binds her to someone she actually has never met -- by her unscrupulous politician mother (Councillor Rachel Tam is played by Law Koon Lan, and Emily Kwan essays that woman's No Name assistant).

Upon getting some inkling of what was going on (particularly in the latter's case), Master Q and Potato go about trying to help the vulnerable young lovers in more ways than Fred and Mandy probably would have liked for them to have done. In the process, they get actively involved in an array of activities that include: An amusing hypnosis attempt; a fun-to-watch soccer game (refereed by a cameo-appearance making Helena Law Lan) between some goo wat jai and secondary school students; the performance of an intentionally distracting song and dance number; and an assassination attempt on a senior mobster named Don Sing (played by Joe Lee). Probably since all these shenanigans alone would still not have gotten this far from deep film beyond the sixty minute mark, MASTER Q 2001's otherwise rather thin plot gets additionally padded out by a series of tangentially connected sit-com type situations that allow the recognizable likes of Alfred Cheung (as Miss Cheung's school's headmaster), Ng Chi Hung (as Mr. Ing), Tats Lau (as an assassin named Mark), Lam Chi Sin (as "12138"), Hui Siu Hung (as Superintendent Hugh) and Lam Suet (as the head bank robber) to make guest or cameo appearances and draw yet more laughs out of this madcap movie's viewers.

Considering how majorly reliant it is on visuals rather than substance to entertain, MASTER Q 2001 was pretty successful in capturing my attention and interest for as long as it did. Still, I couldn't help but notice that whenever Master Q and Potato were absent from the picture, the movie would lose a whole lot of its charm. Relatedly, I found myself not only generally wishing for this effort to have focused more on them -- rather than the uncharismatic, at least in this offering, human leads -- but also damningly thinking that if one were to take away the nostalgia along with novelty values that were generated in tandem with the cyber representations of its primary cartoon characters, this piece of work would be disappointingly revealed to be as slight as its title character is gawkily lanky.
My rating for this film: 6.

---