18 Times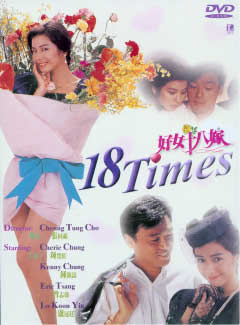 ---
Reviewed by YTSL
They don't seem to make movies like these any more; and despite this 1988 offering not exactly being a classic production, more's the pity re it, IMHO. If nothing else, I'd wager that many a Hong Kong film fan will enjoy seeing so many familiar faces – some of which, like that of the man I'll always look upon as the flasher whose member Michelle Yeoh's character made into a bookmark in "Yes Madam!", are very recognizable even if their names may not be -- appearing in a single work. The rather original premise as well as high zaniness quotient of this comedy -- about a marriage-inclined woman who gets widowed way more times than she would like -- are other factors in its favor. Still, this is not to say that it is an effort that ought to be approached without a measure of indulgence (on account of it being, to put it mildly, a less than sophisticated film).

18 TIMES opens with a charming sequence in which some boys and girls look to be playing at "getting married", only for the "bride" to get stood up by more than one male. Fast forward some two decades or so and the now adult Gigi's problem lies less in her being unable to find men to marry her and more in their inability to stay alive for long, especially after they make or somehow come by a fortune. So rapidly does she (who is portrayed by Cherie Chung) go through husbands that it took four tries for her lawyer (Woo Fung making a cameo appearance) to get right her most current married name. Indeed, as is later revealed in the film, at this juncture in the tale, multimillionairess Gigi had already outlived not four but fourteen husbands.

However, she -- who had sought to be someone's wife from early childhood – was still not about to give up her search for the Mr. Right, and soon set her eyes on a feminist activist by the name of David So (who comes in the form of John Sham). As an upset Gigi tells her therapist (Raymond is played by Paul Chun Pui), as with all the other marriages, it all started roaringly but shortly after David comes by a fortune (in donations from his mostly female supporters), he also met Mr. Death and his Maker. In a bid to cheer Gigi up, her feisty aide and friend, Chi (Teresa Carpio gives a lively performance here in 18 TIMES) takes her to a club where a comedian (Jack gets portrayed by a segment -- if not show -- stealing Eric Tsang) is putting on a show. Rather predictably, Gigi falls for Jack and vice versa. What is way more unexpected is how Jack ends up kicking the bucket -- and though one rightly ought not find those circumstances to be as hysterically funny as I did, I have to admit that I did find the entire "Jack" section to be the most hilarious as well as best part of the movie.

While she is still in mourning dress, Gigi – along with Chi and Gigi's driver (the latter of whom is played by Dennis Chan) – get effectively car-jacked and held hostage by a pair of robbers fleeing a crime scene. While the ill-tempered Big Brow (Shing Fui On in a characteristic "bad guy" role) is a bonafide baddie, it turns out that nervy High Lo (who is essayed by Lowell Lo, one of those Hong Kong movie music composers – along with the likes of Frankie Wong, James Wong Jim and Tats Lau – whose appearance is not what one expects of members of their profession) is actually an undercover cop. After managing to effect the delivery of the criminal gang that he was supposed to be a part of into the arms of the law and thereby also the freeing of Gigi and co., High Lo gets roped into being husband number seventeen for the still young multiple widow. Before too long however, he succumbs to a similar fate as all of her previous spouses (albeit in a pretty unusual manner), and a majorly distraught Gigi is left vowing to never marry a loved one ever again.

So what is to happen when charming, laid-back and handsome-looking Jack Wong (who comes in the form of Kenny Bee) comes along into Gigi's life? Will the no less attractive Gigi be able to resist the smitten Jack? If so (and let's put it this way: I.e., a clue re this lies in this movie's title being 18 TIMES…), how will the two love birds ward off the ill fate that seeming invariably permanently befalls the men in her life? Also, how does director Joe Cheung manage to fit in cameos by the likes of Wu Ma, Benz Kong, Tommy Wong, Chung Fat, John Ching Tung and Philip Ko Fei into this "surely only in (1980s) Hong Kong…" picture? Additionally, how in the world did this rather amusing work get categorized as a DRAMA in such as the HKMDB?! To find out the answers to all but the last question, go get yourself a copy of this movie, which slowed down somewhat and threatened to get rather lame in the last quarter but ultimately does end on an inspired note.
My rating for the film: 6.5

---
DVD Information:
Distributed by Mei Ah
The transfer looks quite good for the most part - some speckling and a bit bright on occasion.
Letterboxed
Cantonese and Mandarin language tracks
9 Chapters
The subtitles are Chinese or English or none.
There is no trailer for this film or for any others.

---