You Shoot, I Shoot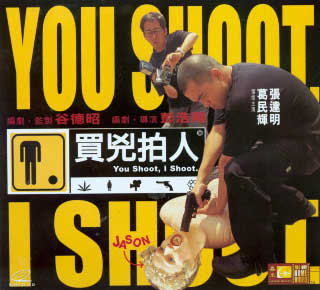 ---
In Hong Kong it used to be that cinema was king and perched on top of that throne was the professional killer. The epitome of style, the wind blowing his trench coat in slow-mo, the charismatic smile before facing sure death, the final heroic gesture. These were the coolest characters on the face of the earth. This film takes both Hong Kong filmmaking and the killer and mixes them together in a very amusing and charming satire that pokes loving fun at both. Since The Killer (which is referenced a few times) the world has changed in Hong Kong – the film business is tough to make a living at and so too is being a professional hitman. But as this film cleverly suggests – they have a wonderful symbiotic relationship - what would professional killers be without the movies – what would HK film be without the killer - here it is taken to its natural completion.

Business isn't good in these economic times – not even for killers - and Eric Kot has to tell his wife (Audrey Fang) to cut back on her spending. Being the good little wife, she tells him that he just needs to be more proactive in selling his services and finding contracts and Kot goes "Cold calls? I hate making cold calls". Nevertheless he finds a niche for himself among society women with too much time on their hands and lots of annoying people in their lives. But this being the age of instant visual gratification, his first client (Miu Fei Lam) wants Kot to video his work for her to look at. But she is very disappointed with his final product – sure the guy is dead (Ken Wong), but the camera work is very slipshod. The guy was shooting at me, Kot explains as the reason for the jumpy cinematography – but that's not good enough.

So he locates a down and out assistant director (Cheung Tat-ming) of porno films who wants to be the Hong Kong Martin Scorsese and hires him to do the behind the camera work. The premiere of their first killing/film is a huge hit with Miu and her society ladies (Angela Tong and Nancy Lan) and the boys get a steady diet of work. Cheung may have been a bit reluctant at first, but it's an opportunity to polish his work and he takes great pride in it by adding credits, sound effects, music, slo-mo, bullet cam and other effects. As the killings continue the filmmaking becomes more and more sophisticated with victims even made to do several takes before dying.

It's funny, breezy, hip and irreverent. The tone for the first fifty minutes is delightful – lots of little odd bits thrown in like a family dinner with a mother-in-law annoyed with her son-in-law for not killing someone for her – "how much does a bullet cost?" or two other rival killers (Lam Suet and Tats Lau) offering a free killing for every 30 performed – "the more you kill, the more you save". In the second half of the film it takes on a semblance of a plot and has a romance thrown in between Cheung and a Japanese porn actress (played by Asuka Higuchi) who specializes in being a fluffer – and this slows down the film and takes some of the lovely absurdity out of the film. Still this low budget film from director Edmond Pang and writer Vincent Kok is great fun, is well shot, has good music, has a straight-faced wonderful tongue in cheek sensibility and is all in all a treat.
And I never thought these words would pass my lips – but Eric Kot – one of the more annoying actors alive is very good here. He keeps his manic side pretty much in check and gives a very sweet and personable performance – and oddly still on occasion is believable as a hired killer. Cheung teams up well with Kot and is quite enjoyable as a fellow who just wants a break in the movies. Showing up also in the film are Michael Chan and Ng Chi Hong as two triad members, Henry Fong Ping as the first filmed victim, Spencer Lam as the client that can't pay at the beginning, Chan Fei Hung as the producer and Vincent Kok as the electronics saleman.

My rating for this film: 7.5

---