Let's Sing Along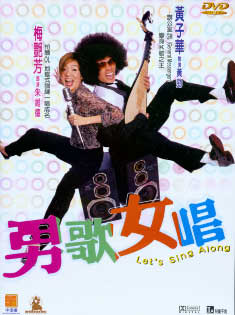 ---
I woke up feeling like a minivan had been practicing parallel parking over my body while I slept - achy all over with a headache that thudded like a bad Wong Jing joke. It was either the beginning of the flu or because the night before I had finished watching Let's Sing Along. Not that I had really wanted to. I had begun it the previous day and after 30 minutes I shut it down like a nuclear power plant on the verge of going into meltdown, but picked it up again later out of some sort of perverse curiosity. Could any film continue at that level of total irritation? Would I begin twitching again? Would I break into hives on my legs again? Amazingly, this film never let down – right to the end it was all I could do to stop from throwing my shoes at the TV set.

To think that Milkyway has come from the near poetic Zen like style of The Mission in which motion or the lack of motion took on meaning to this film in which Dayo Wong screams "Whaaaats Up" like a braying mule throughout and never stops acting the idiot. It almost reduces me to tears to see how this film company has lowered its artistic standards in a matter of a few years to gain more commercial success. I can almost deal with the switch of focus from their sleek cinematic noir filled treats to a more romantic comedy thrust - but Dayo Wong? Watching him hog the screen is pure water torture – drip, drip drip until you want to stick pins in your eyeballs for relief. He is like a rabid dog that needs to be put to sleep. I know he has his fans, but my guess is that these same people are on the far side of S&M relationships. A skin rash should be named after him. Or a mental condition – as he has gone Dayo – meaning he thinks he is really funny but he is only highly annoying.

So why did I watch this you might ask? Well first of all I thought that was Jordan Chan underneath the afro on the cover of the DVD and secondly it is about singing and also stars Anita Mui – one of my favorite Hong Kong vocalists. Thus I expected to get at a minimum a number of songs from Anita. Instead what we are subjected to is a vocal warbling attack on the synapses from Dayo and only a small amount of singing from Anita. In fact I was overall quite disappointed with the role assigned to Anita – she basically plays a wallflower – inhibited, invisible – and you keep waiting for Wonder Woman to make her appearance but it never really happens.

Dayo thinks of himself as the King of Karaoke while Anita is unable to sing in front of others to the point of puking out her guts. They both work in the same office and she persuades Dayo to take her on as his student so that she can enter a Karaoke contest to show her ex-boyfriend (Chin Kar-lok) and to win some self-esteem. Dayo has her walking through the streets of Hong Kong giving everyone a menacing look and other training methods – such as putting on dark makeup and pretending to be Thai. None of this struck me as the least bit amusing and on the few occasions where it seemed it might be headed towards something resembling comedy Dayo would unleash his lack of talent and the scene would be ruined. When they begin developing feelings for one another I wanted to call up the Consumer Complaint Hotline for fraud. This is a dreadful film and the fact that it comes from Milkyway makes it feel like a hit and run accident.

Making appearances in this are also Hui Siu-hung as their boss and Wong Yat Fei as a rival karaoke singer.
My rating for this film: 2.0

---
Reviewed by YTSL
Although I am not a particularly big fan of Dayo Wong, I think it safe for me to vouchsafe that I am likely to be much less negatively affected by the screen appearances of the main man of this Matt Chow directed, produced and co-scripted (along with Lau Ho Leung) work than Brian. Hence it being so that I actually enjoyed my viewing of LET'S SING ALONG (as well as do think more highly of "Love Among the Ruins" plus "Walk In" than brns.com's webmaster). Similarly, while I am not going to argue that this star powered fun diversion is the best Milkyway Image movie out there, here's also suggesting that neither is it the worst offering of a company that many of its overseas fans can seem to begrudge for having elected to produce their share of comedies as well as crime dramas.
Additionally, instead of going along and naming those that are my least favorite of this film making group's works, here's more positively stating that LET'S SING ALONG is one of a trio of 2001 Milkyway Image movies -- along with "Wu Yen" and "Dance of a Dream" -- that makes me inclined to feel that this Johnnie To headed company's first choice leading lady ought to be Anita Mui (rather than Sammi Cheng). In light of the older singer-actress being a lesser box office draw these days than her "Wu Yen" co-star, however, this appears to be extremely unlikely. After seeing how good the famously extroverted individual was at playing a timid, "against type", "Office Lady" role (plus milking laughs out of such simple and/or silly situations as one that had Anita Mui being commanded by Dayo Wong to stare down random as well as not so random passers-by out on the street or those others that had her wallflower character exhibiting major pre-singing-in-public jitters), more than a few folks might well be inclined to agree with me that this state of affairs is one that is quite unfortunate indeed.
My rating for this film: 6.

---