My Left Eye Sees Ghosts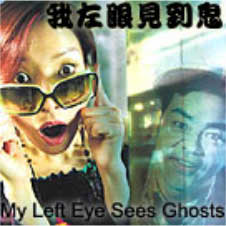 ---
Reviewed by YTSL
Up until the summer of 2000, films that were released under the aegis of Milkyway Image seemed to invariably be serious crime dramas that starred Lau Ching Wan. From "Needing You…" onwards though, they have been far more likely to be (romantic) comedies whose biggest human draw is Sammi Cheng. As if this was not enough of a sea change, for a while there, it had looked like the substantial box office success of that which remains the biggest commercial hit of the leading production company headed by über director-producer Johnnie To was majorly responsible for pretty much every profit-oriented -- as opposed to acclaim-seeking -- Hong Kong movie maker not daring to offer up anything that was not designed to go all out to tickle viewer's funny bones.

Just as many people were starting to think that humor-heavy efforts would come to be to Hong Kong films in the first decade of the 21st century what kungfu flicks had been in the 1970s however, there have latterly appeared on the scene such serious supernatural themed efforts as "Inner Senses" and "The Eye". What with its principal actor being the substantial presence who now been in fifteen of Johnnie To's movies -- and thus can be safely identified as the auteur's favorite leading man -- rather than the more light weight Andy Lau, who had appeared in Milkyway Image's previous three summer releases, there was some reason to think that the guest star-filled (including by Wong Tin Lam, Simon Yam and Ruby Lin) MY LEFT EYE SEES GHOSTS was a production that would be more likely to follow in those often suspenseful as well as dramatic works' wake than be comedic in nature.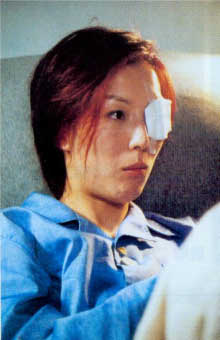 Alternatively, on account of there being doubts regarding Sammi Cheng's ability to do much more than charm people plus get them to break into giggles, it did seem difficult to believe that the Johnnie To and Wai Ka Fai co-helmed offering which paired up the HKSAR's highest paid actress for the first time with Lau Ching Wan would be all that different from her previous Milkyway Image plus other star vehicles. Consequently, my sense is that the majority of MY LEFT EYE SEES GHOSTS' viewers will not only quickly cotton on to the fact of the movie's opening scene being obviously played for laughs (despite its taking place in a cemetery) but also then proceed to anticipate that this is how they should approach the rest of this Milkyway Image production (even though it has the generally sun-shiny Sammi playing a widow who is neither all that merry nor -- initial appearances to the contrary, and in what appears to be a jibing reference to the singer-actress' Chinese New Year 2002 film -- one who had married her husband of what turned out to be just seven days because he was a rich man).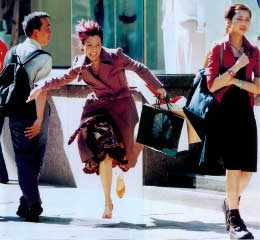 Although MY LEFT EYE SEES GHOSTS starts off with Sammi Cheng's May Ko character having only recently lost her husband (whose name is Daniel Tsui), it soon fast-forwards three years into the future. For much of that time, as before, she comes across as very much the odd one out when in the company of her matriarchal mother-in-law (The elder Mrs. Tsui is essayed by Bonnie Wong), deceased spouse's co-founder of a now very successful business (Lee San San's scream prone Susan has an extra axe to grind with May on account of her having been Daniel's ex-girlfriend as well as someone who has known him for far longer than the woman he had wed) and -- considering the at least superficially suspect circumstances of their worlds getting aligned -- unexpectedly sympathetic sister-in-law (Tina is portrayed by Cherie Ying). Indeed, it could be said that she -- whose money-hungry father comes in the form of Lam Suet, and low-life brother is over-played by Lam Chi Sin -- was liable to strike most people as just plain odd even prior to the fateful night that a drunken May crashed her husband's antique car and ended up requiring an eye transplant.

As May lay dying in the wrecked car, a ghost portrayed by Lau Ching Wan (and who later identifies himself as her primary school classmate, Wong Kin-Fai, AKA Ken) appears to urge her to stay in the realm of the living. Soon afterwards, while lying in a hospital bed, she is witness to him protractedly -- and correctly, as it turned out -- arguing with two grim reapers who had come for her. Over the course of this turn of events, she realizes with a start and scream that "MY LEFT EYE SEES GHOSTS"! What consequently has her disturbed for even longer is that Lau Ching Wan's supernatural -- but fortunately generally genial -- character seems intent on not only being her (multiple) saviour but also spending a considerable amount of time hanging out around and with her.

Before too long though, his companionship not only becomes par for the course but also one that is treasured by she who, if truth be told, had been feeling rather lonesome (among other things). As the friendship of the caring male ghost and actually psychologically fragile human female gradually takes shape, MY LEFT EYE SEES GHOSTS slowly but surely -- and very hearteningly as well as heart-warmingly, IMHO -- transforms from being a work with what had appeared to be purely farcical ambitions to that which has deeper and more emotionally moving underpinnings than I had imagined that it would possess. In the process, this Wai Ka-Fai, Yau Nai-Hoi and Au Kin Yee co-scripted effort that had initially struck me as dangerously over-eager to please -- and unfortunately has a sizable middle portion that sagged too much for this (re)viewer to be able to ignore -- turned out to be one that I wish to applaud its makers for having taken some chances on that they didn't necessarily need to have done plus having gotten those actions of theirs to yield some wonderful (even if) tear-jerking dividends.
My rating for the film: 7.5

---