Frugal Game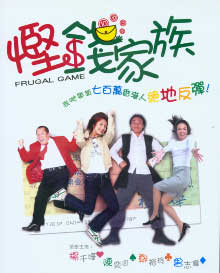 ---
Reviewed by YTSL
This 2002 comedy is one of those Hong Kong movies that, at least on paper, look to have quite a bit of appeal. For one thing, it has a multi-generational cast that includes a veteran Renaissance man in Eric Tsang and a HKFA award-winning comic actress in Carol "DoDo" Cheng along with two of the younger generation's more popular Cantopop idols turned film stars in Miriam Yeung and Eason Chan. For another, although the effort's director (Derek Chiu) and producer (Daneil Lam) may not have the status of a Johnnie To or Stephen Chow, they too were involved in the creation of such works as "Comeuppance", "Sealed with a Kiss" and "Shaolin Soccer". Additionally, the idea of a not entirely legit team's participation in a "reality TV" game show -- whose vaunted prize was the complete erasure of a jobless family's negative assets -- that was offered up by this production was one that seemed like it could be pretty intriguing plus amusing.

Early on in the often off the cuff feeling production, it is learnt that the FRUGAL GAME (that is referred to in the movie itself as "Frugal Family") involves two families of four being just given HK$400 to live with for a whole week plus getting pitted against the other in a contest to see which of them will spend that which is meant to cover all expenses -- including bus fare, food, drinking plus bath water, toilet amenities and all clothing besides that which they had gone into the studio with -- in a more parsimonious way. Also, that they will be filmed, in a "Big Brother"-ish fashion, for much of the time period in which they are contestants, and -- to facilitate the crews charged with observing plus recording their activities -- living in highly camera-accessible as well as other ways custom-designed -- notably to ensure that close to everything that is done in it comes as a cost -- quarters supplied by the host TV station.

Considering how thriftily the unemployed Wai Tai Hon (who Eric Tsang endows with an amount of surprising dignity as well as the requisite humanity) and his equally jobless college graduate daughter (Miriam Yeung plays Wai Chin-Wah in that inimitable but also -- after my only having seen her in two other movies -- very familiar way of hers) are shown acting early in FRUGAL GAME, the featured competition is one that ought to represent a mere walk in the park for this duo. However, what has to be factored is such as Papa Wai finding it hard to not succumb to plying his younger child and only son -- the preteen Wai Man-Wah -- with treats (including a not at all cheap Manchester United replica jersey as well as various amusement park game attempts to acquire a Hello Kitty sofa). Still, what's far more problematical is the fact of the Wai family consisting of only three members as a result of the gambling addicted, major debt incurring Mama Wai having abandoned her husband and two children some years back.

Hence their not having entertained the idea of taking part in the FRUGAL GAME. Until the older single female who had sacked Wai Tai Hon from his last job -- but who he was delighted to discover had joined the not inconsiderable ranks of the HKSAR's unemployed -- proposed to them that they attempt to pass themselves off as a bona fide family unit for the time that was required for them to enter and participating in this competition that they all would majorly benefit from coming out trumps in. Actually, for some time after the shrewish Diana (who DoDo Cheng essays with her usual relish) floats this suggestion their way, there is some reluctance on the part of the Wais to enter into this bargain -- not least because the Sugar Mummy (to a demanding young musician named Fu played by Convoy Chan) really doesn't look like she'll be the easiest of people to live with, even if only for seven days. Ultimately though, the game-winning reward offered up by the organizers of the TV show -- that sees this foursome being pitted against the literally belt-tightening inclined Lai family (two of whom are portrayed by Wayne Lai and Josie Ho) -- proves too difficult to resist trying for.

As some seasoned film viewers might be able to predict, the hardly dream team that this unexpectedly low key work's audience are clearly meant to be rooting for throughout the movie turn out to have far from an easy time playing the FRUGAL GAME. Rather unsurprisingly too, the rifts between the Wais and the pretend maternal member of the family become fairly plainly evident the further along they are in the demanding competition (that, for a time, looked like it would be won by the competing quartet that slept the most plus washed, ate, drank and used the toilet the least!). Alternatively, one would not necessarily assume that the contest and general circumstances would get as de-emphasized as well as complicated as it does as a result of the assigned helmer of the competition covering reality TV show wishing that he could be directing kungfu dramas starring his hero, Delon.

While Ti Lung is quite fine as the kungfu actor idolized by the martial arts movie cum TV show enthusiast referred to by all and sundry in FRUGAL GAME as Siu Hap (i.e., "Young Hero"), Eason Chan seems way too half-hearted -- and consequently insincere -- in his essaying of the latter individual. Equally regrettably, what might have been intended by scriptwriters Lee Bin Cheung and Fung Chi Keung as genuine exhortations plus praiseworthy encouragements (like "We are Hong Kong people. Everything is possible!") ended up coming across like empty platitudes to this (re)viewer as a result of her getting the sense that they were mere lines to be recited -- rather than invested plus intoned with real feeling -- by the still inexpert actors charged with saying them. As a consequence, that which may justly be characterized as a rather high potential effort turned out to be less winning than it could have been (and really only as watchable it is because of those of its far from faded older stars, who their younger colleagues would do well in real life to take as their role models).
My rating for the film: 6.
---