Haunted Cop Shop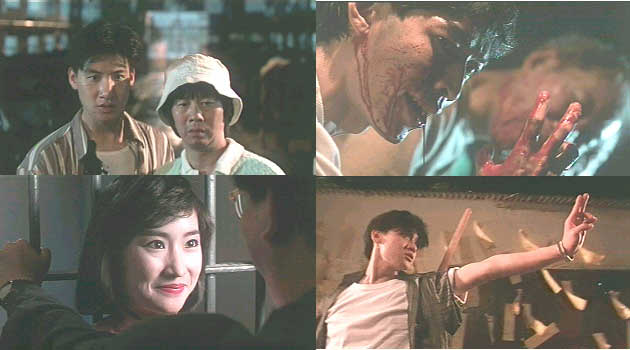 ---
Reviewed by YTSL
As many a film fan can undoubtedly attest, Hong Kong cinema is full of flabbergasting celluloid sights. Sometimes, they come in the form of death- or serious injury-defying stunts (e.g., too many of Jackie Chan's too individually list along with some of the things that Yuen Biao has done, including in "Dragons Forever" and "Shanghai, Shanghai" as well as "Righting Wrongs"). At other times, they are the result of pure movie magic (I think here of such as the incredible sequence in "Swordsman II: The East is Red" in which a lovely lass was revealed to be an albino ninja, out of whose mouth popped out a carrier pigeon to attempt to deliver a message that the fatally wounded spy was no longer able to personally convey!).

On still other occasions, no less bona fide "you gotta see this to believe it" moments are the products of enacted ideas that are just plain weird or bizarre as well as of questionable taste. One obvious group of films where these abound comprise those which have been slapped -- with good reason -- with a Category III rating. After they view such as HAUNTED COP SHOP, I'm sure that many people will readily agree with me that another group of major candidates consist of the often multi-genre -- but nonetheless primarily comedic -- efforts of the 2003 HKIFF's "Director in Focus": Jeff Lau (AKA the individual whose star studded 1993 wuxia parody, "The Eagle Shooting Heroes", has been disparagingly described by one detractor as "The "Ashes of Time" gang cavorting in Pee Wee Herman's playhouse" (Howard Hampton in Frederic Dannen and Barry Long's "Hong Kong Babylon", 1997:343)!).

This is because this pretty demented supernatural horror action comedy -- whose cast includes Wu Fung (as Police Chief Shun) and Chung Fat (as a Taoist priest) -- features, among other mind-boggling visions, a scene in which its lead actress (Chan Ka Chai, whose role is that of a Chief Inspector of Police named Fanny Ho): placed a pair of panties atop her head; and had rats crawling all over her person; prior to crashing into the muddiest of puddles! And all this while trying to prevent herself from slipping into the clutches of HAUNTED COP SHOP's chief -- but far from solitary -- ghoul: The vampire like ghost of a Japanese army colonel (played by John Chung) who had committed seppuku at the end of World War Two and is inexplicably attired in a cloaked outfit that recalls the much more urbane Count Dracula!!

No less astonishing to this (re)viewer was the popping up of Fruit Chan (AKA the director of "Made in Hong Kong" and other critically acclaimed films) in a section of the film that had its two lead characters (Macky Kim and Chiu Man are a couple of bumbling police detectives who are played by Jacky Cheung and Ricky Hui) being surrounded by a bunch of fresh raw meat devouring and blood drinking individuals who they took to be zombies (but turned out to be escapees from a mental institution). For that matter, I also would not have expected -- prior to reading about it on the HKMDB -- to be able to catch the director and co-scriptwriter of HAUNTED COP SHOP making a cameo appearance of his own as a gay ghost who blows kisses at the hardly handsome Billy Lau's unfortunate Sneaky Ming character (A petty criminal who had little idea of what really was in store for him when he ventured one fateful evening into what he thought was a retro decorated fun club).

Still, what may truly be the most astounding part of HAUNTED COP SHOP is that this hardly classic 1987 movie is one for which Jeff Lau shared scriptwriting credits with...Wong Kar Wai (plus was produced by the same Alan Tang who not only co-starred with Brigitte Lin in movies like "Forever My Love", "Run Lover Run" and "The Black Panther Warriors" but also was the producer of "As Tears Go By" and "Days of Being Wild"!)! For one thing, even while the films that the man who is Hong Kong cinema's most internationally renowned auteur is most readily associated with are not entirely bereft of humor (otherwise, there surely would be no scenes in "Chungking Express" which have Little Tony talking to a series of inanimate objects or the one in "Fallen Angels" which had Takeshi massaging a pig carcass), it still is hard to think of his having had a hand in thinking up many of the nonsensical situations that this particularly thinly plotted plus one dimensional character filled offering almost entirely consists of.

All in all, about the only section of the often downright crass HAUNTED COP SHOP that might not be too out of place -- at least visually, even if not thematically -- in those Wong Kar Wai works that have Christopher Doyle, Andrew Lau or Mark Li Ping Bing as their cinematographer(s) is that atop of which the opening credits were placed. Although those Peter Ngor lensed images pretty much entirely consisted of the kind of busy plus "exotic" looking scenes that really do occur in many ethnic Chinese communities during the Hungry Ghost Festival (that also is known as the Feast of Yu Lan), they could be said to have been imbued with the type of sophisticated verve and lively vibes that make them seem like stylistic cousins or precursors of some of those later but still contemporary Hong Kong scenes in which certain other more famous plus photogenic Wong Kar Wai movie cops would feature.
My rating for this film: 5.5
---