Tonight Nobody Goes Home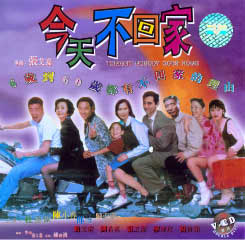 ---
Reviewed by YTSL
Even prior to my checking out this lively family comedy-drama that she directed plus co-scripted (along with Lee Khan), Sylvia Chang was someone who awed the heck out of me. After all, it's not just that this multi-talented individual can sing as well as act -- and has song-writing, directing, scriptwriting plus producing credits in addition to having made appearances in front of the camera in efforts as diverse as King Hu's "Legend of the Mountain", the "Aces Go Places" series, Lawrence Ah Mon's "Queen of Temple Street" and Raymond To's "Forever and Ever" -- but that she also looks to have made sterling contributions to so many of the often quite demanding projects in which she's had a hand.

Although TONIGHT NOBODY GOES HOME only has her behind the cameras (rather than also in front of them), the predominantly Mandarin language film is yet another effort that provides testimony of Sylvia Chang's considerable abilities. Even if nothing else, the Renaissance woman majorly responsible for this warm and witty work deserves kudos for having had the requisite clout and inspired idea to assemble a multi-generational cast for it that includes at least four of her "Eat, Drink, Man, Woman" co-stars (notably in the form of the late great Lung Sihung, Gua Ah Leh, Yang Kwei Mei, and Winston Chao) together with a beyond promising protégé of hers (i.e., Taiwanese singer-actress Rene Liu) plus two charming young(er) men (in Hong Kong's Jordan Chan and Alex To). Then there's the fact of this entertaining ensemble piece turning out to be much more than the sum of its already pretty special parts (in large part as a result of its makers appearing to go out of their way to add intriguing and imaginative dimensions to its main group of characters).

Pretty much from this enjoyably snappily paced offering's opening scenes, the sense could be gained that TONIGHT NOBODY GOES HOME would be full of not too predictable sights and sounds plus plot twists and turns. All told, it's hardly every day that Sihung Lung is to be seen playing a character -- like this film's Dr. Chen Pin Yau -- who is openly turned on by swim-suited young lasses as well as can be spotted in nothing more than a pair of tight swim trunks (or, like later in the movie, in a bath tub, with nothing more than a small towel covering up his privates...)! Similarly, shock waves can't help but emanate from the spectacle of Gua Ah Leh among a lively looking group of gyrating men and women; never mind the thought of the veteran actress' Mrs. Chen character having been party -- be it disapprovingly or not -- to not just one but two sets of discussions as to the strength of a practicing tai chi master's penis.

Adding to TONIGHT NOBODY GOES HOME's series of surprises is a plot development that had Lung Sihung's dentist character leaving his wife and home -- shortly after celebrating his sixtieth birthday -- to go and live in sin with a younger woman. Then, before his two flummoxed children (Chen Siming is essayed by Winston Chao and Xiaoqi by Rene Liu) could adequately come to terms with this course of action chosen by their father, they found themselves also having to contend with their mother's deciding -- seemingly in retaliation as well as reaction to her husband's errant act-- to move out herself and take up residence at the abode of a young man -- named Long Long (and played by Alex To) -- who she had met one fateful evening at a nightclub operated by her irresponsible rake of a son!!

In view of all this, it's small wonder that Xiaoqi -- a bank teller by profession who might well be the most mature but also killjoy member of this Chen clan -- was moved to conclude and suggest to her own mate (an insurance agent cum movie extra named Changgeng portrayed by Jordan Chan) that: "My dad is being screwed by a woman. Now my mother is screwing a man..."! As it turned though, only one of the elder Chens was having an extra-marital affair. And while I'd wager that most people would think a gigolo would be a more likely candidate to lead someone sexually astray than a kindergarten owner (even one who takes great pains to point out that she's actually a businesswoman rather than a teacher of a children), it's probably because they've not encountered ones -- be it in real or reel life -- like the guileless Long Long (essayed by Alex To) and the beguiling Miss Qin (who gets played by Yang Kwei Mei) before.

Something else that may seem unlikely to many is it being so that an individual in Long Long's professional position would have the smarts as well as sensitivity to suggest to a troubled family woman that it might do one well to "treat your like children like friends" and "your husband like a lover". In all honesty though, one of the last things I was about to do when viewing as intelligently scripted a work as TONIGHT NOBODY GOES HOME was to quibble about its characters and their utterances not sufficiently reflecting reality. This is not least because I was too busy mulling as well as appreciating such others of its observations and postulations as those which seemed to seriously suggest that "men are loving and disgusting at the same time" or sincerely question whether "In this world [of ours], does one really understand another?" plus when is an appropriate time for someone to be able to guiltlessly decide "to enjoy life".
My rating for the film: 8.5
---