My Lucky Star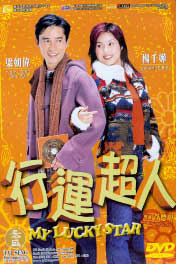 ---
Reviewed by YTSL
For a variety of reasons, (too) many people out there in this world of ours continue to harbor the mistaken belief that Hong Kong only produces action movies (Most specifically, kung fu works that have been collectively plus derogatively dubbed as "chop socky" efforts). As regular visitors to this web site and other many Jade Theatre fans can attest, however: "[t]he truth is, of course, that Hong Kong cinema spans a huge and diverse spectrum of genres, some of which are readily familiar to Western audiences (romantic melodramas and slapstick comedies), others totally alien (period "swordsman" epics, "gambling king" films, and hopping vampire flicks)" (See Jeff Yang's "Eastern Standard Time", 1997:74).

Additionally, every once in a while, a film -- like "Peking Opera Blues" -- will come along "that seems to float free of the entire history of cinema" and might be said to have consequently "created its own genre (the period-comedy-women's-actioner?)" (Lisa Morton in "The Cinema of Tsui Hark", 2001:65). More frequently though, it seems that certain well received others are liable to spawn, revive or help establish intriguing sub-genres and trajectories within this often under-appreciated East Asian cinema. E.g., this (re)viewer can't help but see the existence of a distinct line that connects "Needing You" (romantic office comedy), "La Brassiere" (romantic office comedy with female oriented gimmicks) and "Dummy Mommy without a Baby" and "Mighty Baby" (ditto). And so it is too with "Fat Choi Spirit" and MY LUCKY STAR (two Chinese New Year comedies that have a distinctly Chinese angle; with this 2003 offering seeking to do for Feng Shui -- and related fields, like numerology and both Western plus Chinese forms of astrology -- what the 2002 Milkyway Image production did with mahjong).

As one ought to be able to predict of a work whose release is timed for when people particularly wish to come by positive plus auspicious experiences, MY LUCKY STAR is wont to be on the bright plus light side. Like with many another Lunar New Year movie, it also is meant to be utilized to deliver a moralistic message plus uplifting exhortation as well as be good naturedly entertaining. As such, the suggestion that bad luck will befall those who directly work to cause misfortune to strike others get tendered as, if not more, often in this effort than the evidently strongly cautionary "Know a Yip, make a loss" rule that Tony Leung Chiu Wai's Lai Liu Po character discloses to Miriam Yeung's Yip Ku Hung as being his family's motto. Additionally, some care appears to have been taken to submit that Feng Shui -- and, by extension, this festive offering (whose credited personnel includes a Feng Shui consultant) -- teaches that "all problems can be solved", and that its practitioners are more likely to seek to have an active role in effecting their destiny than just passively accept whatever fate supposedly has in store for them.

Something else that is very much in keeping with the Chinese New Year film tradition is this Vincent Kuk directed, scripted (along with Patrick Kong) cum produced offering's containing a large amount of guest plus cameo appearances. Among the more notable of these for me were those by: the rotund main man behind this movie (as Yip Ku Hung's character's boss); Alex Fong (as her angelic father); Teresa Carpio (as her wicked stepmother); Chapman To (who has two roles -- the larger of which has him playing Teresa Carpio's character's boy toy); William So (another cast member with more than one role to essay in MY LUCKY STAR); Shawn Yu (as a policeman); Cheung Tat Ming (as a more senior uniformed officer); and Josie Ho (as a client of this effort's feng shui expert of a male protagonist).

Keener eyed folks -- like LoveHKFilm.com's Kozo -- were able to also make celebrity spottings in MY LUCKY STAR of the likes of Mark Lui, Ken Wong, Ken Chang, Anya, Rain Li and the (other) Alex Fong who's better known as a singer than actor. For the most part though, that which starts off as a period piece -- but soon morphs into a contemporary romantic comedy -- really does solely revolve around the likable Miriam Yeung (particularly her contemporary character; who, not incidentally, happens to be the apparently terribly unlucky -- but also extremely nice -- descendant of her earlier Imperial Exams Scholar character) and the charming Tony Leung Chiu Wai (another of those of this movie's cast who viewers will first encounter in a period setting before been seen some more in a larger modern day role).

Almost needless to say, MY LUCKY STAR's main female and male characters do come to be romantically entangled over the course of the offering. Contrary to expectations however, the third billed Ronald Cheng does not seek even once to be the love rival of Tony Leung Chiu Wai's Lai Liu Po or Lai Ma Po. Additionally, he turned out to not be in the fun picture as much as I had figured that he would be. For all this though, he -- whose expert numerologist characters are the foils of Little Tony's ace geomancers' -- definitely did add some amusingly eye-catching parts to a movie which yielded one more surprise in terms of its turning out to be considerably more generally amusing and enjoyable than I had thought that it would be.
My rating for this film: 7.5
---