Diva, Ah Hey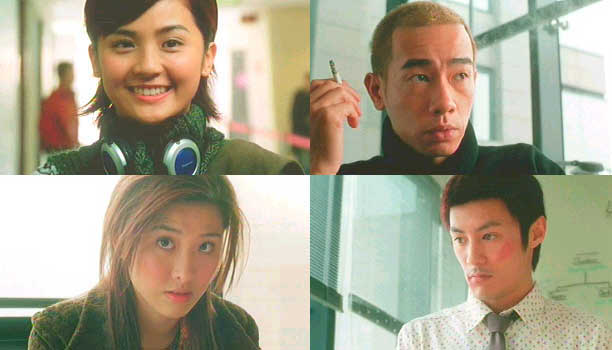 ---
Reviewed by YTSL
Over the past couple of years or so, a few new stars have come to inhabit the Hong Kong movie universe. One of them, singer-actress Miriam Yeung, is commonly perceived as owing much of her popularity to director-producer-scriptwriter, Joe Ma, and the star vehicles he fashioned for her (particularly in the form of "Dummy Mommy Without a Baby" and "Love Undercover"). Although this 2003 film's female lead looks to have gained much of the bulk of her fame from being one of da Twins, Charlene Choi actually also has appeared in her share of offerings which have the prolific auteur's marks all over them.

Long before I knew that she was a Twin, I caught sight of -- and had been fairly impressed by -- Charlene Choi in the Joe Ma helmed "Funeral March". Shortly after I had fallen victim to the Twins' onslaught (by way of the Riley Yip's "Just One Look"), I checked out -- but was admittedly less than overwhelmed -- by the far lighter "Summer Breeze of Love". And even while I realize that I'm risking the wrath of fans of this veritable entertainment phenomenon in stating the following, the truth of the matter is that I feel that the not all too well paced DIVA, AH HEY! provides ample proof of her acting abilities having gone considerably downhill (even as -- or maybe precisely because -- she has sought to up her "cute, cuddly and sweet" quotient plus ante).

Take the opening scenes of this movie during which Charlene Choi (who plays the titular character -- an aspiring diva named Kam Dai Hey who also generally answers the diminutive "Ah Hey") features in a scene with Lam Suet (an able character actor who has a role in DIVA, AH HEY as the hyper-perky as well as Pollyanna-ish personality's earth-bound fishmonger father). Put more specifically: So divergent were these two individuals' acting styles that I felt like one of them had been mistakenly inserted into the film. Perhaps Joe Ma himself realized this (or it really had been intentional). In any event, Charlene Choi's young fishing villager character did soon get whisked to a professional plus social space that, metaphorically as well as literally, is miles apart from the more mundane world that was pretty much all that the father knew (and she herself had previously known).

As unlikely as it might have seemed, Mr. Kam actually knew someone in the entertainment industry who would be able plus willing to get his daughter into show business. To be sure, the first job that Harry Yip (a moody manager of Cantopop singers who Jordan Chan essays) offers to Ah Hey is one that's much less glamorous than that which she had been hoping for. Still, the wide-eyed lass ended up rather easily agreeing to have some access to Hong Kong's twin dream factories of songs and cinema by way of becoming his assistant as well as the de facto "nanny" of Shadow (a young woman -- played by the promising Niki Chow -- who was being groomed to be a singing star despite her really wanting to be a stand up comedian, not to mention her genuinely lacking crooning talent).

If one were to take the portrait of the entertainment industry presented in DIVA, AH HEY! even halfway seriously, then it would seem to be replete with people who are in it -- and/or become really successful -- because they have personal contacts with influential others. E.g., apart from his being the one who brings Ah Hey into the business, Harry also employs his younger brother (The socially awkward but not uncharming Wing is portrayed by Shawn Yu) as his and Shadow's driver. Additionally, the implication is clear that an established star named Icy (played by Belinda Hamnett) who Harry previously managed was helped in her career by his having had a personal as well as professional investment in her (a la Sam and Rose, then Lam Gee Wing, in "He's a Woman, She's a Man" and "Who's the Woman, Who's the Man?").

Being the less than sharp or pointed work that it is though, DIVA, AH HEY! stops far short of suggesting that a gal -- talented or not, and however good looking -- needs to sleep her way to the top or in order to fulfill one's dreams. Consequently, the at times too trusting Ah Hey not only gets to hold on to her chastity but also has Harry helping her to fend off the advances of such as Chapman To's probably certifiable "best actor" Huffman. However, as certain potentially off-putting plot developments involving pretty much all of this somewhat disappointing offering's principal characters rather than just Icy's current manager (Queenie is played by the personality whose name has been given in credits as Missy Hyperbitch as well as Hyper BB) show, deceit appears to be part and parcel of this image conscious business that a music industry insider in an earlier, plus far better, Hong Kong movie which purported to cast some light on "behind the scenes" activities had suggested was primarily -- or maybe even all -- about "packaging".
My rating for the film: 6.
---