The Greatest Civil War on Earth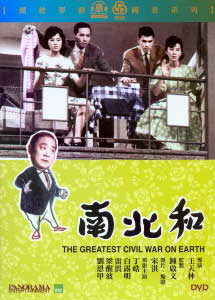 ---
Reviewed by YTSL
In the eyes of at least one Jade Theatre expert, "Wang Tianlin is an oddball of Hong Kong cinema" (Sek Kei in the Hong Kong Film Archive's "The Cathay Story", 2002:240). For one thing: "He was so prolific that on top of making over 100 Cantonese and Mandarin films, he also directed films in the Chaozhou and Amoy dialects, and even Thai and Filipino films" (Ibid). To make things worse, "Most of his films are lost..." (And again...). Consequently, many a Hong Kong film fan is more likely to know this rotund Shanghai-born personality -- whose name is transliterated into Cantonese as Wong Tin-Lam -- as the father of the truly infamous Wong Jing and/or by way of his hard-to-miss on-screen appearances in more Milkyway Image productions than even Sammi Cheng or Lau Ching Wan.

With the planned release on home video of some of the classic MP&GI/Cathay offerings that Wong Tin-Lam helmed, the situation may well change. For starters, his "The Wild, Wild Rose" has been the Cathay title that has been most sought after by others as well as me. And after seeing Grace Chang in action in "The Mambo Girl", I also have a mind to go procure copies of the Asian Film Festival Best Director (for Wong Tin Lam) prize winning "The Story of Three Loves" (Part I and II) that additionally turned out to be its charismatic female star's final film. Similarly, a viewing of the erstwhile director's THE GREATEST CIVIL WAR ON EARTH proved to be so delightful that it has prompted me to put the Mandarin cum Cantonese comedy's two Eileen Chang scripted sequels -- "The Greatest Wedding on Earth" and "The Greatest Love Affair on Earth" -- on my "must see" Cathay movies list.

THE GREATEST CIVIL WAR ON EARTH apparently was originally conceived by its scriptwriter, Stephen Soong (AKA Song Qi or Song Kei), as "a play for charity fundraising, inspired by a Mainland [Chinese] film which used two different dialects" (Sek Kei, 2002:241). As with -- but decades before -- such popular movies as the entries in the "Her Fatal Ways" series, it's "a rare Hong Kong film that portrays the conflict between different communities" and "creat[es] comedy out of cultural differences" (Michael Lam in "The Cathay Story", 2002:208). But although this Chinese "North versus South" work was originally released back in 1961, it's been suggested that, unlike with the more thematically dated offerings that had Carol Cheng portraying the kind of Communist cadre that are scarce on the Mainland Chinese ground these days, "[this] film remains interesting to watch today, because once again, the people of Hong Kong have to face Mainlanders and the paradoxical relationship of mutual attraction and resentment that exists between the Cantonese and Mandarin (Putonghua) cultures" (Sek Kei, 2002:242).

In THE GREATEST CIVIL WAR ON EARTH, the chief Cantonese characters come in the form of: a plump tailor named Cheung (or Zhang) San Bo who's known to many as Fat Bo (and portrayed by Leung Sing-po); his daughter, Lui Zhen (Christine Pai Lu-Ming plays the young woman who works in her father's shop); and his nephew, Fai (More pertinently for the purposes of this movie, Cheung Ching's character also happens to be the boyfriend of the daughter of Fat Bo's main professional rival). Although Mr. Cheung also has a son, the lad doesn't have as big a part to play in the picture on account of his being but a preteen. And ditto re the even younger Mandarin speaking lass often seen in his company. Far more relevant to the movie, instead, are those individuals who are the Northerner counterparts of the main Cantonese troika: another chubby tailor (Liu Enjia has the role of the generally more amiable Li Si Bao); his lively air stewardess daughter (Cui Hwa is essayed by the actually Cantonese Kitty Ting Hao); and the gentlemanly character who was initially attracted to Cui Hwa but quickly ended up falling more deeply for Lui Zhen (played by Kelly Lai Chen – who many years later portrayed Maggie Cheung's boss in "In the Mood for Love").

In any event, sparks of a non-romantic nature start to fly early in this film with tailor Li opening his new shop right next to tailor Cheung's establishment, then being heard to openly opine that "the Cantonese tailor shops are all short-sighted" and produce suits whose "finishing is poor" even while charging a high price for them. And when the Li family moves into the sort of close quarters abode inhabited by Tony Leung Chiu Wai and Maggie Cheung's "In the Mood for Love" characters -- which require families to share living room space (along with a kitchen and bathroom) -- that, as it turns out, also is home to THE GREATEST CIVIL WAR ON EARTH's Cheungs, one just knows that trouble and strife is in store for them (and, equally, much hilarity for viewers of this cultural barb laden comic offering).

To be sure, some non Chinese folks might initially feel that comments like "It's hard to figure out what's in a Cantonese mind" and insults which have it that "You can never rely on a Northerner" may make a change from anti-"gweilo" remarks but fear that they soon will grow old. For my part, I reckon that before the latter occurs, enough will have transpired in THE GREATEST CIVIL WAR ON EARTH for viewers of the offering to realize that it really is meant to be more than just a cheap shot plus nothing-but-easy-laughs filled work. Rather, as befits an effort that has been credited with having a role in "break[ing] the barrier between Mandarin and Cantonese films", its admirable makers ultimately look to have spoken to and addressed "the very realistic need to look at fellow citizens" -- including those whose mother tongue is different from yours -- "as travellers on the same boat" (Sek Kei, 2002:241).

My rating for this film: 8.

---
Note: The first batch of these DVD releases had the reels out of order - I believe it has since been corrected. If you have a DVD from the first batch this is how it should be viewed:
1) Everything's in order up until 1:00:03
2) In order to continue with what I shall call -- and other viewers should recognize -- as the "staircase" scene, go to 1:10:34
3) Continue with your viewing of the movie until 1:20:49 (when the "loan possibility" scene takes place on screen)
4) To see the rest of this "loan possibility" scene and those which ought to follow it, head back to 1:00:04
5) Continue with your viewing of the movie until 1:10:33 (and the "fridge" scene)
6) Then jump forward to 1:20:50, after which you can relax in the knowledge that the movie is now back in order.
---