Love Parade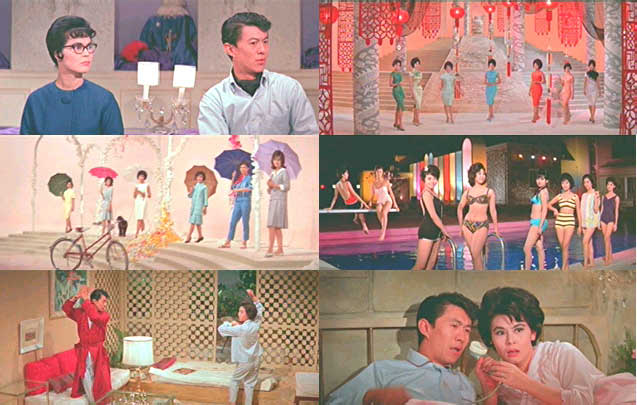 ---
Musicals were still going strong in Hong Kong when this lush Shaw Brother's Technicolor film hit the screens in 1963. Resembling in part a Doris Day/Rock Hudson vehicle with feuding and then loving and then feuding lovers it is most enjoyable for its visuals – glossy, wonderfully bright colored sets, a vast array of au couture fashions, both dour and smiling models on display and an exquisite eye for interior décor. On top of this are the genial charms of the girl next-door type in Linda Lin Dai and the affability of Peter Chen Ho. This takes the film a long ways but a script lacking in bite leaves it somewhat flat by the end like a coke that has lost its fizz.

I have to admit that Peter Chen is slowly growing on me – he seems to show up in a number of the recently released Cathay or Shaw films on DVD and he always seems to portray a pleasant and far from angst ridden or heroic male romantic lead. His character generally seems secondary to the female one – and he often falls into the shadows of his more charismatic lead actresses – but after viewing Till the End of Time, Our Sister Hedy and Mambo Girl his neat, mellow, sweater like personality gives the film a sense of decency and light footed charm. Though not a professionally trained dancer, he was really the only male actor in the industry that had the ability to pick up this skill with his natural grace and so he was cast in many musicals during that genre's heyday.

Born in Shanghai in 1929, he came to Hong Kong like so many others to escape Communism in 1950. He first joined Shaw in 1953 but a few years later he moved to Cathay where he began to receive solid roles – in musicals, comedies and dramas – his nickname was "Holy Hand of Comedy". Later he moved back to Shaw and continued to be a leading man in various genres – some of the musicals he appeared in were Les Belles, Hong Kong Nocturne, Hong Kong Rhapsody and Dancing Millionairess. His personal life hit a down note though – he married actress Betty Loh Ti but this ended in divorce in 1967. Three years later he died of colon cancer at the age of 40.*

Here he is in perfect form as a genial grinning fashion designer for one of Hong Kong's most upscale fashion boutiques – Madame Hsu (Madame Snow in subtitles). At his show he is happily watching his clothes being paraded to acclaim when he notices in front of him a rather studiously serious but clearly attractive looking woman in dark horn rimmed glasses – and expecting to hear more praise he asks her what she thinks of the clothes and gets jolted with her reply of "terrible, ugly, disgusting". At this, she gets up and exits with her male friend (played by King Hu in his actor days) leaving Chen speechless in her wake. The woman is of course played by the radiant and adorable Linda Lin Dai.

As life will have it, the next day she receives an invitation to a party and needs to have a dress quickly made and she goes to Madame Hsu's to have this done. Spotting her, Chen sees his opportunity for revenge and so agrees to make her a dress – and delivers an outfit that only a court jester would be comfortable in. Her look of pouting disbelief is lovely as it goes from wide-eyed shock to anger. Throughout the film she is in fine comedic form – low key reactive comedy - utilizing her eyes and smile to register all sorts of emotions. Sparks fly between the two of them for a while but in romantic comedies there isn't usually much doubt where this is heading. For the first half this is quite the sweet charmer, but it begins to lose steam as the two slowly fall in love – isn't that always the case! By the end, one senses that director Doe Chin/Tao Qin (Our Sister Hedy, Les Belles, Love Without End, The Blue and Black) has seemingly lost interest in their relationship and prefers to wallow in the visuals of the sets.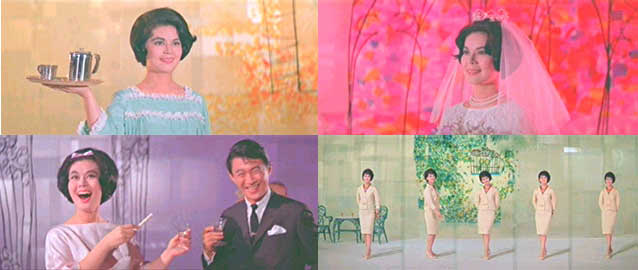 This is a musical as I stated up front, but not the kind where the characters break out into spontaneous song at the drop of a musical cue. Instead it presents the songs in a fairly realistic manner though they are still infused with a sense of dream like fantasy. There are three musical set pieces – but within these set pieces a large number of songs are presented. There are two fashion shows – designed to look like French paintings – in which each costume change is accompanied by a different song. Then there is a little wistful daydream that has a number of songs as well – they are all quite good and I would like to get my hands on the soundtrack. The songs are primarily sung by Jing Ting who is credited with a number of vocals in movie musicals. The sets are a candy coated eyeful – but not a lot goes on in the musical numbers – no dancing – simply models walking gracefully about in evening wear and bathing suits and this gets somewhat monotonous after a while. The filmmakers seemed so taken by their set designs and striking fashions that they slowed the film down to a slow stroll so that they could be observed at one's leisure – it needed a bit more pace and electricity.

There are another couple actors in this film of interest – King Hu of course who was to direct his first film the following year. Watching him in this film and The Kingdom and the Beauty with his timid comic presence and small stature, one could never imagine him becoming one of the great directors of our time. Another actor of note in the film is Julie Shih Yen (Sek Yin) who plays the ditzy cute model who crashes Chen's pad from time to time. She was also from Shanghai and first became a successful singer before turning to acting in the late 1950's. She never became a star – usually the best friend – and so she married and retired from the film business in 1965. Soon after she and her husband moved to the United States – and some years later she had a boy who now goes by the name of Stephen Fung – an actor and singer in Hong Kong. One final actress that I wish I knew more about – Go Bo Shu who plays Madame Snow. According to the ever valuable HKMDB – she appeared in a number of films in the fifties through the seventies – but of more interest is the fact that she is credited with directing ten films – most of which sound like action films – The Desperate Chase, The Cannibals, Female Fugitive, The Master Strikes and Jade Fox. This certainly was unusual at the time and I would love to know more about her.

My rating for this film: 6.5
* Information on Peter Chen Ho is from The Cathay Story and Mandarin Films and Popular Songs – 1940s – 1960s.

---