36 Secrets of Courtship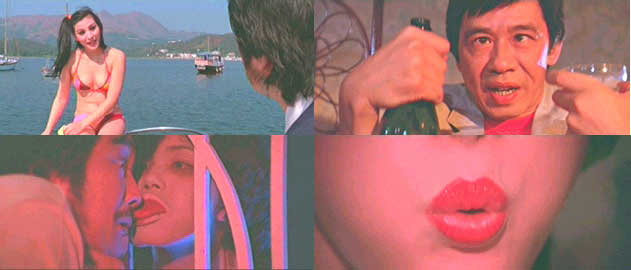 ---
About ten minutes into this 1982 Shaw film I put it on pause to double check the DVD to make sure this wasn't a Wong Jing production. It had many of the earmarks of a trifling early work by the master of crass – sexual innuendo, leering jokes, broad silly humor, attractive actresses, scattershot narrative – but it was in fact directed by Lu Chi (Lu Kei). Interestingly, Wong Jing began his directing career at Shaw's with the 1981 "Challenge of the Gamesters" and the 1983 "Hong Kong Playboys" and one has to wonder how much his style of filmmaking was influenced by the veteran Lu Chi. More so seemingly than the influence of Wong's own father, Wong Tin Lam, who was a much more conventional and disciplined director.

Lu Chi began first as an actor in Cantonese films during the 1960's – co-starring with many other Cantonese stars such as Josephine Siao, Sek Kin, Lydia Shum and Connie Chan. He began directing in 1969 – his first three films starred Connie Chan and one can assume they were for a general audience, but by 1973 he was knee deep in the genre of adult films with titles such as Sexy Girls of Denmark, Adultery Chinese Style and Sexy Playgirls. In the early 70's many of the constraints that had restricted what could be shown in film were being lifted or being ignored and a glut of more sexually explicit films were hitting the market. Lu Chi was to jump on this trend for the next ten years and his hard work earned him the title of "The King of Porn". Everyone should be a king or queen of something I suppose. Simon Yam would be "The King of Cool". Diana Pang Dan would be "The Queen of Cleavage". I might be "The King of Napping at My Desk". "Porn" here is being defined as the very soft-core variety. In the amusing 1997 film "Those Were the Days" that goofed on Cantonese film of the 60's, Gallen Lo plays a character clearly based on him with the name of Li Kei.

After seeing this and another Lu Chi film, Women of Desire, I can't say I am overly impressed. From time to time he nails a comic scene down perfectly – especially using actor Woo Fung as his foil – but both films have a very flat and at times tedious narrative that just sits there begging for the fast forward button to be activated. His cinematography also becomes tiresome after a while – he seems to take great pride in filming from odd angles or places as if he thinks this is an avant-garde Swedish film. The Chinese title translates to "36th Chamber of Girl Chasing" but it isn't in any clever way a parody of the kung fu classic – if it had been it would have been much more amusing than this I am sure.

The owner of a school dedicated to the art of girl chasing dies and he leaves it to his three most trusted teachers and his wife. The three – Woo Fung, Frankie Wei and ? can't decide who should be the headmaster though and they decide that a contest between them will determine this. Each of them is given a female target to seduce and the first one to succeed gets the prize. Frankie has to woo the daughter (Ling Tai) of a wealthy businessman – many have tried before but none have gotten very far. She is reputed to live in a haunted house and after a night of ghoulish and horny spirits, Frankie is running for his life. He combats this with guinea pigs and wine that knocks you out after you take five and half steps. Woo Fung has even a tougher time as he is assigned a virgin (Pi Jua-hua) with an actor boyfriend and has to devise an elaborate plan in his attempt to bed her. For some reason the third leg of this seduction trilogy is completely forgotten about in the film!

Finally though, all three turn their slimy attentions on the beautiful widow (Ai Ti) who wants only a platonic love with them and decides to test their true intentions by hooking them up to a horny meter and blowing on them – needless to say they all fail. Later there is clearly some play on slang using the words "abalone", "eggs" and "champagne" that must have double meanings that refer to parts of the female anatomy – two of them I can guess, but "champagne"? The film feels very much thrown together on the run and sags noticeably at times – and it's really only the pleasure of seeing one of my favorite Hong Kong character actors Woo Fung in his younger and very nutty days – and being introduced to Ai Ti who is quite smashing.

By the way - does anyone think that the above picture could possibly be Nina Li? She plays a secretary and is on screen for only a few moments - but the year fits with when Nina moved to Hong Kong but was a few years previous to any known film credit she has.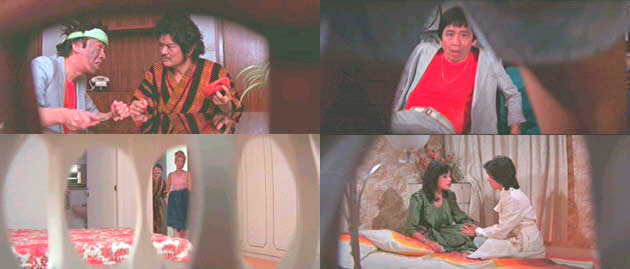 My rating for this film: 4.0
---