Anna in Kung Fu Land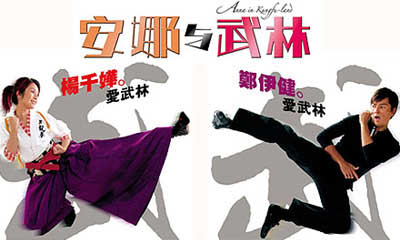 ---
Reviewed by YTSL
In 2003, Miriam Yeung starred in four filmic efforts plus had a guest starring role in one more. "My Lucky Star", "Love Undercover 2" and "Dragon Loaded" all grossed over HK$10 million, and that which were released at the tail end of the year -- i.e., "Sound of Colors" and this romantic action comedy that co-stars Ekin Cheng -- appear to be headed towards the same commercial hit direction. Consequently, the former nurse turned Cantopop singer cum movie star may well have a real claim to having usurped Sammi Cheng's Box Office Queen crown. Yet, should this day really come, this is something that I will look upon as a sad turn of events for Hong Kong cinema.

Before admirers of the titular star of ANNA IN KUNGFU LAND start hurling hate mail into my in box, here's attempting to stave off some of them by pointing out that I actually don't hate Miriam Yeung. At the same time, I do believe that she may not have the best judgment or finest of tastes when selecting roles and films to be in. Either that or, more damningly still, she -- and director Raymond Yip (someone who, on the face of this work, I find hard to believe also helmed "Portland Street Blues" and "Those Were the Days" (2000) not that long ago) -- appear totally content to rest on their laurels and lazily feed her fans with the kind of utterly uninspired effort that really could have benefited from getting a more professional, less slapdashedly casual treatment.

Although I knew going in to the cinema that I shouldn't expect ANNA IN KUNGFU LAND to be anywhere as good as "Shaolin Soccer", I did think that that which had a similarly promising illustrated introductory opening credit sequence -- among other parallel elements -- possessed some amount of potential. Similarly, I was filled with hope that that which ostensibly has a martial arts competition at its heart and an bona fide action director among its crew -- as well as one that has Yasuaki Kurata in its cast (in the role, as it turned out, of Anna's expert martial artist father), after all -- would be able to yield some thrills and spills along with laughs and romantic sparks. Then there was the talk during filming about how Miriam Yeung idolized Yeung Chi King (an actress better known to Western fans of Hong Kong cinema as Michelle Yeoh)...

...The very first time that one sees Miriam Yeung in fight action in ANNA IN KUNGFU LAND though, it immediately is (re)confirmed that she's a far cry from Michelle Yeoh (Duh! And this especially since her character's best action moments look to have occurred when pretty much all of her was hidden inside of such as a monster outfit). Additionally, proof gets furnished that this work's cinematographer and editor just aren't of the same admirable standard as, say, those who managed to make Karen Mok, Vicki Zhao Wei and Hsu Chi look so good in "So Close". Indeed, one of my main gripes with regards to this disappointingly mediocre -- rather than outright bad, to be fair -- movie is that its generally low level of editing contributed to making it feel like one whose makers had been too rushed into finishing in order to fill a lucrative holiday slot.

Perhaps this might not have been less noticeable if ANNA IN KUNGFU LAND had not tried to have so many subplots as well as characters of interest. As it stands, however, it's not just that its protagonist, Anna, has to contend with: wanting to win a martial arts competition as one step towards fulfilling her dream to become a Hollywood star; seeking revenge over the Shaolin Temple for expelling her father after he fell for a Japanese woman at a previous martial arts competition; and attempting to get the man of her dreams (Ekin Cheng's Ken character) -- someone who she didn't realize actually has a(nother) girlfriend (Denise Ho's character also just happens to be a formidable policewoman).

Rather, it's additionally the case that Miriam Yeung and the effort's main man (who, in all honesty, I reckon is looking more and more like Gigi Leung in each new film that I see him) have to compete for attention and laughs with the likes of Wong You Nam (in a hardly necessary role as Ken's brother, Sam), Hui Siu Hung (as Ken's boss), Tats Lau (as another of the more laughable than threatening looking kungfu experts found in ANNA IN KUNGFU LAND) and the well-built black actor saddled with the thankless role of arrogant (African-)American villain. None of whom, more than incidentally, are the sort of individuals who one can imagine existing outside of the shallow celluloid space that they inhabit.
My rating for this film: 5.5
---