Les Belles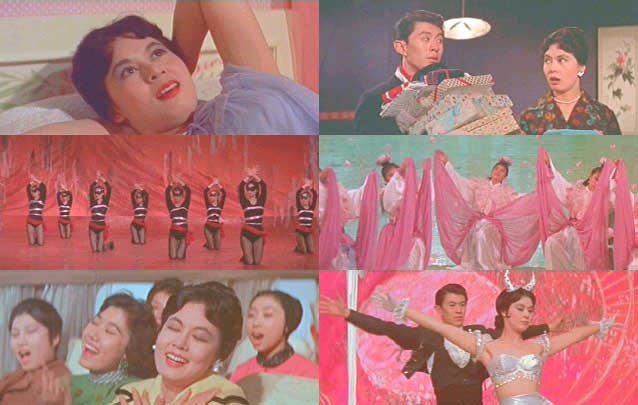 ---
When the Shaw Brothers released Les Belles in 1961 it was quite the event and won all sorts of awards – Best Director, Best Actress, Best Music, Best Art Direction and so on – and it was quite a hit. It starred two of the biggest actors in the business at the time – Linda Lin Dai and Peter Chen – who had been a popular romantic pair in the Cathay production, "Cinderella and Her Little Angels", two years previously. Lin Dai was also back from her respite from films when she had gone to study at Columbia University in New York and happened to meet the man she was soon to marry. With only one film to her credit in 1960, there was a huge built up appetite on the part of audiences to see this tremendously popular actress in some new films. This film more than filled their need as it presents an adorable Lin Dai in glorious color and in more costume changes than at a catwalk in Milan.

Though the first color films had been made in Hong Kong back in the late 1940's, they were still quite rare and it wasn't until the late fifties that both Shaw and Cathay were beginning to introduce it into their productions on a more regular basis. Soon Shaw was to make most of their films in color while Cathay didn't really go all-color until the mid-60's and the much smaller budgeted Cantonese film industry was still primarily making films in black and white throughout the sixties. Les Belles was one of the first really grand opulent contemporary musicals though to be given the color treatment and it simply goes all out for this reason with loads of sumptuous musical numbers in bright reds and vivid greens. Something as gloriously simple as seeing Lin Dai in this fashionably form fitting clingly salmon pink dress must have gotten a lot of "ooh's" from the audience back then – it did from me now!

I have to admit to not quite understanding the Lin Dai mystique yet – she was the biggest actress of her time in Chinese communities throughout the world – just enormously loved and when she killed herself in 1964 it stunned, hurt and shocked people in the same way as when Leslie Cheung committed suicide in 2003. Other actress from this time period have made more of an impression on me – Grace Chang, Jeanette Lin Cui, Julie Yeh Feng – but none have achieved the same legendary status as Lin Dai has. There are moments though when I think she is quite wonderful and I feel totally charmed – the way she can change expressions from giddy laughter to straight-faced seriousness in a nanosecond, the manner in which her sparkling eyes reflect the playful thoughts going through her mind - those astonishing arching eyebrows that take on a life of their own, the shy smile that turns into a tiny pout, the quick intelligence that she always gives her characters. She uses all these tools here and more to create an appealing romantic figure who doesn't go looking for love, but finds it close at hand nevertheless.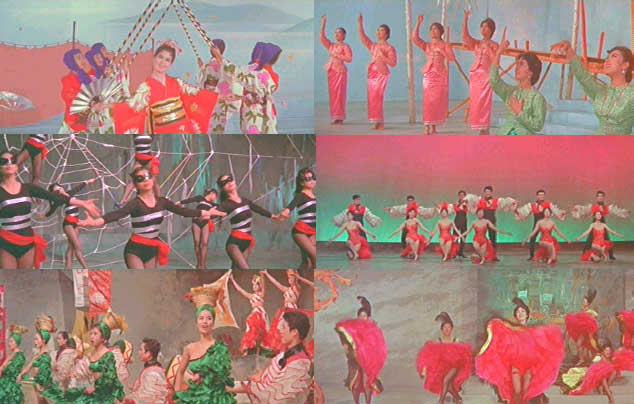 If it's primarily music you want, then this may be the film for you. During the opening credits, there are three songs alone and it doesn't stop there. There are so many musical numbers in fact that at times you wish they would give more time to the very lean plot. Director Doe Chin who later was to make "Love Parade" (also with Lin Dai and Peter Chen) and "The Dancing Millionairess" with some fairly starchy staged musical numbers actually provides a more interesting mix of music and dance styles in Les Belles. A number of the large stage productions do suffer from a painful lack of exuberance – there is a Chinese opera piece that lasts fifteen minutes and I thought I would need to be resuscitated afterwards – but some of them are quite enjoyable as well. The best ones are those that go against Doe's usual sense of formality and are not part of the theatrical revue – but just people breaking out in song such as on an airplane or an entire dormitory upon waking up. In "Cinderella and Her Little Angels" they had a musical travelogue fashion show with music and they do something similar here as we feel like we are paging through a National Geographic as they do dance numbers that are inspired by France (the Can Can), Thailand, Malaysia, Spain, Japan and China. These are very colorful but a little bit dull though Lin Dai is very cute in her horns during the matador dance number. The songs are hurt a bit by the fact that no subtitles are provided for them.

The story is basically a mild version of the 1940 Hollywood classic "The Shop Around the Corner" with Jimmy Stewart and Margaret Sullavan – but while that film aimed (and succeeded) to be a dramatic teary romance Les Belles is much more of a light comedy that never really attempts to create any drama or suspense – you know from the beginning that they will end up together and the film doesn't try too hard to lead you astray. Linda and her curvy friend Fannie Fan (who I am becoming a fan of in fact) join a dance group headed by Peter Chen and his mother, Go Bo Shu. The men and women in this troupe all live together in a large dormitory/house, but there are very tight rules around their interaction with one another – there is none! The two sexes are not allowed to speak to one another (though singing to each other seems o.k.!) and if they do they will be expelled from the group.
Linda and Peter take an immediately and wholehearted dislike to one another (and we know what that means in the world of romantic comedies) and it is all they can do to not stab one another with the glares they give each other. One day while reading the newspaper, Linda notices a small personal ad from a man who is looking for the right girl – "even though he is surrounded by women at work all the time" – and almost as a lark she responds – and soon the both of them are corresponding regularly – but oddly never giving any information about themselves to one another. Peter is of course the letter writer and the film becomes - as do other Doe Chin films – a comedy about crossed identities as events always conspire to keep the two of them from learning who their dream person really is. None of it really seems to matter much though and I never found the romance at all compelling or even understandable, as the usually affable Peter Chen is quite a nitwit throughout.

The DVD biographies have one on an actor that I had never heard of before, but I will pass on the information nevertheless. His name is Mak Kay and he plays the love interest of Fannie Fan in this film – not a really big part considering that at the time he was something of a star – but not in Mandarin films. He worked in the Shaw's Cantonese productions (still a very unknown subject to me – have any of these 50's/60's Shaw Cantonese films been released by Celestial yet?) and gained some fame for his rebellious youth roles. One of his biggest hits was "Sweet Girl in Terror" (1958) for which he acquired the nickname "Teddy Boy". He stayed in films till the end of 1960's when he immigrated to the United States. He came back to Hong Kong in the nineties and became heavily involved in Christian activities. He has actually appeared in a few films as well – the 2002 "Life is a Miracle" which may be one of those Christian funded films and in 1995 he appeared in "City Cop II" with Danny Lee. In the 1993 film "Rose Rose I Love You" (a sequel to "92 Legendary La Rose Noire") that spoofs old Cantonese films, the Simon Yam character is named Mak Kay.
My rating for this film: 6.5
---