The Millionaire Chase
---
Once again director Inoue Umetsugu delivers a glossy delightful film that has just the perfect blend of light comedy, silly romance, tuneful music and just a dash of drama. Like most of his Hong Kong films, it is also filled to the brim with bright colors, pop fashion glamour and the charms of some of the Shaw Brother's loveliest starlets. Unwinding playfully like a kitten with a ball of string, the film briskly moves around Asia and jumps gleefully from one subplot to another. There is never much doubt where it will end up, but it is a lot of fun getting there nonetheless.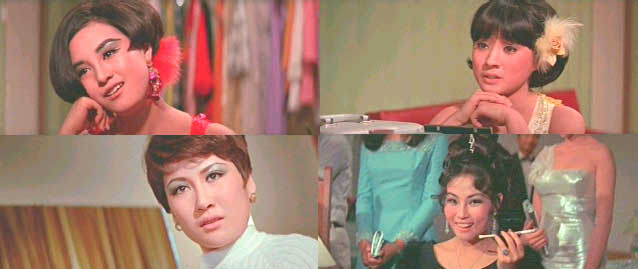 As in Umetsugu's classic "Hong Kong Nocturne", these actresses come in a brightly wrapped package of three – Lily Ho, Chin Ping and Betty Ting Pei (two of who starred in Nocturne) and they are a great pleasure to watch. They have wonderful casual chemistry together and feel like the old friends they are suppose to be. Lily is the leggy glamour doll who makes men's heads spin like runaway tops when she walks by, Chin looks to be as small as a breadbox but is a complete and utter sweetie pie and Betty is sort of the not too bright friend who eyes every man like a piggy bank and breaks into hiccups. Only at the beginning of her career, Betty was of course to gain infamy a few years later after Bruce Lee died in her apartment. These three aren't enough for Umetsugu though so he also brings in the beautifully salacious Angela Yu Chien who always sports a grin like a rumpled bed sheet. And finally to round it out Helen Ma plays the spoiled man stealer – but it is always hard for me to see her in any role but the swordswoman in "Deaf Mute Heroine".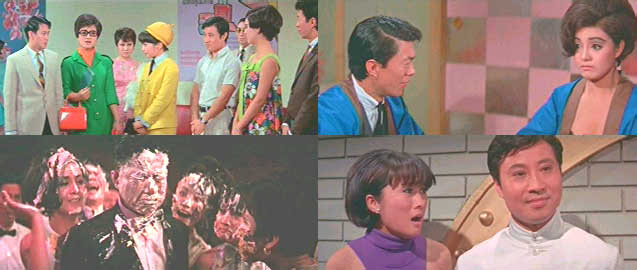 Lily, Chin and Betty are a singing and dancing trio managed by Peter Chen who shows up in just about every Shaw musical it seems. And by now I would be disappointed if he didn't. He also manages solo singer Angela, but his interest in her goes well beyond her vocal talents and vice-versa. Unfortunately, she is married to a wealthy old codger, which makes it difficult seeing each other on the sly. So they scheme to take their show on the road to Taiwan, Tokyo and Bangkok where they hope they will have the opportunity to ditch her husband for a little hanky panky time. Peter invites his other act along to act as cover and to hopefully induce the old man to chase after Lily.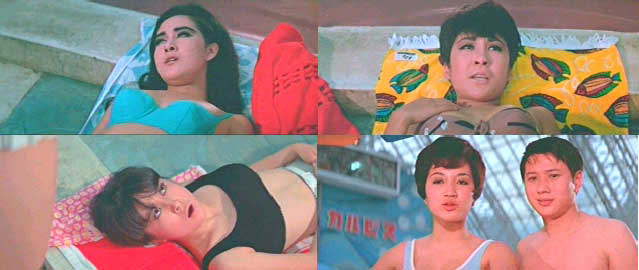 The girls don't initially want to go but soon find reasons to – Lily has a crush on Peter, Chin has just had her heart broken by a guy named "Melon" and Betty needs to get away from her overcrowded living conditions. They all make a pact to find a husband on this trip – preferably a very rich one – and they go after this mission with a glee. Wasting no time, Chin and Betty spot a potential candidate (Wei Ping Ao) on the airplane and after finding out that he owns stores all over Asia they do a celebratory high five squeal in the aisle. He is kind of weasely looking but with that kind of money who cares. Their plan starts falling apart though when they soon bump their heads on true love – Chin with a poor waiter (Chin Feng) and Betty with a gemologist (Chang Pei-shan). Lily finds herself in a tooth and claw battle for Peter's heart while also gladly accepting gifts on the side from Angela's husband. Into this already mangled mix are diamond smugglers, sightseeing, a gigantic pie fight, a free for all melee and of course musical numbers and it all adds up to a frothy delight that I found enchanting.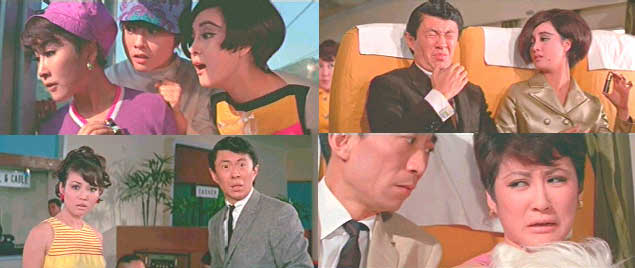 The musical numbers are very basic – generally just the three women performing their act on stage – nothing fancy with some very rudimentary choreography that looks like they needed a few more days to get their movements in synch. The songs though are fairly decent – actually sung by Jing Ting, Fang Yihua and Zhong Lingling and include songs titled "Happiness", "Song of Taiwan", "Hong Kong", "Bangkok" and "Formosa". There is also a good guitar driven go-go number that is used dramatically to shift back and forth between Peter and Lily dancing up a storm in a club and Chin trying to fight off a rape attempt. In a " how times have changed" aftermath Chin later only gives the fellow a mean look as opposed to nailing him to the wall with a zip gun and her friend Betty doesn't hesitate to go out with him.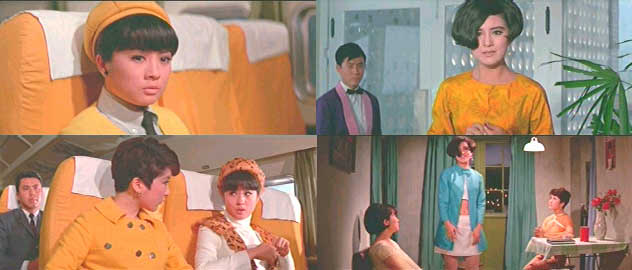 My rating for this film: 7.5
---