A Time for Love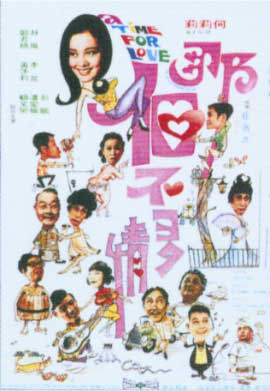 ---
Fans of two of this director's (Kuei Chi-hung) better-known films – The Teahouse and Big Brother Cheng – may be reduced to unrecognizable blubber if they attempt to watch this 1970 Shaw film with expectations of more of the same. While those other films were gritty action films full of intense violence, A Time for Love is the nuttiest screwball comedy that I have seen in a long while. Completely and totally bonkers with enough fluff to fill a warehouse of puffy pillows – and not only that – but it is covered head to toe in music – songs come at you like kamikaze pilots out of the sun as they take you unaware – from any angle, at any time. I would be hesitant to recommend this film to anyone unless they were a blood relation and even then only if they were not leaving me any money in their wills – but darned if I didn't have a wonderful time with this frantically kooky film that is near giddy with its silliness – and not to mention that it also has the tremulous beauty of Lily Ho.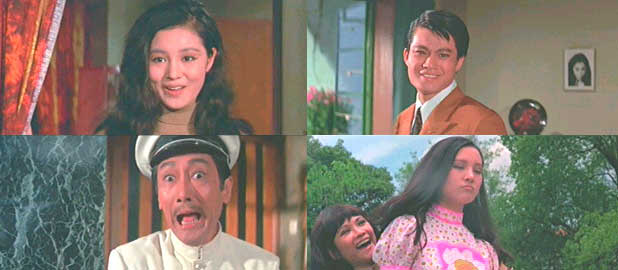 Judging from the Celestial DVD cover (as opposed to the original poster pictured above) one would assume that this is just another sweet saccharine romance and the box makes no mention of the multitude of songs that proliferate like unmanaged rabbits – but this is just a trap to bring you in and then knock you over the head. You realize that something is amiss as soon as the film opens when two college friends (Lily Ho and Shirley Wang) meet up to talk – but their conversation is in pop song, then Chinese Opera rap, then back to song – and its all about boys. Shirley has a bit of a problem – she has eight males – from boys to old men – in love with her, while poor Lily has none. In pure Hepburn fashion, Lily is the innocent daughter of the chauffeur Old Lau (Cheng Chun-mien) who works for an extremely wealthy elderly man who has a son (Lin Feng) of marriageable age. Neither has of course ever seen Lily, but the old man warns his son to stay away from women who are after his money and instructs Old Lau to keep his son away from these avaricious blood suckers.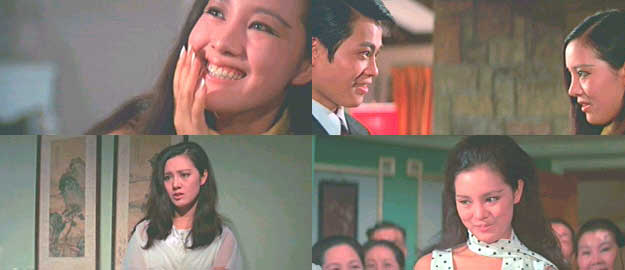 They live in a big house with enough hot and cold running servants to equip an ocean liner. Just to bring the dog his afternoon soup, they need five servants to get it there – but the servants are extremely happy and they tell us this in their very own song - not only because working conditions are good but also because they are able to rob the old man blind with Fagin like quickery. Of course Lily's birthday is coming up and the entire staff treat her like a daughter and bring her all the spoils of their busy little hands – ducks, chickens, eggs and sausages – every girl's dream on her 18th birthday – and they bring her a song of course. Life is good with her dad and her understanding mom (Ma Hsiao-ying), but soon of course chaos strikes in the recognizable form of first love.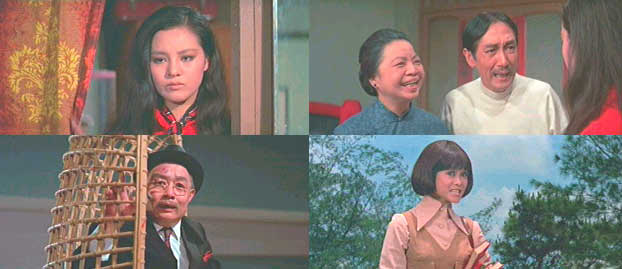 Lily goes to a party thrown by her friend Shirley – with her eight beau's in attendance – one of those beau's (Dean Shek) invites his friend Lin Feng to the party – Lily and Lin take one look at each other and the world stops for a minute – you know the feeling – and then of course they need to sing and dance – a strange little hootenanny jig. Then all hell breaks loose as the party turns into a massive food and everything else fight as the eight competitors tear into each other with the gusto of a screwball comedy on steroids – in the meanwhile Lily's dad has shown up and sees the attraction between the two young lovers and hurriedly takes her away during the mêlée. Cinderella here we go as Lin does everything he can to find this woman and Old Lau does everything he can to keep them apart as he fears this will cause him to lose his job - and every dad knows that a poor girl and a rich guy don't mix - except in the movies of course.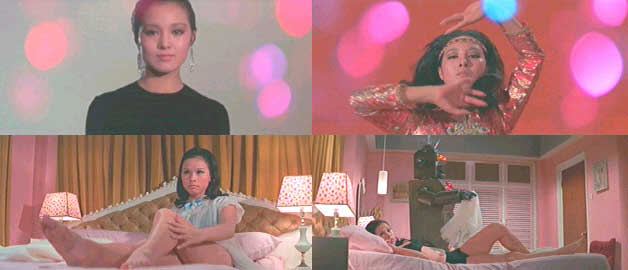 Along this pratfall filled romance, there are sidesteps into a fantasy fashion show, Old Lau dressed as a transvestite, a mad inventor (Li Kun) who has built a robot to service his sexually frustrated wife, electric shocks that make the female servants pants fall down, another free for all in a hospital ward, enough Lily Ho pouts to fill a barrel and enough good spirits to bring peace to the world. I have no doubt that most people would rather have their eye lids sewn shut ala "The Assassin" than wade through this nonsense, but there must be a few other people out there that would like this film. Aren't there? The Mandarin pop in this 1970 Shaw film is very catchy and ranges from straight ahead ballads about the moon to a comical number about finding a man for Lily – it is hard to imagine having to look very far.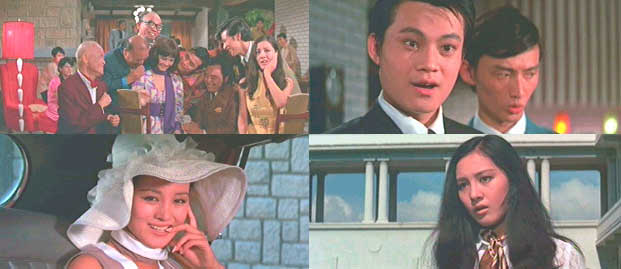 Cheng Chun-mien who plays Old Lau was one of the real veterans of Hong Kong film – after first doing theater and then radio broadcasting he began acting in films back in 1937 in a movie called "The Three Day Massacre in Guangzhou" and became a very popular figure in Cantonese films in over 200 films as often a comedic bumpkin type of character. He was also an imitator of singers (and I assume does his own singing here) and put out a number of albums and took on the moniker as "The Elvis Presley of Asia" – hopefully not meaning that he went on binge eating sessions washed down with uppers. For a number of years he was one of the hosts of the long running TV show "Enjoy Yourself Tonight". He died in 1995. (Info from the DVD bio).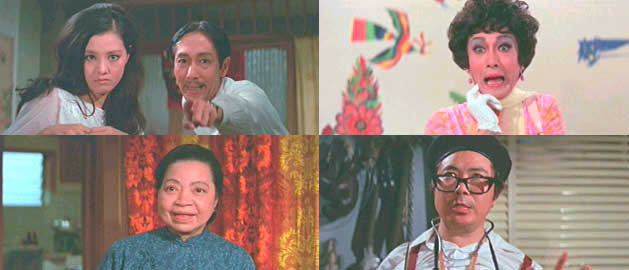 My rating for this film: 7.5
---