Spring Blossoms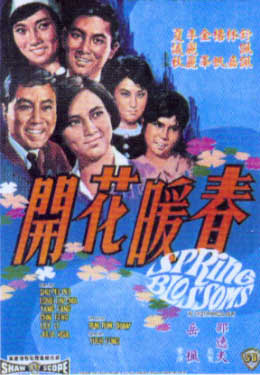 ---
Director Yueh Fung had some solid successes with a few earlier historical costume dramas such as "Lotus Lamp", "Last Woman of Shang" and "Lady General Hua Mu-lan" that had big sets and bigger stars. He seems less sure of himself though with this low-key contemporary comedy that sputters much more than it sparks. The premise has some comedic potential, but the script just has little wit and doesn't exploit the comedic or romantic angles that seemed waiting there to be picked up. A somewhat lesser known cast doesn't help much either in adding the oomph that is lacking in the script. Everything just plays out so slowly that you feel like you are watching jam cross the road.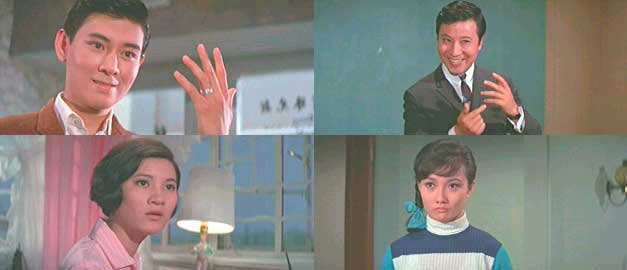 Wu (Yang Fang) and his friend Yao (Chin Feng) are medical students, but are forced to look for new lodgings when their landlord needs their room. They decide to get their own separate lodgings and Wu finds an ad for a room in the Chen household. Living there is a mother and her two daughters, but what he doesn't know is that he is falling into a marital trap. Mom uses the room to lure qualified men to marry off to her daughters and she has successfully done this three times already! None of the daughters or their husbands make an appearance other than in photos – but the men are quite recognizable – Chin Han, Shan Kwan and Yan Jun. Not a bad collection and now she wants to add one more along with her next in line daughter, Jieyu (Shu Pei-pei).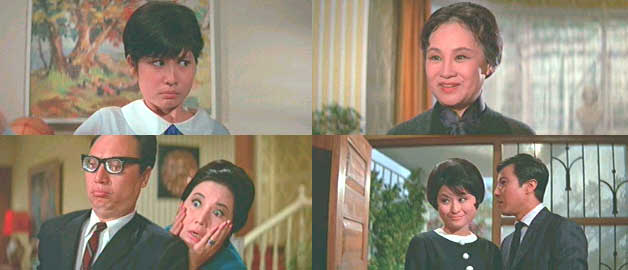 Jieyu wants nothing to do with this family tradition and refuses to even talk to the new tenant but something about proximity brings out the romantic in her and soon she is making cow eyes at Wu. Her younger sister, Meiyu (Lily Li) is doing her best Gidget and trying to match up not only Wu and her sister, but also her mom to a friend's father. Lily is the best thing about this film – cute as a sparkling button and more energy than a romper room of five year olds. Whenever she is on the screen, it's easy to simply enjoy her conniving contrivances and her wide-eyed wonder at everything. Co-incidentally, Yao (Wu's friend) finds lodging at Mrs. Chen's sister (Go Bo Shu) and her husband's (Cheung Kwong-chiu). The sister has decided to take a page out of the family book and rent a room so that she can marry off her 22-year old daughter, Jinglan (Essie Lin Chia), but Jinglan really wants nothing to do with the goofy Yao. This feels like a perfect set-up for a Cathay type family comedy with equal doses of light comedy and heart, but it never clicks.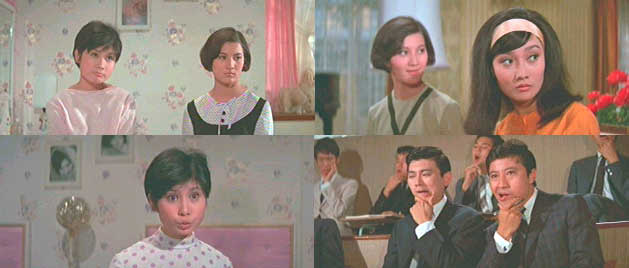 The film does star three young actresses, but interestingly the two to receive top billing – Essie and Pei-pei never became big stars, while Lily went on to a long (and occasionally still going) career. Born in 1950, Lily began training with the Shaws at the tender age of twelve and signed a contract with them in 1966. Only seventeen at the time this was made in 1967, she hadn't become the kung fu star that she was going to become within a few years – here she looks like she would be handier dealing with dirty dishes than sharp swords – but she is a delight.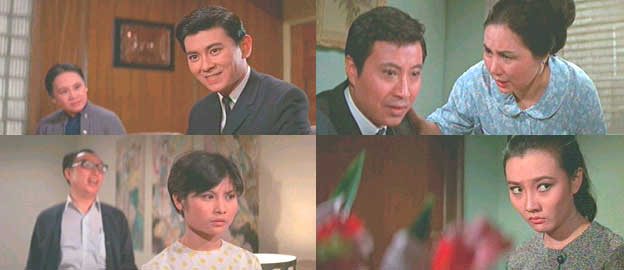 Essie Lin Chia was only three years older than Lily at the time, but seems much more mature – quite sexy actually with her Gene Tierney cheekbones and deep set eyes. She signed with the Shaw Brothers in 1964 but never rose above being a solid supporting actress in a number of films – "Return of the One-Armed Swordsman", "Love Without End" (the Jenny Hu version), "The Singing Thief", "Unfinished Melody" and others. She ably played various types from sympathetic best friend to criminal wife to the sadistic "Thousand Hand Lady". In the early 1970's perhaps Shaw and her saw this as a bad fit and she left them to work in Taiwan and on at least two American films, "Black Samurai"(1976) and "The Doomsday Machine" (1972).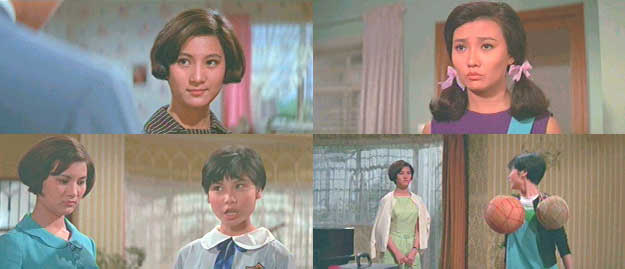 Shu Pei-pei was born in Shanghai in 1948 and later came to Hong Kong. She was the runner-up at the "Miss Seiko Beauty Contest" and this led to a five-year contract at Shaws. Though she had ballet and musical training, the majority of films she performed in were of the wuxia variety – her debut was in the Cheng Pei-pei film "Thundering Sword" and certainly that Pei-pei knew about converting from dance to martial arts. Shu Pei-pei left Shaws when her contract ran out in 1973 and got married, had a child and began working at a travel agency!
My rating for this film: 5.5

---