Ladies First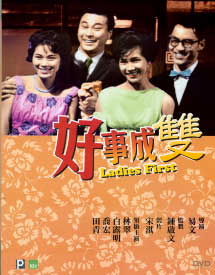 ---
Director Evan Chan (Yi Wen) continues to impress with his delightfully literate scripts and his comical sensibilities in "Ladies First" (1960) – an amusing look at the contemporary mating game. Some of his previous Cathay films were Mambo Girl, Bachelor's Beware, Air Hostess and Our Dream Car and he shows a wonderful light touch in creating very likable characters in what was then modern day Hong Kong. With the very first images in this film he announces that times are changing with a panning shot of air conditioners from General Electric and mannequins arrayed in bikinis. I am not sure if he was ahead of his time with product placement or simply trying to give this film an up to date Western feel, but Coke, Playboy, Pan Am and Kent cigarettes (my parents brand when I was growing up) also make appearances in the film. Here he is showing the modern angle on romance – no more having families arrange traditional marriages – this is a free for all between young adults. His films (like most Cathay films) focus on the female characters and he manages to always make them marvelously charming and sparkling.

That certainly is the case here with two of the more popular actresses of the time playing good friends who approach courtship like a tag team wrestling combo. They are played by Jeanette Lin Cui and Christine Pai Lu-ming – both extremely lovely in the girl next-door kind of way. It is all you can do not to propose to one or both of them yourself in this film. Romance is in the air – literally with alley cats howling to reflect the activities of human love birds in the streets – and it appears to be contagious. Both Liujin (Lin Cui) and Lihong (Christine) have reached that age when men and love become the number one priority – they are on the make. They find two suitable candidates at the beach on Repulse Bay (the film has a number of outdoor shoots) – the hunky no shirt Wang (played by the only hunk Cathay had, Roy Chiao) and his slight bespectacled friend, Li (Tien Ching). The men are immediately smitten – "breathtaking" – they call them truthfully, but of course the girls flirtatiously play hard to get – but do give out their phone number. What was courtship like before the phone I wonder?

The men follow-up as expected and it turns out co-incidentally that Wang works for Liujin's uncle and Li is trying to sell soap powder to Lihong's dry cleaning father. This is perfect because the girls had already gotten together to decide which guy they were going to get – divide the spoils of war so to speak – and Liujin is gaga over Wang's muscles while Lihong likes the bookish type. A slight impediment arises though – Wang is crazy about Lihong and Li is crazy about Liujin. Hmmmm? The girls pout for a bit and then put there conniving heads together and decide this is only a minor setback – after all these are only men – what do they know. In the game of love men are mere pawns to be moved about and these girls are master chess players at this sport. In the end the men admit, "I'm defeated" and love triumphs.

This is an old-fashioned lark that is very funny at times with a few great set ups. My favorite being when the two guys take the girls out to a nice restaurant with minimal funds in their pocket but have taken the precaution of paying off the waiter (Cheung Kwong-chiu) to come up with excuses if the girls ordered anything expensive as to why they could not have it – though Roy and Tien dancing and doing the white man overbite thing cracked me up as well. Chan just has a wonderful sly sense of humor that seeps throughout the film. Adding to the fun are cameos from the two fathers (Liu Enjia and Leung Sing-po) in "The Greatest Civil War on Earth" and "The Greatest Wedding on Earth" though these films were to come a short time later – and one from Yan Wei as he was known at the time – but he became much better known under the moniker David Chiang some years later. He plays Lihong's bratty younger brother.

Christine Pai was to play one of the daughters in both "The Greatest" films in those North versus South cultural battles. She was in the Cantonese camp – both in the films and in real life. While Cathay was primarily a Mandarin production company, they did have a much smaller Cantonese division and Christine was the major star within that. Born in Hong Kong in 1937, she first trained in Cantonese opera at a young age with the support of some of the major figures in the art at the time. In 1955 she joined the Tai Seng Film Company and soon had her debut in "Now That I've Got a Daughter, Everything is O.K." and went on to make another dozen or so films for this company. She switched to MP&GI (Cathay) in 1958 working in their Cantonese unit and became quite a star with the box office smash "Bitter Lotus" (1960). In fact she became such a popular item that they moved her into Mandarin films as well – in 1964 the Cantonese division was shut down. In 1965 she retired to get married – leaving behind some 25 films at Cathay – 15 Cantonese and 10 Mandarin – and a smile that dazzles with innocence of a time long gone*.

My rating for this film: 7.5
* information on Christine Pai comes from the book "The Cathay Story"

---