Mob Sister (Ah Sou)
---
Reviewed by Lee Alon
You got to feel it for Hong Kong. It's such a place of dichotomy nowadays - from a flamboyant, upbeat past to an uncertain future and concerns over its very identity. An industry that a mere decade ago was capable of delivering 300 movies annually, down to less than 20 percent of that in 2005. And from a stridently unique local culture to bowing heads in the face of what producers deem to be where the money's at: the mainland market. To all intents and purposes, Ah Sou, much like many of its contemporaries, isn't really a Hong Kong movie other than most of it still being in Cantonese. The mannerisms and behavior of characters, not to mention the complete dearth of critical commentary of any type, bring to mind a safe, sanitized product more familiar from mainland output.
Once upon a time, you could count on HK to at least occasionally come up with something witty and reflecting of its period, but today this breed is fast dying, considered too risky and upsetting. Now, triad bosses have cars with dual-access HK/Guangdong plates, and despite the prevalence of coin tossing in proceedings (triads have a thing for fate, it transpires), not a single one shows the queen's bust, a weird coincidence seeing as much of the territory's circulated coinage predates 1997. Tellingly, Ah Sou promoters apparently "worked together" with censors to ensure its PRC-wide release. What that kind of pressure portends for HK's movie business and creative prowess as a whole, well, make up your own minds. This dichotomy likewise finds its way into Ah Sou proper. It begins as a formulaic, been-there gangland deal, goes on to craft a few surprising twists and novelties, then ends on the same lukewarm note on which it started. Overall, and in spite of the film looking as if somebody actually worked moderately hard, Ah Sou doesn't rise very high.

Here we have Eric Tsang, mind-bogglingly cast yet again as a retiring underworld kingpin. No offense to Mr. Tsang, but his talents can measure up to more of a diverse portfolio, something we've enjoyed in previous years. As exiting mafia leader Gent, Tsang works in a very bureaucratic fashion, simply clocking in, taking a couple of breaks in the middle, getting it over with, then leaving the stage, with only one very effective sentimental bit close to the end somewhat making up for this blandness. Boss Gent's got three captains, with the foursome having grown up together and forged their fraternity in blood and fire. Whacky (Anthony Wong), Chance (Simon Yam) and Buddy (Alex Fong) all glean much from the actors portraying them, and for once we get distinct protagonists with real differences in personality setting them apart.

Gent's main mission in life has been to foster and protect the titular character, played by Annie Liu. As a child, she was about to get erased by vengeful mob wife Nova (Karena Lam), but then Gent stepped in to save the day and see the kid through a much sheltered life. Eighteen years later, trouble's brewing just as he's about to step down, and the entire triad environment flares up to critical mass. What follows is a relatively slow, uninspired stretch of crime shenanigans, almost devoid of gratuitous violence, suspense, gun fight parades or any of the ominous must-haves the genre historically pulled people in with. During one of its more bone-grindingly embarrassing moments, Ah Sou features a scene where cars apparently replace bullets, and you can't help but laugh at the ludicrous results.

However, there's some merit here, as the film for once shows women playing crucial roles, especially Karena Lam, a talent so potent even a gig of this mediocrity can't put her down. Lam's depiction of career mobstress Nova helps buoy Ah Sou more than most of its other parts combined, and even mechanical Annie Liu isn't half bad. Another highlight on hand is Liu Ye, one of China's better male performers (seen in Lan Yu, Floating Landscape, The Foliage, Purple Butterfly and others). Similar to Ms. Lam, Liu Ye's strong enough to shine through, although ultimately he gets reduced to the token brooding mainlander as Annie Liu's bodyguard and friend Pilot. Refreshingly, the two characters at least get over mutually parochial hang-ups by alternating between the two mainstay dialects, Pilot attempting to do Guangdong speak and his charge dabbling in Putonghua. Beats having people miraculously understand each other when using two different languages.

There's also a few very endearing animation segments that, although sappy, flex the movie's waterworks muscle quite well, a ubiquitous, quality soundtrack, and a handful of plot twists packing tangible surprise factors. These help prevent Ah Sou from slipping into total ineptitude; yet do not push it into any lofty heights. As an indication of HK's cinematic and creative morass, Ah Sou drives the painful point home. Other than that, it's just not a good flick, even if director Wong Ching Po was the guy behind controversially intellectual Fu Bo, also starring Eric Tsang and Anthony Wong in much better performances. Give this one Ah Pass.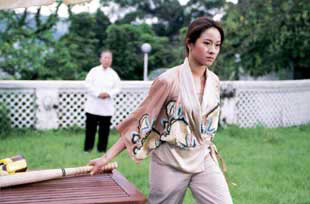 Rating: 6/10
Directed by Wong Ching Po
Starring Eric Tsang, Annie Liu, Karena Lam, Anthony Wong, Alex Fong, Simon Yam
2005, Cantonese/Putonghua, 92 minutes
Contact Lee Alon here

---