Can't Stop My Crazy Love for You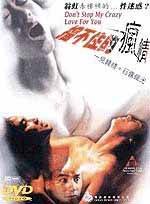 ---
Can't Stop My Crazy Love for You
1993
Director: Hon Wai-dat
Viewed on Ocean Shores DVD
Let me put this out front as creepy as it may make me sound. The sex scene between Simon Yam and Yvonne Yung Hung is one of the steamiest and erotic that I have come across in a Hong Kong film. Why creepy, you may ask? Well, because it begins as a rape, there is a dead cop on the floor next to the bed, Yam has killed her boyfriend and she has sworn revenge. But if you put these small facts aside (!) - and it seems the director has as he allows Yvonne's character to appear to get very much into it, then it is a pretty hot scene and quite an introduction for actress Yvonne Yung Hung into Cat. III films. This is no tepid tiptoe entry into this sleazy world for the former Miss Asia, but a high double flip dive into the deep end. Her Cat. III career was only to last for a few years before she moved primarily into television, but it certainly created the boost to her celebrity that she was looking for.

To his co-workers Fred Suen (Simon Yam) appears to have it all – handsome, suave, well-dressed, single and a well-paid executive at a Security company. He is the sort of fellow who his male co-workers can talk to about their "dickie's" and jokingly ask "how big are your mom's tits". But like so many of us, he has a hidden side to him – in this case quite a unique one. He likes to dress up as a woman – o.k. no big deal – he has a blow up doll at home – again no big deal – but in this case he sits it at the dining table and has lengthy conversations with it in which he pours out his longings and has it read the newspaper at breakfast. He tells his rubber friend that he has done as well as he can sexually during their 3-month relationship but it is not enough. So he takes up another hobby – peeping through a telescope at his obsession – newswoman Kitty Wong (Yvonne) who forgets to close the blinds when she undresses.

Years ago Simon Yam went through his psycho stage in films with movies such as Dr. Lamb, Full Contact and Run and Kill and he performs each of these roles with gleeful relish. Interestingly, the other two main actors who got stuck with a number of crazy roles back then were Anthony Wong and Francis Ng and all three have gone on to distinguished careers and are considered three of Hong Kong's top actors. Maybe psycho roles are good training – it allows the actor to let it all out and to play with a role outside conventional boundaries. At any rate, Simon appears to be having loads of fun with his character here in a maniacal eye popping grinning performance.

Fred goes from peeper to stalker and beats up four guys, who give Kitty a hard time, but when he meets her in person he is tongue tied and socially inept – so he takes on the persona of Mr. Puppet and makes obscene phone calls to her. Things get nastier when he discovers that she has a boyfriend (Michael Wong) who has it all. The violence ratchets up – with at one point Kitty doing a Chow Yun Fat by hiding weapons all over the house for easy reach – and ending with the infamous line "You shot my dickie!" Other characters are played by Helena Law Lan as Kitty's aunt and Vincent Wan as a cop. Reasonably good fun but primarily known for the unveiling of Yvonne.
My rating for this film: 6.5

---