The Power of Money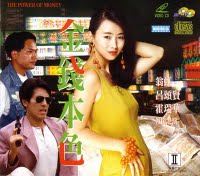 ---
The Power of Money
1994
Director: Cheng Ming
Viewed on VCD – no Subtitles
It is odd that Yvonne Yung Hung appeared in this low budget straight to VCD film following her recent Cat. III success. Perhaps she had already made it before Can't Stop My Crazy Love or had already signed up for it – or as things went back then – was persuaded by some triad wannabe film producer to show up for work. But it really has absolutely nothing much going for it until a fairly well-done scene at the very end with Yvonne trying to decide between money and love with a gun in her hand. She looks great in the film, but keeps her clothes firmly in place.

The film begins with a Mainland gang headed by Victor Hon-kwan robbing a place of business and making their get-away after a shoot-out with the cops. Their transport back to China falls through though and they have to hold up in a rundown shack and turn to local kingpin Cheng Chu Fung for help. Even without sub-titles it doesn't take long to realize that Cheng is a bad boy – he enjoys lolling about on a couch and has his girlfriend/assistant crawl on the floor bringing him his shoes in her mouth. Always a sign of a bad upbringing in my book. Later in the film in a nice juxtaposition (if intended by the filmmakers) he has to crawl to try and save his life.

Two cops - Jackie Lui (who was to gain some fame years later as one of the bodyguards in The Mission) and Terence Fok - are after the gang and Cheng. They are friends off-duty as well but between them comes Fok's torch singing chanteuse, Eve (Yvonne). She and Fok argue about money matters – not enough of it naturally – and when she turns to Jackie for advice, Fok thinks the worst of his partner and this woman trouble leads to betrayal all-around – finally leading to Eve eying her wounded boyfriend and a suitcase of money and trying to quickly decide which one she wants more.
I noticed while capturing photos for both this film and Can't Stop My Crazy Love that the same large picture of Yvonne is hanging in a room - my guess being that it belongs to Yvonne and that she brought it in to use as a prop. Pictured a bit below.

My rating for this film: 4.0
---