Spike Drink Gang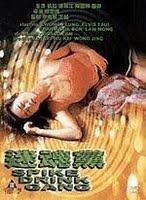 ---
Spike Drink Gang
1995
Director: Bosco Lam
Viewed on VCD
From reading a couple other reviews of this film it seems fairly clear that this VCD was badly censored, excising all the naughty nude bits – though all reviewers agree that Yvonne Yung Hung's clothes stay intact throughout – so it's impossible to judge this film fairly (though I can't imagine it's good even with those parts back in). But what it still has going for it is a distinct grungy street level feel with much of it shot on various outside locations around Hong Kong. Otherwise though, it strikes one as truly klutzy directing with lots and lots of over acting. Director Bosco Lam did better work in Underground Banker and Chinese Torture Chamber Story.

Based I believe on a true crime case, a rather dim gang of four begin drugging those cardboard drinks in convenience stores by injecting a sleeping potion into them. They then follow the victim out of the store and rob them or rape them or kidnap them or the trifecta. In the film of course all the purchasers of the drink are well-endowed women and one can only guess at what the gang did if either a man bought the drink or an unattractive female. The first victim is our very own Yvonne – Mrs. Tsui – who falls asleep on a street in Sheung Wan and wakes up hours later to find herself on a bench on the boardwalk along the harbor in Tsimshatsui and has no idea if she was only robbed or molested as well. The cops are not initially interested but her husband Butcher Tsui (Elvis Tsui) certainly is as he goes nuts worrying that his wife was raped – not for her mind you – but because all the neighbors are making fun of him and he compares his wife's chastity to a clean toilet bowl. So he tries tracking down the gang and of course gets the wrong fellow (Yu Kwok-lok), who he tortures by cutting off his massive chest hair and face hair with a broad sword. Later when it is shown that she remained intact, Mrs. Tsui goes to her husband's market to announce the news with a loudspeaker to the nosy neighbors.

Meanwhile, more of these robberies occur – finally with a young girl being kidnapped – and the cops (Chan Kwok-bong and Lee Siu Kei) decide to use Mrs. Tsui to find them. So they drug her again and have her retrace her wobbly steps to their lair. Heading this gang is Lo Meng of Venom fame and he is the only one here to put in a performance that even feels mildly real. Yvonne pouts throughout and Elvis gives one of his more over the top performances ever. Not really worth 90 minutes of your life, but again this version was censored. A Wong Jing Production.

---