Sleepless Town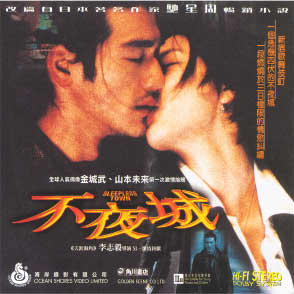 ---
Reviewed by YTSL
Take stylistic elements and references from "Lost and Found", "Chungking Express" and "The Longest Nite" (Along with the director of the 1996 UFO production plus someone who starred in that and what is arguably Wong Kar Wai's most delightful offering). Throw them into a dark brew that is peopled by a more culturally mixed group of individuals than one might expect to see in a film from a country "known" for its relative ethnic homogeneity (And note that the Chinese depicted here are sub-divided into Taiwanese, Shanghainese, Beijingers and Fujianese (a.k.a. Fukienese or Hokkien); plus Japanese Manchurians and others do figure in the picture as well). Come up with an involving thriller of a noir drama involving at least one mystery woman and a few rival underworld gangs (Mainly Triad types, with Yakuza only mentioned in passing). Situate it for the most part in a section of Tokyo known as Kabukicho. In a nutshell, that seems to be what those behind this Japan-Hong Kong -- and also Taiwan? -- co-production have done.
There is much to observe, process and keep the brain occupied in the beautifully filmed -- check out the tracking shot that accompanies the opening credits and other money shots by HKFA Best Cinematography award-winning Arthur Wong -- SLEEPLESS TOWN; so much so that this (re)viewer found herself unable to get through this busy work in one go. First and foremost is the transnationalism -- even if it is mainly restricted to East Asia -- of its references as well as characters plus the multi-linguality of its dialogue. Re the former: Children of Japanese women abandoned in China after the end of the Second World War figure prominently in this 1998 effort; and significant mention is made to there being parallels between characters of this contemporary tale with some in the classic "Romance of the Three Kingdoms" (a piece of literature which Takeshi Kaneshiro's Ryu Kenichi/Liu Jianyi character loaned to Eric Tsang's Yuan Chenggui to read). Re the latter: It may interest some to realize that conversations in this Lee Chi Ngai helmed cinematic adaptation of a novel by Seishu Hase take place in Taiwanese as well as Japanese and Mandarin (but not -- at least, not that I noticed -- Cantonese).

An abundance of plot twists and turns, along with details and content, is also apparent in a movie that has a lot of visual flair (Yohei Taneda received a HKFA award for Best Art Direction). For all of its cultural complexity, it gets asserted more than once in SLEEPLESS TOWN that the world is essentially divided into but two kinds of people: The cheaters and the cheated. Going along with this line of thinking, for much of the film, its "mixed breed" protagonist -- who is played by the Japanese-Chinese actor from Taiwan known as Gum Sing Mo and Anaki Jin as well as Takeshi Kaneshiro -- is seen wheeling and dealing, trying to ensure that he doesn't get betrayed even as he betrays.

For the three days in his life that are focused upon in much of SLEEPLESS TOWN, the film's anti-hero -- a maverick low-lifer with ponytailed hair reminiscent of Steven Seagal's -- is in the company of a woman who looks to be the personification of a Femme Fatale (Mirai Yamamoto is alternately hot and chilling, as called for by this role). During this time, there hangs over him an ultimatum from the boss of the Shanghai Triad (played by a Mandarin-speaking Eric Tsang) to find and hand over his former partner -- on account of the at-large Wu Fu-Chun/Sakamato Tomio having killed the rotund individual's right-hand man -- or else...At times, it can seem like Kenichi/Liu is not taking the assigned task and deadline too seriously. At the same time, he clearly also is doing what he can, in the ways he knows how, to ensure that he stays alive into the upcoming (Chinese and Japanese) new year.

Among the individuals whose help Kenichi seeks to enlist are: Yang Weimin, the deceptively benign-looking leader of Kabukicho and Shinjuku's Taiwanese faction (It was a pleasure seeing Lung Sihung in this work); Cui Hu, the rough head of the Beijing criminal contingent; someone Kenichi calls Little Wen; and Xiu Hong, the not-to-be-discounted mistress of the Shanghai Triad boss (Kathy Chow has a small but interesting role in the proceedings). Someone (else) whose machinations has to be taken into account is the physically diminutive but highly influential elderly Fujianese man with the speech problem who operates out of Yokohama (Seijun Suzuki in a cameo appearance).

As all this occurs, Kenichi -- and the viewers, who only really know as much throughout as he does, and at his pace -- has to figure out what are different people's motives in order to get a sense of what they want and are planning. Along the way, he has to unravel someone's tales of childhood trauma which involve gang and other rapes to decide whether revenge -- or another factor, like sex or money -- is the primary thing on her mind. All the while, he has to consider a warning that: "There's a storm brewing, a sacrifice might be needed". The way things go, the question is not whether he can avoid getting involved but what part will he play? Those intrigued by this are urged to check out this 122 minute movie to find that out. Those who are not might still find it worthwhile to go for an excursion into the SLEEPLESS TOWN where there is much on the surface but maybe even more beyond it.
My rating for this film: 8

---
Review from Brian
"I shouldn't have gone into her apartment. I shouldn't have unlocked her trunk" Takeshi rues to himself as the metaphorical loose tightens around his neck in this enigmatic noir suspense tale that takes place in the shadows of the Chinese underworld in the heart of Tokyo. He opens the door and he unlocks the trunk though and finds himself playing the perfect unwitting pawn in a lethal power struggle that consists of hidden ambitions and double and triple crosses. Every good noir film needs a good Femme Fatale and Mirai Yamamoto is deliciously mysterious as she shifts in the blink of an eye from sexual siren to damsel in distress – pulling Takeshi's strings – or is he pulling hers – as they circle one another in a dangerous dance of desire and suspicion.
Sometimes noir can be messy and leave lots of unexplained bits on the table (The Big Sleep - being a perfect example), but its how you get there that almost counts more – and this one takes you there in great if messy style – from the roof tops of Tokyo through the neon lit narrow alley ways into the snow white mountains. As Takeshi narrates the story in true noir style – he leads us on a lovely chase through the streets of Kabukicho – and again in true noir style discovers more than he wants to about others and about himself.
My rating for this film: 8.0
---