3 Days of a Blind Girl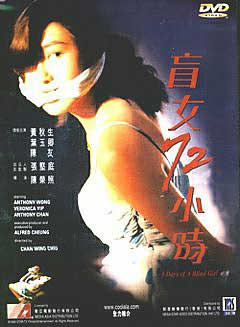 ---
Reviewed by Jack Sobjack
3 Days of a Blind Girl (a.k.a. Retribution Sight Unseen) was my first Veronica Yip film. And it turned out to be a pretty good start. It has all the elements that would make any VY fan happy. Lot's of Veronica! No, I mean a lot of Veronica. She's in every scene. I don't think there was more than a minute or two where she wasn't onscreen.

Plot? Well if you're a VY fanatic I'm sure you could care less about it. But for those who need to know more…the title and VCD cover (a bound & gagged Veronica) pretty much says it all. Besides, I can't be too specific – the VCD doesn't have English subs. Basically, VY plays a blind girl that is tormented for 3 days by your average psycho-stalker type (Anthony Wong) when her husband leaves town on business…and that's the gist of 3DOABG.

Oh, for maximum viewing enjoyment I recommend you watch this film very late at night when you're half-asleep. More tips on enjoying this film: For one thing, don't get too attached to "Boy" (Veronica's dog). Ignore overall plot - it's been done a million times before and will just distract you while you're trying to enjoy VY. And pay close attention to the photographs the stalker-dude shows a blind Veronica. They're of Maggie Cheung, Moon Lee and Brigitte Lin. Hey, this guy may be a creep but he's got great taste in women. And finally, try not to take the ending personal. I would also like to add that it's important to closely observe the shower scene. Key elements are introduced that help "shape" the rest of the film. However, if you're a feminist or a male over the age of 60 you might want to cover your eyes.

Appearing in this film also are Alfred Cheung as the doctor (and producer of the film), Anthony Chan as the husband and Jaime Luk as the policeman – but it is mainly just Veronica and Anthony trying to outwit one another.

By now, you probably can't wait to get your grubby paws on a copy of this movie. So I'll end this highly enlightening albeit brief review.

My rating for this film: 6.0
---

---
DVD Information:
Distributed by Mega Star/ Media Asia
The transfer is terrific - great colors and very sharp image.
Letterboxed
Cantonese and Mandarin language tracks.
9 Chapters
The subtitles are Chinese or English or none.
There is a trailer for this film - and also ones for Midnight Girls, Robotrix and Cherry Blossoms.
---