Killing End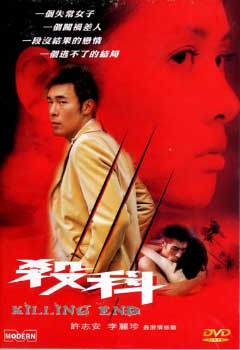 ---
This small film came and went in 2001 with little notice but it has a surprising amount of talent associated with it. It is directed by Herman Yau (who also directed the powerful From the Queen to the Chief Executive in the same year) and scripted by Simon Loui. Loui is most known of course for appearing in loads of low or medium budget films primarily in the horror genre – but he has also written a few topnotch scripts over the past couple of years (Paramount Hotel). His writing tends to be lean, tight and noirish and rarely predictable. This film doesn't pull the disparate strands together into a satisfying whole as well as Paramount Hotel did but it is still a solid effort that certainly doesn't go where I expected.

In front of the camera (besides Simon) are Andy Hui, Loletta Lee and Michael Tse. Andy gives some of his most effective work here and doesn't underplay his role as much as he has been guilty of in the past to the point of being simply dull. In an almost modern update of his character in The Blade, Michael Tse brings an enjoyable nonchalant nastiness to his character. For someone who is actually quite good looking, Tse never seems to mind making his characters as smarmy appearing as possible. I have never understood why he has been relegated to supporting roles and often as the villain. Then there is of course Loletta.

It is such a pleasure seeing Loletta back in films again. She almost dropped out after the mid-90s to get married and have a child and was also no doubt less than thrilled to be getting offers for small roles after having been so popular in the 80s. Then she returned in 1999 for Ann Hui's Ordinary Heroes for which she received a number of accolades and then this past year seems to have returned full time with this film, a high profile play The Dark Tales (which is available on DVD) and Nightmares in Precinct 7. And some seventeen years after her debut Loletta is still a major cutie pie and looks to have barely aged. I am planning to go on a little Loletta binge over the next couple of days as I have some catching up to do with the quintessential pouter of HK films.

Hui and Loui are two cops chasing after drug dealer Tse and his partner (Ng Ting Yip in an excellent and assured oily performance as well) who are under the command of a mysterious elder leader that the police cannot even touch. While observing the bad guys, they spot Loletta come to a screeching halt in her convertible, open the door and walk over to Tse's car (the camera only allowing the viewer to see her stylish shoes and short skirt) and bash the hell out of it with a sledgehammer. Hui helps her escape from the thugs and the two of them eventually fall into an uneasy love. Hui has to deal with an ailing mother, a girlfriend who's memory seems to be fading and some very nasty bad guys who decide to make his life as untenable as possible.

It makes for interesting if not gripping material that gets darker and more anxious as it progresses and the camera work is consistently interesting. Appearing also is Shing Fui-on as Hui's supervisor, Alfred Cheung as the restaurant owner and Chin Kar-lok as the informant.

My rating for this film: 6.0

---