The Tragic Fantasy: "Tiger of Wanchai"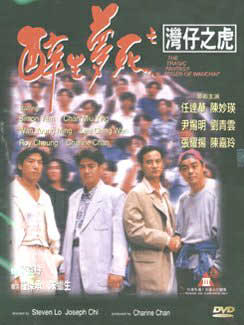 ---
Reviewed by YTSL
A couple of weeks ago, I finally checked out -- and was blown away by -- the brooding offering entitled "To Live and Die in Tsim Sha Tsui". When I told a fellow Hong Kong movie fan about this, he said something to the effect of "considering the large number of Triad films that you've already seen, it's amazing that there are still some that can get your blood going!" After having viewed another Triad drama that was released -- like that Andrew Lau helmed effort in which Jacky Cheung turned in a surprisingly effective performance -- in 1994 (and actually ended up 13 rungs above it by getting in at no. 31 on that year's Hong Kong box office list), I'd have to agree with my friend that many of this once popular genre's works can seem too similar and thus not feel like they are bringing anything "new" to the table.

Perhaps the core story of THE TRAGIC FANTASY: TIGER OF WANCHAI would not have felt so old if I hadn't viewed the later made "Young and Dangerous" series of films before that whose protagonist is an apparently "based on real life" character who went from being a lowly "parking boy" to a powerful gangster whose life remained in constant danger due to his having as many, if not more, disgruntled rivals than true friends. As things turned out, it was interesting -- plus hard to not notice -- that three out of this effort's four main actors also do feature in that Triad glamorizing group of cinematic works which made a major star out of the oft-criticized Ekin Cheng. At the same time, it was somewhat fascinating too to see Lau Ching Wan having the quite atypical -- for him -- (supporting) role of a gambling addict with a cowardly streak along with good buddies (who came in the form of Simon Yam, Vincent Wan and Roy Cheung).

By some accounts, any movie that can boast having Mr. Lau -- never mind other fine actors -- in its cast should be more than a run of the mill one. In this case though, my feeling is that many of the talents who appeared in THE TRAGIC FANTASY: TIGER OF WANCHAI ended up getting let down by the admittedly eventful, but ultimately far too predictable, offering's uninspired script. In particular, this (re)viewer rues its screenwriting trio's decision to rather abruptly shift the focus of the main story fairly early on in this Steven Lo and Joseph Chi co-directed work from one that gave equal attention to the four "heng tai" named Hing, Dee, Hung and Chung -- and thus benefited from having more than one talented individual being asked to carry (that portion of) the film -- to that which gave center-stage pretty much entirely to Simon Yam's highly temperamental Hing character.

Not far behind on my "wrong turn" list would be that which sought to throw some love and sex elements into the Category III rated -- for violence? -- picture by having Hing get involved with an arguably feisty female called Mil Mil (played by Marianne Chan) and a fallen woman named Kitty (essayed by Yvonne Yung Hung). It's a pity too that veteran actor Lo Lieh's snake-ish (Elder) Brother Kui character and also Ben Lam's bombastic (elder) Brother Yeung ended up not getting more screen time than they did (even while both "dai lo"s were able to amply show how heartless -- and deserving of violent deaths -- they were in their temporally limited appearances in the film). Still, these individuals did have a greater impact on the proceedings of that whose Chinese title translates into English as "The Drunken Death Dream of the Wanchai Tiger" than the almost entirely superfluous character portrayed by the actress who looked to have also been the watchable but not special movie's executive producer (Charine Chan's Fannie invariably played second fiddle to characters who already were but support ones vis a vis this offering's principal personality).

All in all, about the one thing that I found somewhat "novel" about the not very sophisticated -- and particularly with regards to its use of Cantopop montages -- THE TRAGIC FANTASY: TIGER OF WANCHAI were its fight scenes. Not only did these well-choreographed portions of the movie benefit from the likes of Ben Lam figuring in them but they also are not filmed in the blurry, "shaky-cam" and "jump cut" style made famous by Wong Kar Wai and popularized by cinematographer-director Andrew Lau and others. Ironically, this probably is really because this Peter Ngor Chi Kwan lensed as well as executive directed work -- which came out in the same year as "Chungking Express" and "Ashes of Time", and was a bigger commercial hit than either of those critically acclaimed efforts -- was made before that latterly much imitated cinematographic style became the vogue.

My rating for the film: 6.

---