A True Mob Story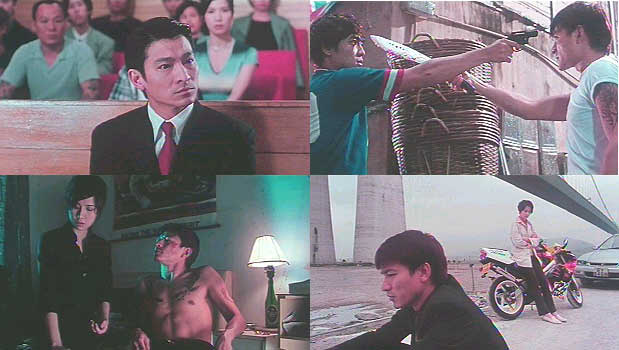 ---
Reviewed by YTSL
If this 1998 Triad drama cum Andy Lau star vehicle were to be judged solely on its own merits, I think that it might be safely considered to be a solid enough effort that benefits quite a bit from having higher production values than one generally associates with Hong Kong movies. For various reasons -- including its containing its share of scenes and elements that have an all too familiar feel to them -- however, this (re)viewer found it damn near impossible to refrain from (unfavorably) comparing and contrasting this Wong Jing work -- that actually was a local box office hit but, judging from such as the batch of reviews of it on the HKMDB, has received a more mixed reception internationally -- with a number of other films, including certain of those with which the offering's still boyish looking leading man and/or prolific producer-director-scriptwriter are integrally associated.

The powerfully emotional "Full Throttle" (which, incidentally, was the first work that paired up this China Star movie's main man and his many years younger leading lady). The Wong Jing co-produced "A Moment of Romance (I)" (Probably the foremost offering to come to mind whenever I see Andy Lau on a motorbike, and particularly with a blissful looking female pillion rider in tow). The B.O.B. produced "Young and Dangerous" series of films (Some of which supporting actors -- though not their characters -- also figure in this Triad-centric effort). Pretty much any movie (including Wong Kar Wai's directorial debut making "As Tears Go By") in which Andy Lau plays a rascal who actually is not all bad and/or appears in an outfit that prominently includes a sparkling white singlet or t-shirt. All these are among the popular -- plus well-regarded -- productions that get referenced, or recalled, at certain points of that whose English title appears to contain the claim that it is A TRUE MOB STORY (but often comes across as being too slick and over-dramatically improbable as well as redolent of fictitious others to be acceptably "real").

Still, this is not to say that no effort was made to set apart A TRUE MOB STORY from these (somewhat) kindred offerings -- and, specifically (even if arguably), by endowing it with a more mature plus darker tone than many a(nother) work whose protagonist is, as the ambitious offering's Chinese title suggests, a "Dragon in the Underworld". One rather obvious way in which this got attempted was by having Andy Lau play a Triad whose identity, very person and outlook is strongly shaped by his (also) being a father (of a son born in wedlock); especially after he suffers the fate of prematurely and violently losing his wife (an obviously much loved -- by her husband, son and best friend -- individual who gets all too briefly portrayed by Angie Cheung). A related measure of general complexity -- along with set of plot complications -- look to have been planned to arise from the series of events -- which take place early in the Charles Heung presentation, and five years before most of the others in the rest of what can seem more like a character study than conventionally flowing story -- that caused Andy Lau's Wai Cheung Dee character to be "elevated' from the ranks of lowly car jockey to the actually more trouble-causing than respect-bringing station of fairly senior "tai ko" being one and the same as that which was responsible for turning him into an over-burdened widower cum single parent.

A TRUE MOB STORY further distinguishes itself from many of its contemporaries by opting for a depiction of much of the Triad universe -- but especially its senior figures (including those essayed by Michael Chan, Wong Tin Lam and executive producer Lee Siu Kei) -- as a bunch of individuals who don't even pay lip service to being -- never mind actually try to act in ways that are -- "righteous". To be fair though, not every "goo wat jai" in this picture is shown being Evil Incarnate (with Ng Chi Hung's "Gutsy" Chuen and Sam Lee's Sum Su characters turning out to be surprisingly loyal supporters of their supposed better, even after his opting to behave for a time in a manner that causes him to be denigrated by others as a "dog" of another Hung Tai group member). Nonetheless, even while there may be only one certifiably loony loose cannon inside of it (who comes in the form of Ben Ng's "Crazy Ball" character), there's no denying that Cheung Dee's "professional" world is filled to the brim with the sort of beastly men who most anyone would have cause to majorly regret having ties to (and, in the case of Mark Cheng's wholly despicable Prince character, having effectively traded the life of a good woman for).

In light of all this, the ungenerous view of Cheung Dee harbored by Alex Fong's Organized Crime and Triad Bureau officer is somewhat understandable. Indeed, what is way less generally fathomable -- and, I would argue, is something that consequently considerably weakens A TRUE MOB STORY -- is the ease with which Gigi Leung's lawyer character falls so heavily for the by no means legally innocent client of hers who seems to have absolutely convinced the apparently very competent barrister of his wanting to be a "model daddy to my son" (and multiply stressed that, primarily for that reason, "I can't go to jail"); and this especially when -- okay, my biases are showing here (...but what the heck!) -- The Lanky One's Sandy Leung possessed such a suitably attractive fiancé in Alex Fong's Michael character.

Still, by far the most detrimental -- to the overall narrative and film as well as the movie-makers' quite extensive efforts to present a sympathetic portrait of A TRUE MOB STORY's main personality -- relationship of all is that of Cheung Dee and the remarkably under-appreciated woman named Ruby (who was given much emotional depth by Suki Kwan). My advance apologies for the unavoidably spoiler filled nature of the following revelation: However, here's feeling compelled to state my opinion that much was lost from this -- despite it all, still not entirely un-recommendable -- expertly lensed (by Cheung Siu Keung) and edited (by Marco Mak) offering by way of Andy Lau's character not showing sufficient concern and care for Ruby's well-being in the wake of his being informed of her having been gang-raped by an enemy of his and that loathsome entity's minions.
My rating for the film: 6.5

---