The Wall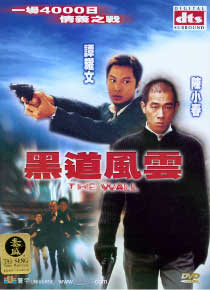 ---
Reviewed by YTSL
For some reason which I can't quite discern, Jordan Chan looks to have latterly lost popularity among Hong Kong cinema goers. Whereas the dancer turned singer cum actor appeared in eight movies -- including a pair of mature "Young and Dangerous" installments, two Milkyway Image productions, and a United Filmmakers Organization (U.F.O.) work -- in 2000, he featured in just one low budget effort in 2001. And although his production rate has increased again in 2002, minimally publicized works like "Sleeping with the Dead" and this not atypical Buddy Film Creative Workshop production -- which was released on a grand total of two HKSAR screens -- are hardly going to propel him back into the A list (where, IMNSHO, he deserves to be).

This is not to say though that THE WALL is far from a watchable -- and, at times, rather emotionally impacting -- effort. Neither am I about to insinuate that this Marco Mak helmed, co-scripted (along with Simon Loui and Kelvin Lee) and co-edited (with Angie Lam) work doesn't benefit from Jordan Chan's starring in it (as Cho, a thirty year old individual who had been sentenced to 25 years behind bars for killing another man but had gotten time off for good behavior and thus managed to leave prison after having "only" served 12 years of jail time). Additionally, it would be harsh indeed to argue that this charismatic actor's good efforts are wasted in an undoubtedly flawed, yet also not necessarily unsatisfactory, movie whose makers' sympathies are very much with its underdog main character, and who appear intent on emphasizing how considerable is the struggle for an ex-con -- even one with the best of intentions -- to not get sucked back into the violent plus otherwise problematic edges of a society that often seems unprepared to really give people like him a second chance at leading a truly honest life.

This is especially so since THE WALL has a generally competent cast that's co-headed by the similarly capable Patrick Tam -- whose Chan Kai Dik character was the fellow fledgling "goo wat jai" turned major underworld figure who Cho had voluntarily taken the murder rap for. What with a Triad "small potato" named Jack (who is played by Chapman To as a wanna be follower of Cho as well as Dik) also prominently figuring early in the picture (and Shek Sau's "Elder Brother" Nam character initially appearing as though he would be more directly involved in the lives of his lieutenant, Dik, as well as Cho), this film -- whose depiction of the bond between its two main men can be said to border on the homoerotic -- looked for a time like it would be a majorly male buddy as well as Triad focused effort.

THE WALL arguably reveals its ambition to veer somewhat off these already overly well trodden paths though with such as Cho's (biological, as opposed to crime) family centered choices re the first things he wants to do upon getting out of jail being to pay a visit to his elder sister (who Amanda Lee essays) and pay his respects to his deceased mother. Additionally, there's the intriguing revelation re this presumably modest budget movie's gravel voiced protagonist possessing a talent for cooking that makes him a viable executive chef of a fine dining establishment that doesn't seem to ever lack for generally very appreciative customers. And even while it is Dik who was this restaurant's owner, this (re)viewer did have a reassuring sense for a while there that the powerful crime boss -- who seems to feel like he owes his "heng tai" a lot and, in order to regain his friendship, had promised Cho that he would gradually ease out of his dangerous as well as cruel profession -- would do as much as he could to avoid having his unsavory undertakings intrude into this particular business venture's area.

Before too long however, it becomes patently obvious that (even) Dik cannot prevent certain individuals who are connected to his criminal world from being patrons of that which he had been trying to keep clean. Also, while he could help out his pal by drinking some of the wine that the hooliganish son of his primary patron (James Fong -- whose father is Fong San Nam, AKA Elder Brother Nam -- is well portrayed by David Lee) had sought to bully Cho into imbibing, he wasn't at all able to stop a young woman (San -- who turns out to be the self-described "concubine" of the elder, plus seemingly far more menacing, Mr. Fong -- comes in the physically attractive form of Cherrie Ying) from very successfully capturing his good and caring friend's heart.

One would have thought that just about the last thing in the world that someone who was seriously intent on staying on the straight and narrow would do is to go to bed with a senior Triad's designated lover. However, this is precisely what the usually not unintelligent seeming Cho foolishly does, and -- I think it is safe to presume -- more than once. As it turns out, the evening that the obviously smitten man first had sex with San also happens to be that during which Dik and a couple of men choose to do some nasty things in his buddy's kitchen to a man who turned out to be not only an undercover policeman but also the younger brother of the angry cop who comes in the form of the very intense acting Simon Loui. The chain of events that follow these goings-on are rather predictable as well as violence fraught in nature. Still, such is the extent to which good acting can help suck one into a movie plus make even the expected difficult to emotionally prepare for that I have to honestly report my being not at all unaffected by witnessing what fate had in store for THE WALL's main -- and actually sympathetic, for all their faults and wrong headed actions -- characters.
My rating for this film: 6.5
---