Passion Unbounded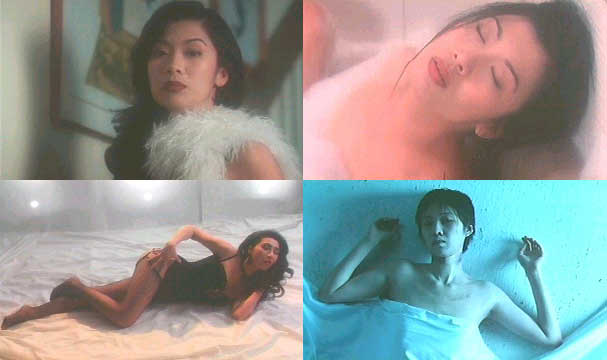 ---
Reviewed by YTSL
How can a movie with as many scenes of sex and violence as this 1995 effort be so boring?! This was a question that I asked myself more than once when viewing this deservedly Category III rated offering whose helmer, Jon Hau, also was responsible for the film's music as well as was one of its three art directors (along with Can Mei-Wai and Lo Wai-San). One possible answer is that this is what happens when a(ny) work is as "style over substance" as that whose proceedings are infused with quite a bit of visual flair but a thoroughly insufficient amount of logic. Another is that this is what results when such salient details as the identity of the main murderer gets disclosed as early on as the 25th minute of a 98 minute long ostensible thriller.

As far as this (re)viewer is concerned, it also didn't help matters that there didn't seem to have been all that much passion being shown getting unbound(ed) in PASSION UNBOUNDED. Admittedly, the movie's two killers do engage in sexual activities with their many victims -- and in a number of "interesting" places (e.g., a crowded bar, a water filled bath tub, an unhooded sports car parked in a public garage and a freight elevator) -- prior to fatally slashing plus stabbing them. However, the mentally unbalanced pair of individuals' emotionally distanced natures come so much to the fore, even during those presumably erotic actions that are to be described as the foreplay as well as prelude to the often messy murders, that the overall feeling that gets exhibited is more cold than hot.

Worse still is it being so that during the lulls between their once more springing to wicked action, one of these sexually promiscuous murderers resembles a standoffish sleep-walker while the other is so given to bouts of silence that his partner in crime confessed at one point that she had thought for a while that he was a mute. Perhaps PASSION UNBOUNDED's scriptwriter, Cheung Cho Yee, might argue that this pair's near lifeless behavior was what made the investigating police officer (Shek Dai Hung is portrayed by David Wu) fail to consider them as prime suspects until they were informed upon by an individual named Siu Gei (who gets played by Hilary Tsui) with personal ties to one of them plus was the neighbor of the other.

Additionally, there's the matter of Officer Shek -- whose primary function in PASSION UNBOUNDED appears to be to create a series of blind alleys for the film to go along -- having marital problems, and consequently appearing to be more interested in finding a replacement mate than the murderer(s) of people whose sexual appetite and proclivities might lead some judgmental folks to thinking that they "asked for it". Alternatively, one would have thought that any reasonably intelligent person -- including those whose jobs it is to investigate and solve crimes -- might automatically think that the incontrovertibly strange likes of the ennui emitting elder Miss Tong (who comes in the form of a red lipsticked as well as frequently flamboyantly attired Carrie Ng), exotic art and object collecting Martin (Chin Ho's character is additionally revealed to be an epileptic) and just plain high strung Pak Yu Seung (Christine Ng has this particularly thankless role) would warrant a significant amount of police and/or psychiatric observation.

In all honesty though, PASSION UNBOUNDED is full of so many (such) inexplicabilities that, way before it came to an end, I had pretty much given up trying to figure out all or any of the movie's what, whys and wherefores. Instead of embarking on an energy consuming quest for answers that surely would have brought on too much frustration, I sought amusement in finding elements about this fine actor wasting work to aesthetically appreciate. Almost shockingly, there looked to be quite a few of these. At any rate, due warning is hereby given re the few points that I am prepared to award this trying effort -- that Barry Long seems to actually consider to be on the same recommendable level as the "A Chinese Ghost Story" trilogy, "Fist of Legend", "Love Massacre", "Red Dust" and "Wing Chun" (See Frederic Dannen's and his "Hong Kong Babylon", 1997:369-371) -- really only attesting to: Jon Hau's greater musical plus artistic than general directorial abilities; along with its benefiting more than such an otherwise quality lacking effort deserves from the at times quite inspired costume designs of someone whose name I do not know, and Joe Chan's eye-catching cinematography.

My rating for the film: 3.5
---