The Secret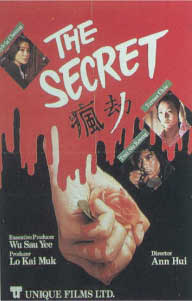 ---
Reviewed by YTSL
Up until recently, it would have been absolutely correct to say that I didn't think much of the work of Ann Hui. Although I had got off to a great start in my exploration of the filmography of the 2002 HKIFF's "Director In Focus" with a viewing of her semi-autobiographical "Song of the Exile", far less positive experiences -- including "Ah Kam" and, especially, "My American Grandson" -- ended up following in its wake. Indeed, so negative were my reactions to a further taste of what this veteran auteur had on offer that I had pretty much decided that it might be best for me to give all of her films a wide berth for a while there.

For more than one reason though, this (re)viewer found herself unable to resist checking out "July Rhapsody". After being blown away by that so very compelling 2002/late 2001 drama, I got to thinking that it might be worth it after all to take a chance and look some more at certain of the veteran auteur's earlier efforts. In which case, I figured, why not go for THE SECRET? After all, apart from its having come to be retrospectively regarded as having co-heralded the beginning of the exciting "New Wave" of Hong Kong movie making (along with Tsui Hark's "The Butterfly Murders" -- another film which came out in 1979 -- and Yim Ho's "The Extras" that was released in the previous year), Ann Hui's debut cinematic offering is a critically lauded effort in a genre that I had not yet seen her tackle (crime drama).

As can be seen by her having directed episodes of TVB series entitled CID and ICAC, Ann Hui actually was no stranger to this type of work. What with one of the former small screen efforts (the made in 1977 "Murder") having been based on a real life incident, THE SECRET also turned out to not be her first attempt at basing a fictional offering on an actual homicide case. As such, she had good reason to feel comfortable with, plus prove to be an expert at, manipulating the thematic material of a suspenseful murder mystery; not least one that may surprise some in terms of its containing as many feminine touches behind the scenes -- e.g., this movie's scriptwriter is Joyce Chan, its composer is Violet Lam, its credited producer being Audrey Li, and the production house (Unique Films) that put it out having been formed by this offering's lead actress, Sylvia Chang, along with Selina Chow -- as well as on screen as it does.

For the first twenty minutes or so, there appears to be an overwhelming amount of people for the viewer(s) of THE SECRET to get acquainted with and keep track of. To some extent, I might have felt this as a result of my lack of familiarity with many of the sophisticatedly structured work's cast (Something that was exacerbated by those I do know looking so much younger than I'm used to seeing them!). However, I would not put it past Ann Hui and co. to have arranged for there to be what amounted to a quick parade of individuals through the early part of this psychological cum criminal puzzler in order to provide the audience with a fair number of possible suspects plus red herrings to dot the landscape of that which was made especially atmospheric by its having been set in Lung Fu Shan/Western District. Additionally, I can see that this apparent plethora of personnel is an all together logical by-product of at least three of this effort's main characters being the type of Hong Kongers who still lived with relatives and were part of inter-connected social webs.

For example, the person (named Lin Ming and portrayed by Sylvia Chang) who decided to embark on her own investigation of a double murder -- that the police (among whom is an officer played by Kenneth Tsang) wanted to pin on a madman (essayed by Norman Tsui), despite the protestations of his mother (played by Leung Suk Hing) -- was a neighbor plus friend of the family of the female who was said to have been killed -- but not raped, despite initial suspicions re this other crime also having taken place -- plus a nurse in the same hospital in which the male victim had been a medico. Then there's it being so that -- at least according to her family, even if not his mother -- Li Yuen (who is portrayed by Angie Chiu, and referred to by Lin Ming referred as Yuen Chea Chea/Older Sister Yuen) was on her way to becoming the future wife of Dr. Yuen Tsi Cho (who Alex Man played) prior to the pair's premature plus violent demise.

As THE SECRET starts to very smoothly plus cleverly reveal itself though, this (re)viewer got to feeling that, for the most part, it would be enough to focus her attention on: Lin Ming; Li Yuen (whose character is one of those that get fleshed out by way of a multitude of flashbacks that occur throughout the film); Li Yuen's rheumatoid and blind -- but still very aware plus sensitive re her surroundings -- grandmother (who may have been essayed by Lai Cheuk Cheuk); Dr. Yuen (AKA Ah Cho); and a Macau resident -- but Thai native -- known to be a TB patient of his called Mary Gabriel as well as Mei Siu Gei (played by Lee Hoi Sook). Still, this is not to say that all of the other characters who are seen in it (including a Macanese Mamasan, a Catholic nun, a couple of her Buddhist counterparts together with a doctor that George Lam made a cameo appearance as) are entirely superfluous to this involving offering's main act and/or story. Indeed, part of the genius of this extremely well crafted work is how so many people plus so much detail got interwoven into a plot whose chief attribute(s) may well be its being multi-stranded and -layered yet never unwittingly confusing.

My rating for this film: 8.
---