The Longest Nite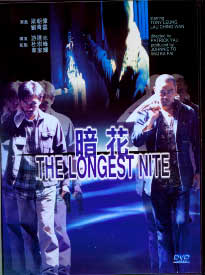 ---
Reviewed by M.C. Thomason
Directed by Patrick Yau
Produced by Johnny To, Wai Kar Fei & Gary Chan
Written by Yau Nai Hoi & Szeto Kam Yuen
Music by Raymond Wong
Starring Sean Lau Ching-wan, Tony Leung, Maggie Shaw (Siu), Lung Fong, Mark Cheng, Sunny Fang, Wong Tin Lam, Yuen Bun, Lam Suet
Cantonese with English subtitles
Anamorphic 35mm Panavision/Colour/Dolby digital
84m
Macau has long been the stomping ground of rival triad warlords K and Lung, heads of opposing factions under the control of the omniscient Mr. Hung, an ageing overlord so powerful that he has not been seen in the territory for over a decade, yet his influence and presence is felt by all. However, things take a turn for the dangerous when K and Lung put their past discretions behind them to form an alliance and break from the grip of the mysterious Hung. As the merger of criminal minds steps ever closer, partnership and peace threaten to go awry once news of a hit on Lung begins to whisper its way through the ranks of both organizations. Corrupt policeman Sam (Leung), already on the payroll of K, is called upon to investigate the source of the rumour, and quell it before the situation gets out of hand. With a five million dollar bounty up for grabs, that's easier said than done.

If only the situation were that cut and dried. Tony (Lau), a shaven-headed tattooed enigma, drifts into town on the afternoon of the joint pact, his mere appearance the catalyst for all that will follow throughout the course of the evening and into the early hours of the next morning. In the course of his investigation into exactly who has sanctioned the hit on Lung, Sam seems ever shadowed by the unsettling intrusion that is Tony. The two seem to cross paths at every turn, perhaps too coincidentally for Sam. Rogue bad-boy Mark (Cheng), K's son, seems the obvious suspect in Lung's assassination, yet his sudden disappearance leaves Sam with a troublesome loose end. Then there is the small matter of an unidentified headless corpse that has turned up on a tip-off at his home.

Is the damning rumour a smoke screen for some unseen force to frame Sam for a much more disturbing crime? How does drunken club-girl Maggie (Shaw) figure in the picture? And why, once placed under arrest in a stark cell, does Tony remain so calm in the face of the ever-escalating atmosphere of terror? Sam will get his answers before the night is out, but the final truth will leave a wake of bodies in its path, open a world where nothing is as it appears, and ultimately prove more terrifying than any party involved is able to comprehend.

In the arena of gripping, white knuckle crime thrillers (where each successive revelation dismisses all that has gone before it), Western cinema had Bryan Singer's superlative The Usual Suspects (1995), and Hong Kong has Patrick Yau's tension-laden The Longest Nite (1998). What commences as a rudimentary triad thriller peels away layer upon layer until it has evolved into an animal far more frightening than one would first suspect. There is no black, no white, as Yau and Szeto's complex script unfolds, just an inky world of shadows where anyone will betray you…if the price is right. Jointly, there are no "good" and "bad" characters, no heroes and no villains. The world Yau places his viewer within is populated by criminals, on both sides of the law, the only thing that separates them being a badge. Who do you cheer for? No one. You just submerge yourself in a seedy darkness and let the claustrophobia take grip as Leung's protagonist's world veers wildly out of control.

Those accustomed to the good-natured showmanship of Jackie Chan and the ballistic excess of John Woo as their reference points in Hong Kong cinema may be caught completely unawares by this slickly directed, brutal urban crime thriller. Its "charm", if that was the way it could be described, is the fashion in which it lays out its characters, then randomly switches gears, taking the viewer into a progressively darker and nihilistic sense of ever-mounting futility and paranoia. As mentioned above, this nihilism becomes claustrophobic by default as, with Leung's character's world closing in around him, the same sense of impending dread and menace closes in on the viewer. Just when you believe that things couldn't possibly get any worse, they do, and in a manner that is almost torturous in its descent. The viewer almost becomes fearful of what god-awful truth lays waiting around the corner of each new plot twist, building supreme tension in anticipation of the seemingly fatalistic climax. Once the film steers into its chilling second act, there can only be one inevitably ghastly outcome.

Director Patrick Yau, whose previous outing had been quirky street-level romance The Odd One Dies (1997) guides the film with a deft hand, mounting tension with an assured footing, as well as remaining persuasive enough to keep his audience guessing right to the very end. His set-up is effectively slow burn, until he sparks an incendiary menace mid-film that eventually bottles out into a ludicrously over the top, bullet-heavy confrontation between the two leads come the finale. Individually, Yau's highpoint strikes just before the narrative moves on to its final act, with the excruciatingly harrowing attempt by Leung to escape Macau. It is a sequence that builds, twists, snakes and turns so effortlessly that one is left wondering if Yau and producers Johnny To and Wai Ka Fai sat back at the commencement of its shooting and mused where they might take the film next. To paraphrase John Travolta's character in Swordfish (2001), it's all about misdirection and Yau steps up to the challenge and succeeds by staying one step ahead of his audience all the way.

However, without actors of the calibre of leads Tony Leung and Sean Lau, Yau's surprisingly tight direction would all be for naught. Tony, who many may remember from John Woo's Hard Boiled (1992) (and the rest of us admire for many of his key romantic parts), takes a bold about-face in his role as corrupt cop Sam, never failing to remind the audience that he is any better, or worse, than the criminal element around him. Whether breaking the fingers of suspects, or gradually slipping into unnerving paranoia, Leung remains believable and engages his viewer at each turn. Lau, on the other hand, as the actor that seems to have taken the mantle of Hong Kong's hottest actor with Chow Yun Fat's departure, is equal parts menacing, calculating, demonic and icy cool. Even come the furiously choreographed finale, his character remains as much an enigma as when he first appeared onscreen. Supporting cast are uniformly excellent, with Maggie Shaw, who some may remember from Jeff Lau's cult comedy 92 Legendary La Rose Noire (1992), the noteworthy standout as much put-upon club-girl Maggie, who may just figure further in the bigger picture.

Cinematographer Ko Chiu Lam, previously responsible for the lush glossy veneer of such films as Green Snake (1993), Rock 'N Roll Cop (1994) and Police Confidential (1995), invokes an enveloping film-noir stylistic with his striking night photography throughout. There are a handful of key sequences, inclusive of Lau's downtown cell and the finale set amidst a roomful of mirrors in a dockside warehouse, that are instantly unforgettable in their visual design. Ko's work in these sequences is mesmerising on its own. Stripping in the final player that is the labyrinthine Longest Nite is composer Raymond Wong who, by using a snatch of Giorgio Moroder's "Chase" from Midnight Express (1979) as well as a hint of quotation of Hans Zimmer's Broken Arrow (1995) score, crafts the pulsing heartbeat that plays off the haunting visuals, texturing the narrative with a richer depth. Like a Spaghetti Western, both protagonists have their own theme that travels with them into every dark corner of Macau. Were I to be glib, I might suggest that this is Yau's own Fistful Of Dollars…

Patrick Yau's The Longest Nite, although bearing the indelible stamp of producer Johnny To and production house Milkyway Image (which is never a bad thing), is definitely one of the more impressive thrillers to have made its way out of Hong Kong in some time. Beset by jarring performances from its two leads, and an oppressively grim, paranoiac tone I have no qualms in affording it the title of a minor masterpiece of crime cinema. My only word of warning is one of content, in that the film harbours a mounting catalogue of relentlessly brutal violence and, true to its criminal narrative, there is no happy ending to look forward to ala its Western counterparts. Per many Hong Kong gangster epics, Yau and Szeto's script maps out the course it will take early in the piece, then descends ever deeper thereafter. Thankfully, Yau never once attempts to sugar-coat the supremely unrelenting fatalism of the journey that the viewer must take, should they wish to see it out to the bitter end.

---
DVD distributor: Universe Laser & Video
DVD format: DVD-5 (NTSC Region 0)
Image format: Widescreen 2.35
Audio format: Cantonese/Mandarin Dolby digital 5.1
Additional features: Theatrical trailer; Cast & Crew profiles; Premiere footage; Making Of featurette; Press conference; NG footage (Outtakes)
---