War of the Underworld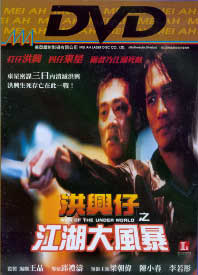 ---
Reviewed by YTSL
At the beginning of this male dominated production, its single significant female character talked about her love of wuxia novels plus idolizing of the likes of Ling Wu Chung (the Wah Mountain martial arts exponent essayed by Sam Hui in "Swordsman I" followed by Jet Li in "Swordsman II") and Wai Siu Bo (the protagonist of another book by Louis Cha/Jin Yong). In a move that some might see as an act of Triad recruitment as well as creative imagining, Tong (who comes in the form of Carmen Lee) then proceeded to draw parallels between the fictionalized Jiang Hu and the Triad universe whose members included her elder brother (Jordan Chan's character has the same Chinese name -- Siu Chun -- as the actor who essays him) and their hero (Tony Leung Chiu Wai is the moody Hong Ying, AKA Boss Fei).

Countering the rose tinted perspective presented by Triad outsider Tong are the bad things that get shown happening to certain of the "secret society" members in WAR OF THE UNDERWORLD whose well being the late 1996 film's audience might be expected to particularly care for (As an aside: This is one of those works that contain the kind of embarrassing action that I shall never cease to be astounded by seeing performers who I respect being willing to act out). Something else to throw into the dark side of the equation is the absolute nastiness as well as malevolent malevolence exuded by some individuals (notably Simon Loui's slimy Chi Wai) and sheer brutishness of others (like Ngai Sing's aptly named Scum character) who are as much a part of the contemporary lawless realm as those viewed favorably by Tong. Still, as "LoveHKFilm.com"'s Kozo has observed, "the whole thing is a little too glossy and commercial to be considered an indictment of its [criminal] subject matter".

Although it is not a part of the "Young and Dangerous" series, WAR OF THE UNDERWORLD has some connections to that influential group of Triad dramas that's famed for having a preponderance of Peacock Males. Off screen, there's the fact of the Herman Yau helmed work's producers being none other than Wong Jing, Manfred Wong and Andrew Lau (i.e., the executive producer, producer cum scriptwriter, and director plus cinematographer of the first Y&D offering). On screen, you have the Hung Hing "secret society" -- albeit one whose chief is named here as Hong Sheng (and portrayed by Guk Fung) -- once more being the designated good guys (or, at least, arguably more benign of the two criminal elements since, unlike the rival Tong Sheng gang, it possesses an anti-drug-pushing policy).

WAR OF THE UNDERWORLD's Hung Hing group also is similar to that in the movies which had Chan Ho Nam and his buddies as members of it in terms of its maintaining a significant presence in Causeway Bay along with that section of Hong Kong Island looking to be a frequent Triad battle zone. Additionally, there's the presence in this at times too derivative feeling effort of quite a few faces -- e.g., those of Ng Chi Hung, Spencer Lam and Lee Siu Kei as well as Jordan Chan -- that will be familiar to those who have seen their share of Y&D installations. Alternatively, even when their characters have the same names as the others that they've played in other B.O.B. productions, they ought not to be assumed to have the exact sort of personalities, allegiances and status inside of their world that one might have figured it would be safe to think that they do.

In visual terms, WAR OF THE UNDERWORLD most noticeably differs from that which it might be accused of being a lesser clone in containing an "underground racing" sequence (that served the purpose of giving newspaper reporter Tong a point of entry into the apparently near mythical Hong Ying's life). More pertinently, however, is its story involving two salient father-son pairings which send this offering along a divergent developmental path that -- contrary to the assertion by Little Tony's embittered character that his Hung Hing doyen dad would "prefer his men to his family" -- actually has it ending up stressing the strength of inter-generational biological associations and familial affections over "heng tai" bonds plus general gang ties (along with the relationships of male Triads with the women whose fate it is to love these trouble magnets).

My rating for the film: 6.
---